While at the Boston Comicon this month I spotted Zorro: The Complete Classic Adventures By Alex Toth signed and numbered two-volume slipcased edition at two dealers.  One dealer had it for $175 and the other for $40; I tried to haggle the $40 vendor down to $35 but he wouldn't budge so I happily paid his asking price.
In 1988 Eclipse collected Alex Toth's run on Whitman's Zorro from the 1950s, lifted completely from the Walt Disney television series and written by those writers.  As such the writing is panned by everyone including Toth so this work becomes mostly about the amazing art.  The work is black and white, Toth revisiting the proofs from the original books and Raymond Fehrenbach adding gray tints.  Toth provides a great introduction to volume 2 with details and fleshes out production details from the first series and this collected edition.  Dean Mullaney edited these volumes and recently completed Toth: Genius Isolated, the first of three volumes chronicling Toth's career.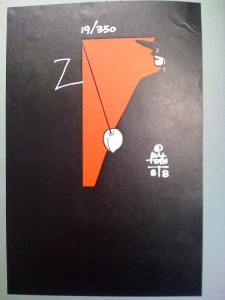 These two volumes were produced as trade paperbacks and in a 350 unit limited signed and numbered 8.75×11.25″ slipcased set.  The signature plate is very thin paper and you can see the glue wrinkling the top right corner; I was very happy to get such a low number.
The trades are readily available for less than $10 each but this slipcased set doesn't surface too often.  It's highly collectible because Toth is no longer with us and his work is having a resurgence amongst comic fans in no small part to Mullaney's book.  I was unable to locate this set amongst used book sellers; snap it up if you can.
Zorro: The Complete Classic Adventures By Alex Toth
Eclipse Books, 1988, ISBN Vol 1: 0-913035-50-5, Vol 2: 0-913035-58-0