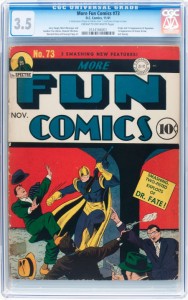 Heritage Auctions had a whole pile of strong comics finish at auction yesterday, Wednesday November the 20th.
There was an Action Comics #1 graded CGC 3.0 that realized $310,700. This is a disappointing result coming on the heels of the big $3.2 million dished out by Comic Connect for that CGC 9.0 a couple of months ago.
Back in April 2010 a CGC 3.0 copy of Action Comics #1 fetched $300,000 while the Billy Wright copy, also a CGC 3.0, fetched $388,375 as recently as August 2013. I'm not sure what this means, most likely it means the buyer got a good deal.
For this auction highlight I want to focus on just one book;
More Fun #73, DC Comics, November 1941
A 3.5 grade carries a $3150 Price Guide value. Yesterday on the Heritage Auction a CGC 3.5 copy with Cream to Off White pages and 3 pieces of tape fetched a staggering $38,837.50.
Sure $38k doesn't sound like much when the auction is riddled with comics earning over $100k but we have to look at this result in the right context.
A short 18 months ago a superior CGC 4.0 copy earned $3,884 while an even nicer CGC 5.5 sold for $8,495 just 3 months before that. The thing is this book has always been sought after and while the 4.0 earned a small 10% premium over the then guide value the 5.5 copy received a healthy 70% premium above guide.
I knew all the Arrow and Aquaman media announcements involving movies and TV shows would stoke this book to new heights but I honestly did not expect this. For some stupid reason I had $15,000 as the target for this book.
So while those proud owners of the 4.0 and 5.5 have smiles on their face I'm sure the smiles aren't as wide as the brave soul who ante'd up $75,000 for the CGC 9.4 Edgar Church Mile High Copy back in February 2012!
I'm out of my league on this one but I get paid to make the call so here goes – but first my rationale.
These More Funs are tough, #52, the big Spectre book has only 15 graded, while More Fun #101 containing Superboy's 1st appearance has only 37 graded.
The way I see it More Fun #52 and #101 are mature keys, they've been important forever so when I see a CGC Census of 20 on More Fune #73, a book somewhere in the middle of these 2 I get the sense that there won't be a mad rush of 20 more copies flying down to CGC for grading over the next couple of months. Unscientific I know but that's as good a gauge as I got.
When I think about the principals introduced I come up with fact that 2 key characters in one book is a great thing. I've decided to compare it to All-American #16. Green Lantern is as removed from Superman and Batman as Aquaman and Arrow are and Green Lantern isn't Wonder Woman and neither are Aquaman and Arrow.
Green Lantern may be bigger than either but add both together and we're closer.
A CGC 3.5 All American #16 sold for $44,813 earlier this year in May.  So the argument above seems to reflect the market difference?
So based on all these randomly thrown together pieces of data I can safely say I'm still on the fence about this result.
My complaint on this copy is that of the 20 graded Universal Blue, 16 are better than this one putting it in the lower 25 percentile.
I guess the deciding factor for me is the tape!, The tape will continue to eat at the book and I hate tape!!
Advantage Seller