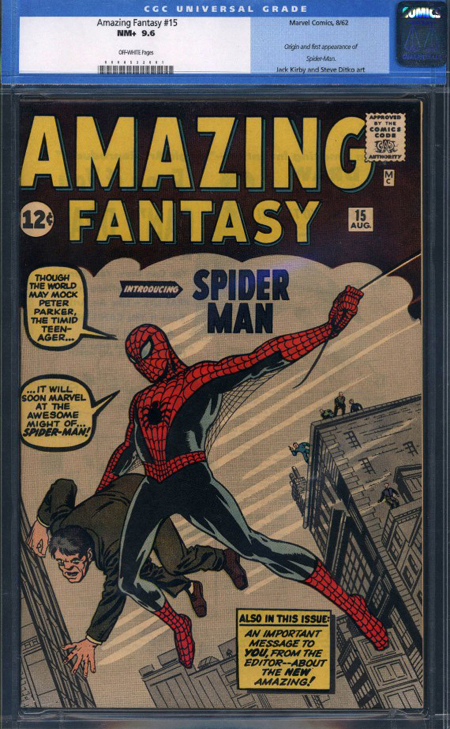 A CGC graded 9.6 copy of Amazing Fantasy #15 (published in August 1962 and featuring the first appearance of the Amazing Spiderman) has just sold for $1.1 million dollars in a private deal.
This sale now has the distinction of being the second highest price ever paid for a comic book. ComicConnect.com sold a CGC graded 8.5 copy of Action Comics #1 (1st appearance of Superman) for a record $1.5 million dollars back in March of 2010.
This is actually the 4th comic book to crack the $1 million dollar mark. Last year saw a CGC graded 8.0 copy of Detective Comics #27 (1st appearance of Batman) fetched $1,075,000 and a CGC graded 8.0 copy of Action Comics #1 fetch a cool $1 million dollars.
Stephen Fishler Chief Executive of ComicConnect.com told AP that the transaction happened on Monday March 7th between a private seller and a private buyer. From reading the news stories it appears ComicConnect was used as the agent and I assume took a cut.
This is the single highest graded copy that exists and has been deemed a 'holy grail' by many collectors because of its grade and the importance of the issue itself. "Over the last decade it has become a rather legendary copy because it was in the hands of a collector and no one thought he would sell," Fishler said. "The owner came up with a figure that he didn't think anyone would pay, and it was paid."
There are 6 CGC graded 9.4 copies showing on the census, the last recorded sale of a CGC graded 9.4 fetched $227,000 back in 2007.
I've talked to a couple of purists over the last couple of days that scoff at the fact that this comic could even approach the level of an Action Comics #1. It's important to note that the Action #1 that fetched $1.5 mill and this Amazing Fantasy #15 are respectively the single highest graded copies that exist. The astronomical prices reached are due to their exclusivity. Spider-Man is just as popular if not even more popular than Superman, why wouldn't it be worth as much as the Action #1, who cares if there are 900 lower grade copies of Amazing Fantasy #15 and only 50 of Action #1, at the highest grade both are equally rare.
Last week I reported on the CGC graded 9.9 copy of Incredible Hulk #181 (1st appearance of Wolverine) selling for $150,000. That sale belongs in the same category as the two mentioned above.
Let us transport ourselves 50 years into a future (young collectors can plan for this) where if current trends continue the Amazing Spider-Man and Wolverine enjoy popularity levels well above that of Superman. Let's assume these copies remain the highest grades achieved by these comics (an assumption that the current owners are banking on/praying for). All will be very old, 123, 99, and 87 years old. Their individual grades will not matter; the only thing that will matter is that these are the single best copies. Will the Wolverine be selling for close to the Superman levels?
I need to find me a CGC 10.0 copy if a recently introduced character that will grow in popularity over the coming years, oh yeah, and I need to live to 130.