Thanks to Titan Magazines I had the opportunity to read CLiNT Magazine 2.1, their relaunch issue.

Three brand new comics begin in a special relaunch issue!
Supercrooks – Part 1 of Mark Millar and Leinil Yu's new comic
The Secret Service – Mark Millar teams up with his childhood here, and legend of the comics world, Dave Gibbons
Death Sentence – Sex, STDs and superpowers in Montynero and Mike Dowling's exclusive-to-CLiNT comic
The latest chapter of Rex Royd, and a catch up on Frankie Boyle's bonkers comics saga
Available From: 23 May 2012
100 pages, 8.4 x 12.3″
$6.99 USD
This was my first exposure to CLiNT and all I knew about it was that it was a Mark Millar vehicle containing single issue reprints of his work. I had read it was an opportunity to get comics onto retail locations that only sold magazines but I've only ever seen it at my local comic shop; perhaps because I'm in Canada. Not too sure of the origins of the title but Wikipedia has one explanation.
What we get is a very nice package of comics with just enough features to make it a magazine. The cost is easy to justify based on getting four full comics plus a few articles to round it out; cheaper than individual issues and a larger size to boot.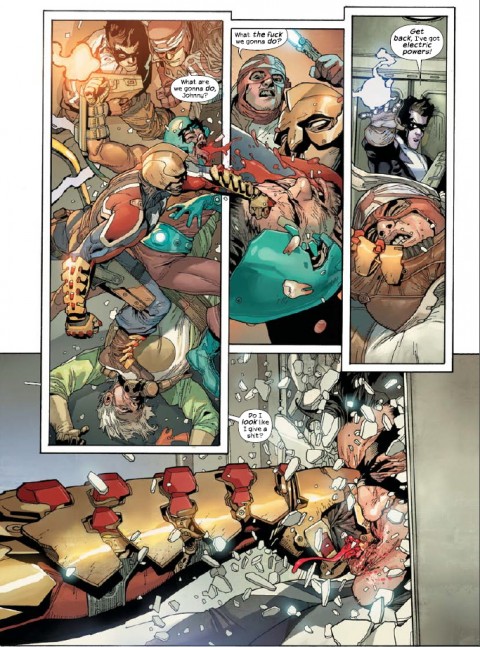 Comic highlights, and the most recognizable work, included Supercrooks and The Secret Service, big books from Marvel that have major talent behind them. Both moved well, had that classic Millar dialogue and presented material just slightly outside of comics mainstream. Along for the exposure are Death Sentence and Rex Royd, two books that were interesting and material I otherwise wouldn't have been exposed to. Found it a bit hard to follow what was happening with these two but I suppose you have to hang in there to get the whole story. I did find the language over the top but that seems to be the norm for everything but all ages.
The magazine features seemed aimed at the Millar fan with an interview about his film properties, a look at a masked vigilante named Clint and a letters column. There was also a nice retrospective about Lenore, a feature about the creators of Rex Royd and an odd movie section about Marko Zaror. Hit and miss but enough material to appeal to a wide range of readers.
It's a slick and well packaged production of comic material and Mark Millar fandom-ness. The serial format of comics works wonderfully in the guise of a monthly magazine. It's a bit tough to locate so the subscription offer may work best for those in North America; they're currently offering the following deal.
Subscribe to CLiNT and Save 20%, plus get a FREE signed Dave Gibbons 'The Secret Service' Art Card! Act now, only 200 available!