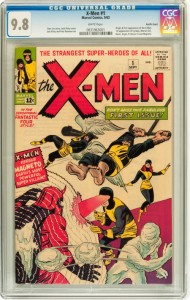 Big news out of Heritage Auctions is that they have landed the privilege of selling what is most likely the best Silver Age Marvel comic collection in existence. Doug Schmell's #1 ranked CGC registry set of Marvels goes on the block July 26th-27th.
What makes this all the more interesting of course is that Mr. Schmell is the owner of Pedigree Comics, one of the premiere comic book auction sites.
Why not sell through Pedigree?
Did he get a sweet deal from Heritage?
Why is he selling anyway?
Does Mr. Schmell assess that Silver Age Marvels have peaked?
Where are the Spidey's?
This is one auction I'll be following very closely.
Below is HA's press release.
World's #1 CGC Marvel Comics Collection to be Auctioned:
The Doug Schmell/PedigreeComics.com Collection
Doug Schmell's unparalleled collection of Silver Age Marvel Comics will be auctioned by Heritage Auctions at our July 26-27 Beverly Hills Signature Auction. All lots will be auctioned without reserve.
This multimillion-dollar collection features the top Marvel Silver Age CGC award-winning registry sets of each title offered.
Almost every comic is the single highest graded or tied for highest graded copy according to the CGC census (registry username "Captain Tripps").
Almost every comic is certified "white pages" or "off-white to white pages"
Most of the comics originated in different prominent pedigree collections including Pacific Coast, Curator, Twin Cities, Boston, Northland, Massachusetts, Western Penn, White Mountain, Rocky Mountain, and others!
In addition to being an elite collector, Mr. Schmell is the owner of a well-known comic auction site. "After watching Heritage become, by far, the world's largest comics auction house, I knew that Heritage was the perfect choice for me to sell my private collection to realize the highest prices with no conflict for the consignors on my site, PedigreeComics.com," Mr. Schmell says.
Steve Borock, Senior Consignment Director of Heritage, commented: "I have watched Doug piece together this fantastic collection for the 20-plus years I have known him, and when I saw the collection in its entirety, it was a thing of beauty!"
Lon Allen, Managing Director for Comics and Comic Art, added: "Being a successful auctioneer himself, Doug is intimately familiar with every selling option our hobby has to offer, so we're incredibly flattered that he chose Heritage to sell his personal collection."
The following runs will be offered:
Avengers #1-100 (89 are 9.8 and 11 are 9.6)
Daredevil #1-100 (90 9.8 and 10 9.6)
Fantastic Four #1-102 (94 are 9.8 and 9.6)
Journey Into Mystery #83-125 (40 are 9.8 and 9.6)
Strange Tales #101-168 (64 are 9.8 and 9.6)
Tales of Suspense #39-99 ( All are 9.8 and 9.6)
Tales To Astonish #36-101 (64 are 9.8 and 9.6)
Thor #126-200 (72 are 9.8 and 3 are 9.6)
X-Men #1-66 (61 are 9.8 and 5 are 9.8)