Prepare yourself for the convention season.
Yes, the convention season is about to kick into high gear and getting as prepared as you can will greatly increase your chances of buying wisely, having fun, maximizing your time and keeping your sanity. Comicbookdaily.com is offering up a series of convention prep tips that are designed to turn you into a lean mean con machine. You'll learn to think with clarity, make good split second decisions, haggle with dealers and eat right along with many other needed skills that will enhance your convention experience. Usually tips like these on a DVD can cost $19.99 + S&H but CBD is posting them absolutely free.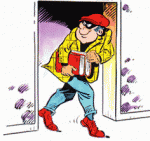 Convention Tip #6 – Security and Safety!
Last week my convention tip was all about the benefits of bringing cash to the con. I'd like to follow up that tip with a few words on safety.
I've set up at a lot of cons and at almost every one I've heard some sad story of a dealer getting pinched for some big books, a customer loosing his wallet or a customer loosing the stack of comics just purchased that day at the con. Theft is a problem at these shows and going in knowing this will greatly help you avoid being a victim.
Wearing a money belt is always recommended. Money belts can be sleek and they come with thin profiles that are easily hidden beneath your clothes. They also come with several compartments and I'd recommend having your petty cash placed in the easy access compartment. Stash the big wad into the harder to access pocket.
I'd strongly recommend stashing a pile of purchases at a familiar booth (this works for local people going to local cons that know a local vendor that is set up at the show). Everyone else should bring a large solid storage system that is easy to carry around. What works best is a small rolling suitcase, the kind with wheels and the extending handle that allows you to roll it around. Always place it in front of you when you are at a booth. Always add new purchases into the case right away. It's much easier keeping track of one big suitcase type thing as opposed to having several bags of several different sizes and shapes uncomfortably hanging off your hands.
Remember that thefts happen out of sheer convenience as much as they happen out of malicious intent. Play it smart and guard against both by being discreet, vigilant and properly equipped.
Walter Durajlija is an Overstreet Advisor and Shuster Award winner. He owns Big B Comics in Hamilton, Ontario, Canada