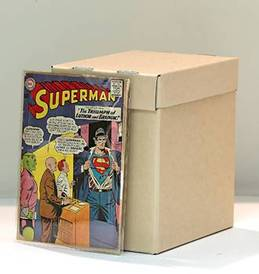 Put one aside. This tip is more for the re-sellers in the crowd.
Over the years I've purchased many large comic book collections. I still remember the first big collection I bought back in around 1986. There were over 7000 comics in this collection dating from the early 1940 through to the mid 1970s. This was the collection that set my path as a comic book dealer. Over the next 20 years I'd say I purchased another 10 or 12 large collections of note. The nicest collection I ever bought was in 1998 and boy do I wish I can have those books back!
This all leads me to this weeks tip. Set aside a comic or a run of comics from each major collection you acquire. Don't just save the ones you think will be worth the most in 20 years (though there's nothing wrong with that I guess), rather save them as a souvenir, a memento of that point in time.
I started doing this after I bought a very nice collection in 2007. I set aside a small group of books that had a combined value of only a few hundred dollars. I picked the books that I thought best reflected the condition and the mix the collection had. I also sent them to CGC for grading, more for protection than anything else.
There was a very nice collection I in purchased in 2005 that I immediately thought back to. I kicked myself that I did not think of this for that collection. Luckily a book from the 2005 collection that I sold to a local collector ended up making its way back to me when this collector decided to sell some of his stuff. I scooped it up, hardly even haggling over price.
These comics are now amongst my most cherished possessions. They are like some sort of markers for me. I can't really explain why I like them so, but I really do like these comic books.
Again, I wish I'd started this practice back with that big 1986 collection but as the old saying goes, better late than never.