Watching out for restoration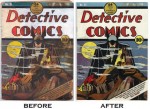 The first thing I'd like to say is that restoration has its place in the comic book marketplace. Some copies of very, very important comic books would not even exist if it were not for the magic of restoration. There are only 41 copies of Action Comics #1 graded by CGC and 15 of those are restored copies.
This collecting tip will assume that the buyer is trying to purchase an ungraded comic book and that the buyer does not want any restoration on this comic book.
Spotting restoration can be difficult and many times the dealer selling the comic may not even know it is restored. As I've noted on an earlier post, most dealers will honor a return of a comic if you point out the restoration but the time, effort, cost and headache of it all makes this scenario one you really want to avoid. It's best to arm yourself with some basics on spotting restoration.
What follows are some very basic things that even a novice will be able to spot when examining an expensive old comic book:
–          difference in gloss and sheen on a uniform color section of ink, hold it to a light and change the angle of the comic to see if there are any variations in this gloss
–          color touches along the spine, open the comic and hold it up to a strong light, look at the spine and see if there are any dark bleeds showing up on the white of the inside cover
–          look at any creases that are on the comic, sometimes these creases break color and are then inked to hide the color break, this should be easily spotted through the difference in gloss and a bleed on the inside of the cover
–          amateur tear seals are usually visible because the tear is still visible, now there is a glue like substance holding this tear together
–          trimming of the cover can be seen by looking at the normal features of a comic's right margin and looking for something suspicious like a cut off issue number or a cut off comics code  even though there is no corresponding over bind on the spine – key early Marvel comics like Amazing Fantasy #15 are candidates for trimming since they are notorious for Marvel Chipping  (where dull shears left shards of paper along the right margin of the comic book which over time fell off)
There are sophisticated restoration techniques that may escape your examination but the above tips will certainly help you catch a lot.
Walter Durajlija is an Overstreet Price Guide Advisor and Shuster Award winner. He owns Big B Comics in Hamilton, Ontario, Canada.