Count the pages!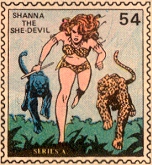 Examine the comic thoroughly before you buy it. Count the pages, check for the coupons, and look for tears, creases, stains and other defects that don't necessarily show up on the cover. The defects present in the book may already be reflected in the price, it's up to you to agree or disagree. Dealers should be more than willing to let you have a look inside their comics.
Every year millions of dollars are spent on high end comics at comic conventions alone. It's important to remember that most of the dealers at these conventions are from out of town and even if they're from town odds are the buyers are from out of town. This situation makes any kind of post purchase adjustment and resolution very difficult so it is of the utmost importance that you know exactly what you're paying big money for at the moment you shell out the cash.
Oddly enough most comics are purchased without being looked through.
Yes, I know most dealers will honor a return of a book with a defect not noted but the time, effort and cost involved make this a path you don't want to go down too often. And remember, I said most dealers.
It really does suck when you get that Hulk #181 home and discover that Shanna the She Devil is missing. Shanna of course is the Marvel Value Stamp in Incredible Hulk #181 (1st appearance of Wolverine and a very valuable comic book). Lots of kids really did clip em and collect em.