Jimmy Olsen #98: "The Bride of Jungle Jimmy"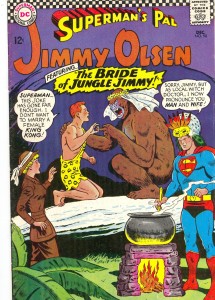 The cover: Oh yes, another classic Jimmy Olsen cover from the brilliant minds at DC. Readers will note that this will not be the only time that Jimmy Olsen marries an ape on the cover of a comic book. They were quite fond of rehashing old ideas. But anyways, let's take a gander at what's happening here. Well, what can I say? It's Jimmy Olsen in a Tarzan outfit putting a wedding ring onto a giant ape while Superman is conducting the ceremony as a witch doctor? Jimmy, if you don't want to marry the ape, why are you putting the ring on her finger? And is it just me or does Superman's witch doctor's outfit look like something out of Cirque Du Soleil? I'm also pretty sure that the poor lady on the left is aghast at the idea that she just might have to watch Jimmy bump uglies with an ape on that rock bed.
The story: The tale of Jimmy's impending nuptials starts off with Jimmy and Clark on an expedition through an African jungle when they stumble upon a movie being filmed in the jungle using African extras. Why are urban news reporters in an African jungle? Beats me, stop asking questions!  As they walk around the movie site, they meet the director who informs them that the African extras are being paid in with worthless trinkets and a drive-in movie night because they consider American money worthless. Hrrm…a native people being exploited for worthless trinkets? That sure sounds familiar!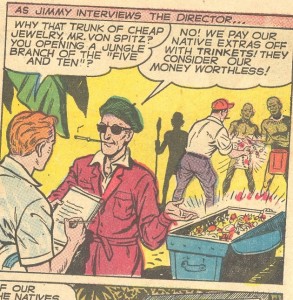 Anyways, during one of the movies the goddess that the native African worships shows up and you guessed it; she's an ape! Jimmy being the brainless showboating jerk he is, decides to get a role in the film and proceeds to attempt to upstage the actors by method acting as a Tarzan type. While swinging through the trees, Jimmy's branch breaks and tosses him into a lake with a quicksand bottom. Thinking quickly, Jimmy throws a bucket over his head while waiting for Superman to save his overacting butt. But no! It turns out it was the ape goddess Bruna who saved him and takes him back to her home in the cliffs to woo our poor reporter. After what I am sure was a rough night for Jimmy, he escapes from her home, possibly unmolested  but I wouldn't bet the farm and hightails it back to the native village.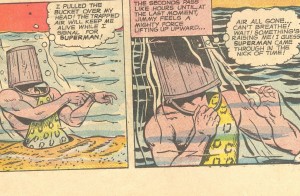 Of course we can't have the story end that way, not without a wedding ceremony! So upon waking up, Bruna is pissed! The natives releasing that Jimmy is some sleazebag who woos an ape goddess and runs, capture him for their goddess. Luckily, Superman flies by and picks up Bruna to keep her away from Jimmy. After witnessing the very odd feat of a white man with his underwear on the outside abscond with their goddess, the natives declare Superman to be the greatest witch doctor in the jungle. Jumping back to Bruna though, she's on a rampage having been denied her hunk of Jimmy Olsen, so Superman decides that the best way to resolve the situation is to marry Jimmy off to her while he thinks of a better idea. Really Superman? You've matched wits with the likes of Lex Luthor and Braniac but you need to stall for time to outwit an ape? He probably had the situation well in hand but he's trying to rack up as many points as he can in the "force Jimmy to get freaky with weird things" column.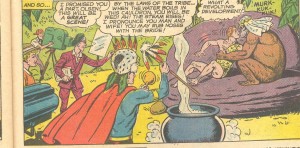 While Superman delivers Jimmy to his bride, Jimmy's girlfriend Lucy Lane shows up for a surprise visit and decides to lend a hand to the festivities. Superman then returns in witch doctor regalia to marry Jimmy and Bruna while the movie director shows up to film the proceedings. After the ceremony, Jimmy gets a flash of insight into how he can arrange for a quickie divorce and arranges for Superman to stop by the cave later tonight. Later in the evening, Superman flies back the cave and sees Jimmy being thrown off the cliff? As Superman catches Jimmy, Jimmy explains his ingenious plan to get divorced from his wife. During the nightly movie show, Jimmy swapped the film reels with a movie of an ape throwing a man from a cliff. Apparently in a case of monkey see monkey do, his bride proceeds to attempt murder and toss him off the cliff just in time to be saved by Superman. And the story ends with them flying off back to Metropolis.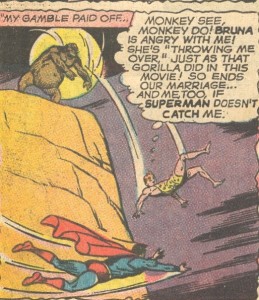 The Score: 9/10 Not only does the scene play out, the entire issue manages to be pretty darn entertaining. We get to see Jimmy Olsen marry an ape, possibly get violated by her and then we get to see them teach an ape how to commit murder. That's right, Jimmy and Superman taught an ape to kill someone so that the next sap who shows up is going to be married to the Bluebeard of apes.