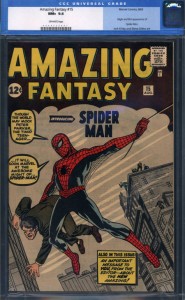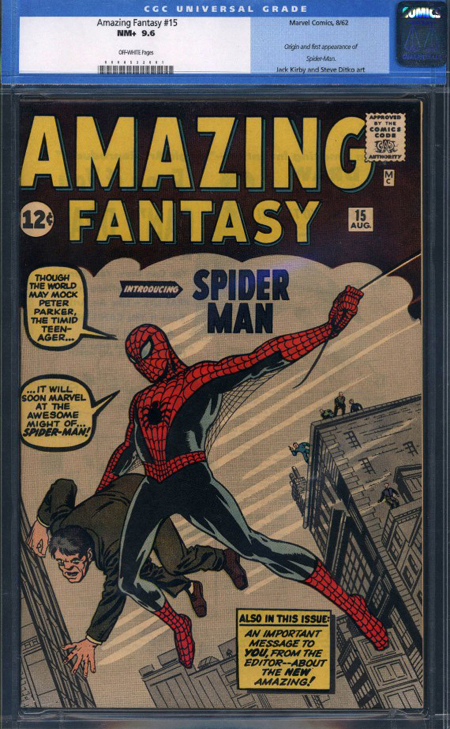 Last month quietly, without fanfare a second CGC 9.6 Amazing Fantasy #15 appeared on the CGC Census (CGC is of course the company that grades the comics out of 10, they keep a census on their website). What made this 2nd copy's appearance even more noteworthy than it normally would have been is the fact that back March, 2011 the then only known CGC 9.6 copy of Amazing Fantasy # 15 sold for $1.1 million. It was the second highest sale ever for a comic book. For my post on that sale see Auction Highlights #52.
I noticed on November 9th that the CGC boards started discussing the 2nd copy and most took a wait and see approach. Some immediately assumed that the original $1.1 million dollar copy will take a big hit value wise.
The guys on the board did seem to figure out that this new CGC 9.6 copy was one of the old CGC 9.4 copies, opened, most likely pressed, and then re-submitted. The CGC Census now shows 5 graded at 9.4 while a month ago that figure was 6. These guys are Lieutenant Columbos in the making.
OK so now what? Now there are 2 "best" copies.
What I do not know is the page quality of each of these books. I'll stick my neck out and say that if the old one has a better page quality designation it will retain its value since it will still technically be the "best" known copy. If the new one has better page quality than the older one then it does not bode so well for the person who shelled out $1.1 million.
Lately we've been talking about high end investors not necessarily agreeing with CGC's grade on a particular book. Perhaps one of the 9.6 copies "looks" nicer than the other.
Can Spidey's first appearance support 2 copies worth $1 million? Action Comics #1 can support 3 (most certainly 4 should the Mile High copy come to market). But Amazing Fantasy #15 is no Action Comics #1 now is it?
Anyway it will be very interesting to see how the market will react if and when one of these goes to market.