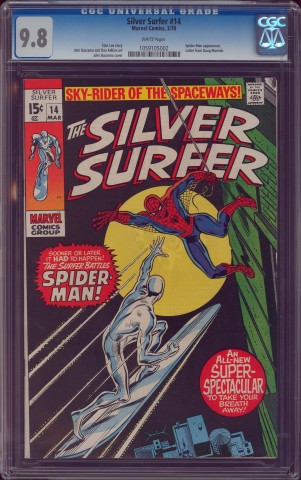 Now I have no idea what it says in the CGC grading manual so this will be my opinion only, totally based on me having absolutely no facts! All I will go on is the many discrepancies in grade I've seen with my own eyes. These of course would be discrepancies in my eyes but maybe not in yours.
I'm assuming there is some "points off" system where they start at 10 and knock off grade points based on the number of flaws they see.
I'm assuming it does not have to be much to downgrade a 9.9 to a 9.8 but that same defect would not bring the book from a 4.0 to a 3.5. Defects must be weighted near the top of the chart.
I'm assuming some defects hurt books more than others. Water stains are worse than ¼" tears etc.
The funny part about severity of defects is that there may not be a consensus in the collecting community as to which defect is worse. Some collectors hate tape but don't mind a little water stain, other collectors despise chipping while some will take the chipping as long as there is no pen on the cover, and so on.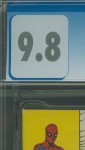 CGC's demerits are structured in order of severity but it would be an order that they chose. Arbitrarily? I know guys that absolutely hate those little dog ears at the top or bottom of the spine, yet I've seen  9.8s with said dog ears.
Take me for example. I was looking at a CGC 9.8 Silver Surfer #14 a few days ago and was shocked to see just how mis-cropped and mis-bound it was. Cripe there was a ¼" of white on the spine on the bottom while it's perfect at the top! What gives?
This brings me to my point; they have to reset the parameters of their grading guide. Off centered cards would never grade high because they look off centered and off centered or mis-cut comics should be no different, the thing looked terrible! CGC 9.8?
All comic collectors have at one point or another pick up a CGC copy and said "are you kidding me" or "are these guys on drugs". These reactions are normal since we all think we know how to grade better than CGC but the boys go through a lot of books and they for the most part do a bang up job.
I think the problem lies in the rigidity of the manual they are following to grade.
Last weekend I sold a CGC 7.5 comic for the CGC 7.75 GPA price. Basically I told the buyer what GPA 7.5s get (GPA being the site that tracks realized prices of graded books) and what GPA 8.0s get and I wanted the point in the middle for my "mis-graded" book. The customer thoroughly examined the book and together we went over the flaws I knew of (I'd called CGC earlier to get the notes). The bottom line is that the buyer also thought the book under-graded and was willing to pay above market for the Grade given the book by CGC. The buyer was convinced he was getting the book below market, CGC grade be damned.
On the flipside we've all tracked auctions where a book we want looks nowhere near as good as the grade on the CGC label. These comics most often underperform at auction as the bidders basically reject the grade assigned to the book. Now I'm not sure what the other 9.8 looks like (there are 2 on the CGC census) but imagine a near perfect, glossy, dead center Silver Surfer #14 graded CGC 9.8 getting a great result at auction then imagine the Silver Surfer #14 CGC 9.8 that I saw on the weekend go up on auction a month later. It would be lucky to get 3/4th the result. We then get misleading, though totally true, information being posted on sites like GPAnalysis. "Boy is Surfer 14 ever tanking, I better unload mine while I can". But that is another post for another time.
So the CGC guys are in tough, 10 years of grading by many different graders has to lead to some glaring discrepancies thus the company puts in systems to iron things out.
I'm arguing 2 things.
The system must be reviewed and tweaked. No dog eared 9.8s please, personally I don't think CGC 9.8 should be allowed to have Off White pages, the page quality is part of the grade and should not be noted after the grade is given.
The graders should be given more flexibility in adjusting the grade for the general feel and appearance of the book. Grading by the manual nets you a 9.0 but the book just looks terrible for some reason, the grader should give the thing an 8.5 and visa versa, if a book grades an 8.5 by the manual but somehow presents amazingly then take that into account and give it a 9.0. These can be dangerous waters for automatons that can only follow instructions but they can also be smooth sailing for a team of well versed pros given some subjective freedom.
Just reminding everyone that these are my opinions only!!