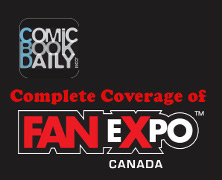 Fan Expo is all done for another year, and it was a great show indeed.  The reactions I have seen for this year's Fan Expo have been very positive.  I know for myself I was very happy with this year's Fan Expo.  Especially since it was my first time covering it for Comic Book Daily.
As I walked around the show floor on Saturday and Sunday, I started to think how Fan Expo is an evolving entity.  It isn't the same every year.  It is a comic book convention.  Sometimes it is a big one with amazing guests.  Sometimes it is smaller.  Some years the show is dominated by anime and video games.  Some years the horror section is the dominant beast.  But at its core it is a celebration of all things "geek", and the fans embrace it whole-heartedly.
Like anything that evolves there are going to be rough patches.  By the reports and rumours last year had its fair share of hassles.  This year looked like it ran pretty smooth.  If there were any problems with Fan Expo this year, no doubt Hobby Star is on it to remedy those problems.
The crowds were huge this year.  Especially on the Saturday.  But the thing I noticed is people were not buying much.  They may have, and retailers might be very happy with their sales for those 4 days.  But my perception was sales were low.  There was lots of browsing but not much purchasing.  I know for myself my purchases were much lower than previous conventions and shows.  I even headed home with money in my pocket.
There seemed to be more costumes than previous shows (this isn't a stated fact, just perception) and the detail and work that goes into the costumes is amazing.  On Saturday I had the opportunity to stand in the "Masquerade Green Room".  I was hanging out with my friend who gets dressed up for every Fan Expo (he was Firefly), and he filled me in on what you need to do for the Masquerade.  From where I was standing I could see Autobot Jazz, Arcee, He-Man, Red Skull, Devastator (the idea of cut up Tonka trucks for accessories was awesome), and Darkwing Duck (who I met out of costume).  The level of dedication, craftsmanship and creativity that the cosplayers have is amazing.  Some of the costumes are mind-blowing.  Some of the costumes are easily ordered online, and some are home-made.  But the cosplayers have lots of fun doing it.  I am working on a G.I. Joe costume myself, and maybe next year I will spend the day as a cosplayer to see what it's like to pose for pictures all day.  I think it would be fun.
I spoke to a couple of comic creators who have their own comic series, and are trying to generate some publicity for their comics.  One of them is Jason Loo.  He is the artist for the Canadian G.I. Joe Convention.  He creates the comic book for the convention (and the monthly newsletter).  Jason has a comic series called Awol'd.  I purchased volume 1 and volume 2 from him.  I look forward to checking them out.
The other creator I spoke to is Stephen Daymond.  His web-comic is Specimen B28.  His art style is very cool.  He had a print for sale of his hero Mitch, looking awesome with a moustache and a muscle car.  It reminded me of Joe Dirt crossed with Han Solo.  We talked a little bit about his comic and cars.  Stephen told me right now he is doing shows to try and generate some interest in his work.  First step, develop a fan base.  After looking at his stuff, I am impressed.
Artist Alley was a very busy place.  There were several times when I went to go snag a signature or purchase a print and there were line ups at the artist's tables.  Most of the artists were very nice to talk to.  I got the opportunity to meet Steve Epting, who is one of my favourite artists.  I purchased his sketch book, which he signed for me.  He was doing signatures at only certain times of the day.  I was hesitant to do so, but after he signed my sketch book I bought from him, I asked if it would be alright to sign my copy of Death of Captain America.  He was very nice and signed it for me.  I would've liked to speak to him longer, but he was working on a commission piece.  I know there is only so much time available for commissions at a show, and didn't want to monopolize his time.
So what else did I purchase at this year's Fan Expo?  Well… thanks for asking, here is what I picked up.
I bought 2 prints from Valentine DeLandro.  I bought a Captain America & Bucky print and a Harley Quinn print.  I love Valentine's artwork, and I have mentioned him in previous articles.  He is a great guy and I always have fun talking to him.
I bought a Cobra Commander print from Jason Edmiston.  I saw this print at CanJoeCon and wanted it then.  It is the same print I have on a G.I. Joe T Shirt.  I am a big fan of Jason as well.
I purchased a Captain America print from Marvin Law.  The print is Cap attacking two German soldiers that Marvin named "Hans and Frans".  The print was very economical and the colours are amazing on it.
I purchased four 8″x10″ prints from an artist, who regretfully I never caught his name or his business card.  You would've seen his work though.  I purchased the Dark Knight homage featuring the 60's TV version of Batman and Joker.  I also bought a Skeletor/Evil Lynn, Harley Quinn/Joker and a Cobra Commander/Destro/Baroness print that is reminiscent of World War II.
I picked up Awol'd Volume 1 and Volume 2 from Jason Loo.  I look forward to reading them soon.
I bought a Marvel Select movie version Captain America.  This is the best movie version of Captain America available.  There are larger Captain America toys available at your local toy aisle, but this Marvel Select figure has better sculpting and articulation.  I picked it up $5 cheaper than other booths were offering it for.  I grabbed it as quick as I could on Saturday (then had to take it out of the package because I didn't want to carry that bulk around all day).
While I was browsing through trades and long boxes, I talked to Brent Chittenden about Thor and Beta Ray Bill.  Then it flashed on me, I asked Pete (DeCourcy) several weeks ago about the Beta Ray Bill Stormbreaker trade paperback.  It has been out of print for a couple years.  So I told Brent I was on a mission to find the Beta Ray Bill trade.  It was literally within 15 minutes I found it for sale, and it was 30% off of US cover price.  I was amazed.  That just goes to show, you never know what you'll find at a show.  You might complete your list quicker than you thought.
I had a lot of fun at this years Fan Expo.  I was worried about the show.  I thought the crowds would be horrible.  To my surprise the crowds were good.  Even traffic was good around the Metro Convention Center.  On Sunday I drove right down to Rogers Centre and parked.  The traffic was really light on Sunday and I drove the whole length of Lakeshore (the traffic was light in front of CNE grounds too).  Even going home at 6 pm, the traffic was moving well.
I would like to offer a big congratulations to Hobby Star for a Fan Expo.  This years show went very well.  Fan Expo has a good base to build on for next year and the future.  Fan Expo is one of the premiere Geek-Culture-Conventions in North America and it can only get bigger and better.
Photos courtesy of Angela Campbell.