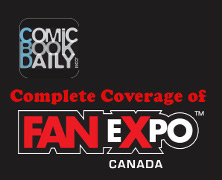 I'll be the first to admit that, by Sunday, I was muttering Roger Murtaugh's (Danny Glover) catchphrase from the Lethal Weapon films. Apart from wondering how the hell I got so old so quickly, I ended up having a great day. It was a little less busy than Saturday was but there were definitely more people than on there were on Thursday or Friday.
I hit the Marvel Panel for "The Next BIG Thing" and left feeling super excited about some upcoming releases. Not to slag on that DC panel again but I found that I was way more energized for upcoming books from Marvel than I was for (most of) DC's offerings. Which, considering that they're relaunching 52 books at once, isn't a good sign. That being said, DC's preorder sales for some of the new books were pretty spectacular, so I might just be an anomaly. But, I've said it before and I'll say it again, I can't really get excited about the DC relaunch. I'm excited about it from the business perspective – to assess the effectiveness of the strategy in attracting and keeping new readers – but as a reader, I can't muster up more than a "Meh" for most of DC's offerings as a comic book fan.
I also ran another panel that day, "A Novel Approach: Creators on Graphic Novels and New Media". Many thanks to Brian McLachlan and Scott Chantler for a super-awesome panel, especially since they were the only two panelists who could make it panel (to be fair, the other panelists were indisposed for very good reasons). In actuality, Brian McLachlan graciously agreed to sit on the panel at the last minute because of the aforementioned indispositions.
The rest of the day was spent picking up swag, including three pieces of original art. These included two sketches from Agnes Garbowska: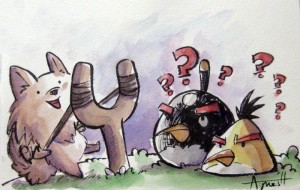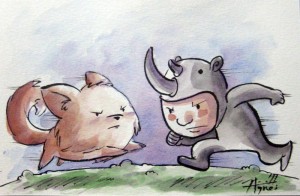 This was then followed by a sketch of both my and Mr. Comic Book Goddess' favourite boxer (and Congressman) Manny Pacquiao by Travis Sengaus: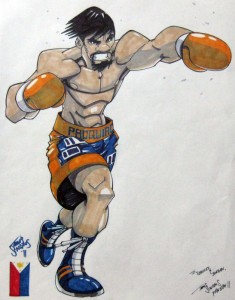 Overall, I enjoyed this year's Fan Expo and I'm very much looking forward to next year, where I will be sure to take a day or two off before the con as well as after it (so I won't be as exhausted as I was). So, thumbs up to the organizers! I was bummed that I didn't get to squee! at Dan Slott (he couldn't make it because of Hurricane Irene so that was hardly the fault of the organizers, though I do shake my fist at Mother Nature).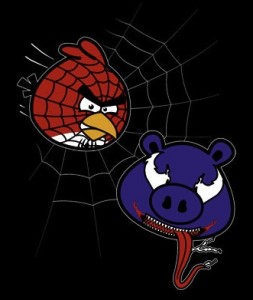 Shelley Smarz is a pop culture maven, comic book scholar, and business lady. She wore her second Angry Birds/Superhero mash-up tee, "The Amazing Spider-Bird". It was a limited edition and no longer in print but weRsNs' RedBubble store has some pretty awesome Angry Birds mash-ups still available. She also thinks that Oscar De La Hoya looks hot in lingerie.