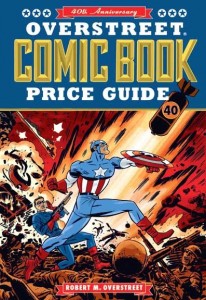 Recently I bought a very large comic collection. There are thousands of comic books, all from the mid 1940s to the mid 1970s. Nice deep runs of the main Marvel and DC titles are present as are solid runs of Dells and Harveys. There were plenty of keys present including 7 of the big Marvel Silver Age keys.
Picking up a big collection is always nice but then you realize you have to start pricing it out. It's hard work and it takes weeks to accomplish. Un-bag comic, count pages, look for restoration, assess grade, determine what market will bear for comic, re-bag comic, sticker comic, repeat procedure several thousand times. Even the CGC graded comics take time to price up.
As I fight through the collection I've come to realize just how valuable the Overstreet Comic Book Price Guide is to our hobby.
I am looking to price tracking websites now and again when dealing with the very expensive books but surprisingly I find myself often ignoring recorded sales data. What, how can I price a comic book higher than the amount the GP Analysis is showing the book to be getting? Easy. Very often GP Analysis and for that matter any site that posts recorded auction sales does not accurately reflect what a comic can successfully trade for.
There are 3 main reasons why I selectively overlook this data.
The 1st reason is that sites that track sales of graded comic books track only a percentage of those sales. A lot of graded comics sell privately, in comic book stores and at comic book conventions and often these sales are higher than the recorded sales we see posted on the net.
The 2nd reason is that many of these sales recorded on the net are sales under duress. By duress I mean the seller has to move the comic book now and has to throw it up on eBay or ComicLink or ComicConnect or Heritage or whatever. These sellers usually do not have the luxury of waiting for their price.
The 3rd reason is more a moot point. There are hundreds of millions of comic books out there and CGC only last year graded their millionth comic (a lot of those are modern era comics too). Ungraded comics sales are untracked and even if you were to find some data on eBay's "Completed Listings" feature you'd find that the disparity between the few recorded sales of raw comics versus what similar grades actually realize at conventions, in stores or in private sales is even wider than we see with the graded comics and thus not even worth discussing.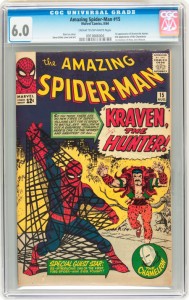 If I'm lucky enough to be holding a CGC 5.0 Detective Comics #27 or a CGC 9.0 Incredible Hulk #1 I have little worries. Large auctions will generally bring me good results. But these high prestige types of sales represent what, way less than 1% of the transactions and not even 10% of the total value of comic books being sold even excluding all comics that trade at bargain bin prices. What if I'm holding an Amazing Spider-Man #15 CGC 6.0? Repeatedly solid comic books like this underperform on large auctions and for many reasons. A finite amount of money will naturally gravitate to the small percentage of prestige books, a limited time on market means limited exposure and the still strong army of buyers that will not buy over the net are absent.
Comic books like Amazing Spider-Man #15 at CGC 6.0 are solid collectible comics. They consistently sell for more that the 90 day average posted on the GPA in the places I've mentioned above. More of these comics sell unrecorded than recorded. I'm guessing that many of these types of comics purchased on the auctions at bargain prices are purchased by resellers willing to hold the comics in inventory until a buyer willing to pay more arrives.
The Overstreet Comic Book Price Guide is the most overlooked and undervalued tool in the hobby. While investors and speculators depend more on the real-time results delivered by websites like GP Analysis the Overstreet remains the backbone of the hobby. Investors and speculators are the bastard children of a strong collecting community, they're flashy and get a lot of press but they are still the minority. Sure, the Overstreet is an annual printed price guide and by its nature cannot reflect quick market changes. But again these quick changes affect a very small percentage of comics and the speculators and investors represent a small fraction of collectors.  The vast majority of comic book collectors have confidence in the Overstreet Guide and thus the for vast majority of comic books that sell, a measure against the Overstreet Comic Book Price Guide remains the main determinant of price.