Comic book collectors and Walking Dead fans are abuzz after yesterday's two record breaking sales of Walking Dead #1.
Two CGC 9.9 copies of Walking Dead #1 were posted on eBay as of yesterday morning.
One of the copies was ending at 11:24 AM PST and when the gavel fell it sold for a staggering $10,100. The auction was very active with 50 bids in total being placed.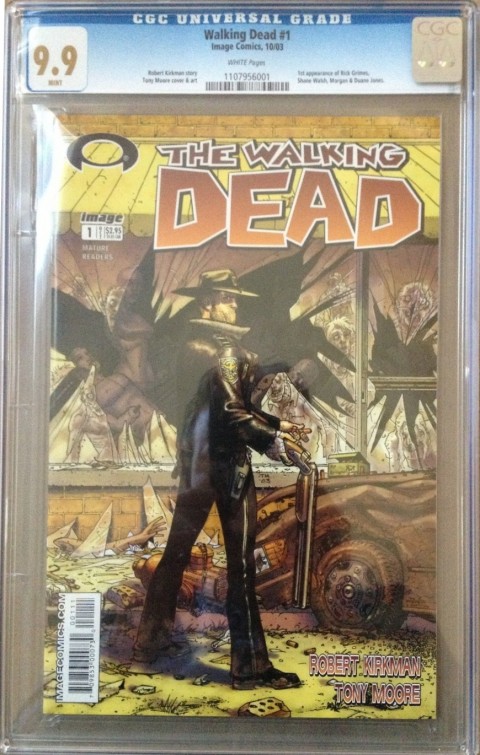 There was another copy on eBay posted as a Buy it Now of $9,800. This copy sat quietly with no takers until 11:26 AM PST, 2 minutes after the above sale closed!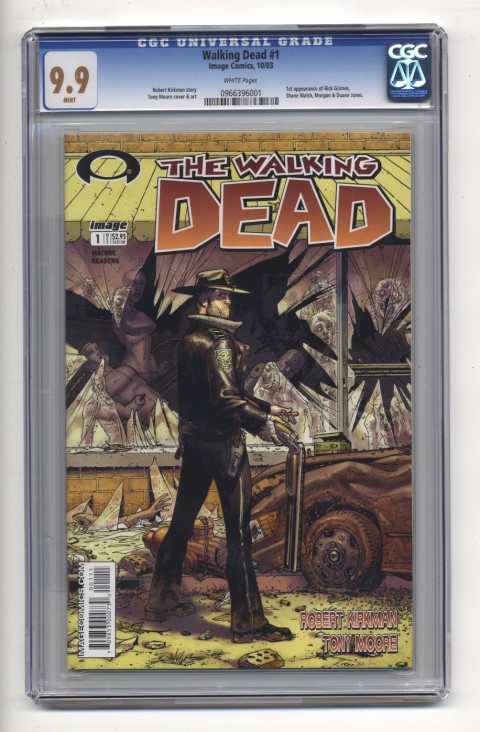 This is pure speculation but I'm assuming that one of the people that got outbid late in the game on the 1st sale jumped over to the other CGC 9.9 and casually hit the "Buy it Now" button.
Walking Dead #1, released in October 2003, has seen a steady rise in demand since the premiere of the Walking Dead TV series now airing on AMC. This fall's Season 3 premiere was seen by 10.9 million viewers. It doesn't hurt that the comics are really good too and that the premiere issue of Walking Dead had a small print run of 7,200 copies.
Interestingly enough the CGC 9.9 copy that just sold for $10,100 was actually purchased back in August of 2012 for $7,200. That's a tidy little profit for sitting on a book for 3 months!
It seems flipping Walking Dead #1 at the CGC 9.9 grade has worked before. I dug up records on another copy that sold back on March 28th 2012 for $3,200, this copy resold 2 days later on March 30th for $7,000!
CGC 9.9's have been all the rage lately, I've noted this in the my last few ComicLink Auction Highlights. Common 1980s and 1990s books have been getting crazy prices in the CGC 9.9 grades!
Remember the New Mutants #98 (1st Deadpool) CGC 9.9 copy that got $12,250 back in 2009? Everyone thought the buyer was crazy! Today that book is getting $6,300 (for its last sale) which is up from $5,700 it got for the sale before. Did that 1st buyer turn out to be right?
Sure there are now 4 CGC 9.9 New Mutant #98 vs. only 1 when it 1st sold but have a look at the Walking Dead #1, there are 7 Walking Dead #1 9.9s – plus 3 Sig series – so they are more common yet it doesn't seem to dampen the demand!
Yes but there are way more New Mutant #98s out there Walt. Well, actually there are way less at the CGC 9.9 grade (4 vs 7).