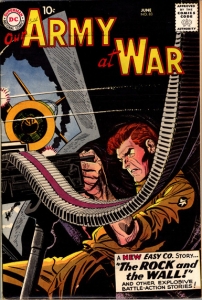 It seems a little odd writing about war comics in the middle of the most festive time of the year. It is this time of year however when I think about war the most. The sacrifices that others have made in the past, and still make today, so I can sit at home relatively care-free with my friends and family. Soldiers freezing their behinds off in a trench while I sit by a cozy fire sipping eggnog. I feel fortunate and grateful to them for their service. The first two world wars and the Korean war have taken up most of my attention, but to me any person volunteering to serve their country (and the reasons they do so vary widely) deserves a measure of respect.
Our Overvalued Overstreet pick this week is an early Silver age DC key featuring the many early appearances of Sgt. Rock. First let's look at some of the books we will be talking about today and their current valuations.
The 46th Overstreet Price Guide Values are listed below.
G.I. Combat #68 6.0 $435 / 8.0 $1196 / 9.0 $2698 / 9.2 $4200
Sgt. Rock Prototype issue, January 1959.
Our army at War #81 6.0 $951 / 8.0 $2695 / 9.0 $6098 / 9.2 $9500
The "Rock of Easy" is another Sgt. Rock prototype story featuring Sgt. Rocky, April 1959.
Our army at War #82 6.0 $354 / 8.0 $944 / 9.0 $2122 / 9.2 $3300
"Hold up Easy" 1st app of a Sgt. Rock in name only, in a support role, six panels. May 1959.
Our army at War #83 6.0$2199 8.0$6231 9.0$14,116 9.2$22,000
"The Rock and Wall" is the first true appearance of Sgt. Rock the definitive version.
As you can there are four comics which make up the rock formation of the character known as Sgt. Rock. The valuations listed above look a little odd as we would understand prices for prototypes and first appearances. Let's take a look back at the history of each of these books in the Overstreet price guide.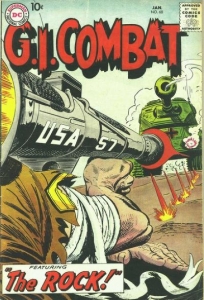 G.I. Combat #68 – this issue was first discovered as a Sgt. Rock prototype somewhere between Overstreet #32 and #35 where I first found it listed. It has been valued at the #3 position in this group of four almost since it was discovered. It later becomes known as the prototype for Our Army at War #83. I wish I could buy Tales To Astonish #27 for a sliver of the value issue #35.
Our Army at War #81 – it was listed as the first appearance of Sgt. Rock and had the highest valuation, all the way up to Overstreet #39 (seven years ago). A massive valuation change took place between Overstreet #39 and #45. I wish I would have hung to my old Overstreets and would have if I knew I was going to be doing these posts. This book is now listed as a second prototype of Sgt. Rock known as "Rocky". No one at Overstreet must have ever played on a men's team of any kind. A person with the last name Rock would have almost certainly been nicknamed "Rocky" by his mates. This is one of the most ridiculous interpretations/statements I have ever read in Overstreet.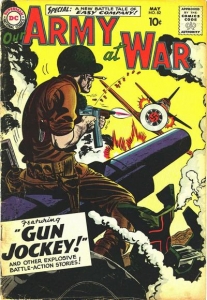 Our Army at War #82 – might be a third prototype or second appearance. It is seen as continuation of the Sgt. Rock/Easy Company saga and the light-weight issue of this group and has always been valued 4th.
Our Army at War #83 – is now seen as the definitive version of Sgt. Rock and his narrative with Easy company. The book is drawn by legendary artist Joe Kubert who has an extended run and future history with the Sgt. Rock character. The book itself has exploded price-wise and is now almost 5 times more than it was seven years ago, (9.2 $4500). Our Army at War #81 has moved from 9.2 $5500 to $9000 in the same time frame.
Overstreet has created a convoluted mess in terms of the valuations of Prototypes, 1st, 2nd, and 3rd appearances during evolution of the character Sgt. Rock. They have even added another new term for valuing a comic the "definitive version" of the character. Add it to the list of cameo, brief, partial, first-full appearances that add unquantifiable value to a comic. That current valuation for Our Army at War #83 seems ludicrous to me for the 3rd or 4th appearance of the character, and would scare the hell out of me if I purchased one at today's prices.
I know Sgt. Rock is a well- loved character and I know these books don't grow on trees in grade. I just don't see a real future for war comics going forward. I don't see them being read by kids and most parents avoid the genre altogether. Run books seem to languish in bins like westerns.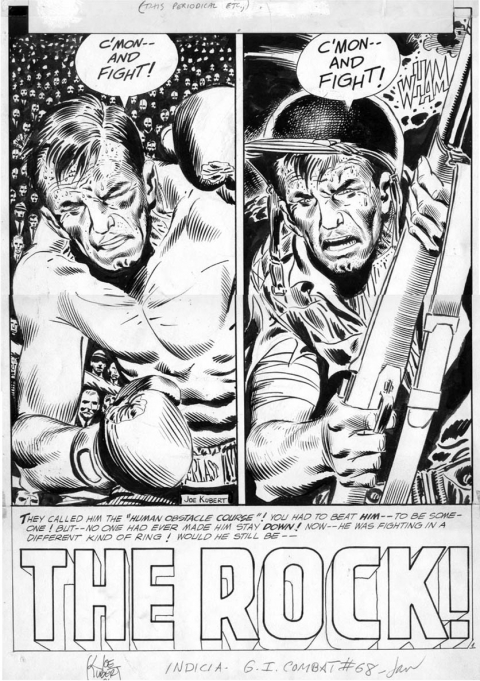 In General, I see the market for Sgt. Rock comics and all war titles fading. Although investing in comics is strictly a private matter, I think staying in this market in a big way invites Corporal punishment for your wallet at some point down the road. Anyone who purchased or owned an Our Army At War #81 or #83 ten years ago would no doubt disagree with me on this one if they still owned it today. Captain serious signing off.
Here is wishing everyone a Happy Near in 2017. Should be an interesting year…