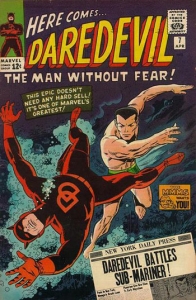 Welcome to Overvalued Overstreet. This column features books that the writer feels is currently overvalued in the Overstreet price guide and/or in the marketplace. This column is an opinion piece only and we're hoping to see comments either jumping on or hopefully even defending the book.
Daredevil #7, Marvel Comics, April 1965
I can't tell you how many times lower to mid grade copies of this book has queued up in my back issue bins over the years. Mind you I don't think I have a copy at this moment but I think that's due more to "aggressive discounting" than it is to rampant demand.
The problem all along must have been an overvalued Overstreet value.
Let me break down the Overstreet pricing:
Daredevil #6 9.0/$297, 9.0/$460
Daredevil #7 9.0/$1,350, 9.2/$2,100
The big difference between the two issues is that #7 introduces Daredevil's new red costume transitioning from the yellow one worn in issue #6. That's it as far as I can tell.
The Sub-Mariner guest appearance should not be that big a factor to drive price up that much seeing as it is Subby's umpteenth x-over. Sure it was a great little battle at the end, Daredevil totally out of his league but never giving up. If there is an abundance of anything from Marvel in the 1960s though its classic battles so we can't point to their little tilt as the reason for that much value.
You may say that the red costume is an important development and you'd be right. I'm saying it is not a justification for a five fold increase in value from the previous issue.
I'd like to back my argument by looking at another major Marvel character who benefited from a new costume. Iron Man went from that ugly ass yellow contraption he wore in Tales of Suspense #47 to his signature red armor that has been tweaked so much over the years, in Tales of Suspense #48. This is as dramatic and in all honesty probably even more a dramatic change that the Daredevil outfit went through.
Let's have a look at how Overstreet is treating these Iron Man transition issues:
Tales of Suspense #47 9.0/$1,028, 9.2/$1,600
Tales of Suspense #48 9.0/$1,156, 9.2/$1,800
I'm not sure what I'm missing with this one but at this moment Daredevil #7 is worth more than Iron Man's Tales of Suspense #48 and Tales #48 is an early, early 1963 Marvel.
The market seems to love Daredevil #7 more than my back issue bins ever did at least for high end copies, recently a CGC 9.2 sold for $2,345, which about 110% of Guide. Compare that to the last Tales of Suspense #48 sale of $1,232, or less than 70% of Guide. I should also note that Tales of Suspense #48 is scarcer in higher grade, there are 63 CGC 9.0 or better copies of TOS #48 versus 75 copies at CGC 9.0 or better for Daredevil #7.
I'm still not sure why the market keeps giving Daredevil #7 this much respect.