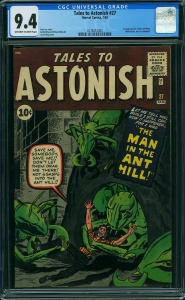 Comic Link Fall Featured Auction
The comic book portion of the ComicLink Fall Featured Auction ended Thursday December 8th. I'm really enjoying these CLINK auctions. The selection is great from every era! Tops of keys, tons of high grade, tons of unique stuff we don't see every day, it's like these guys know what they're doing or something.
The two big hitters were the CGC 9.4 OW/W Tales to Astonish #27 that took top spot selling at $205,501 and the CGC 9.4 OW/W Journey into Mystery #83 that came in second selling at $195,000. I'll take the Tales 27 any day of the week!
Let's look at some top 50 tidbits:
16 were from the Golden Age
14 were the Major Marvel Keys as defined by me here
6 were from the Bronze Age and did anyone notice that the 9.8 Luke Cage #1 got more than the 9.8 Hulk #181 – waaaay less supply on the Cage book
8 appearances make Spidey the top hero in the top 50
6 restored books with loud in your face old style Purple CGC labels, is this the beginning of the end of Purple being the color value turn to to die?
1 Modern Age snuck in, a shiny CGC 9.9 Star Wars #42
OK let's look at a few results.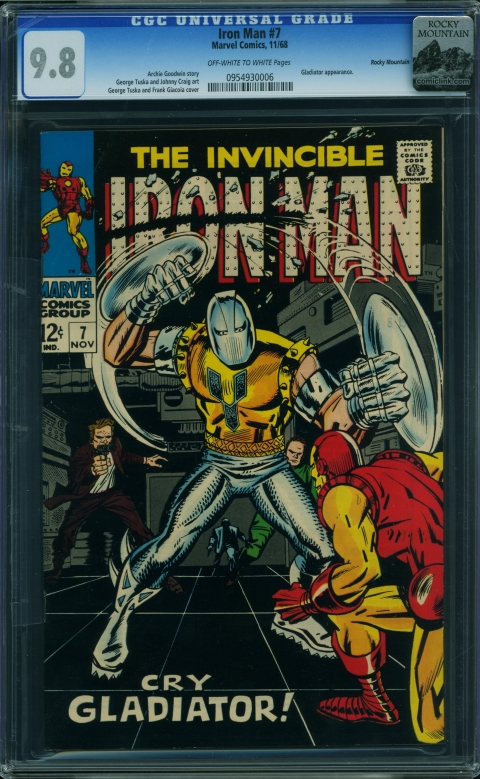 Iron Man #7, Marvel Comics, November 1968 Graded by CGC at 9.8 with Off White to White pages sold for $7,500.00.
Yell all you want but I don't like it. An Iron Man #2 at 9.8 got just over $1,000 so this might be 2 guys going after a top registry set or something. Truth be told I think the book is a bit under wrapped, you lose a bit of the M on Marvel in the top left box and the pages should at least be White if you are going to go almost 4 times as high as the last 9.8 copy got not even 2 years ago. Unless I'm not privy to some 1st appearance knowledge…
Advantage Seller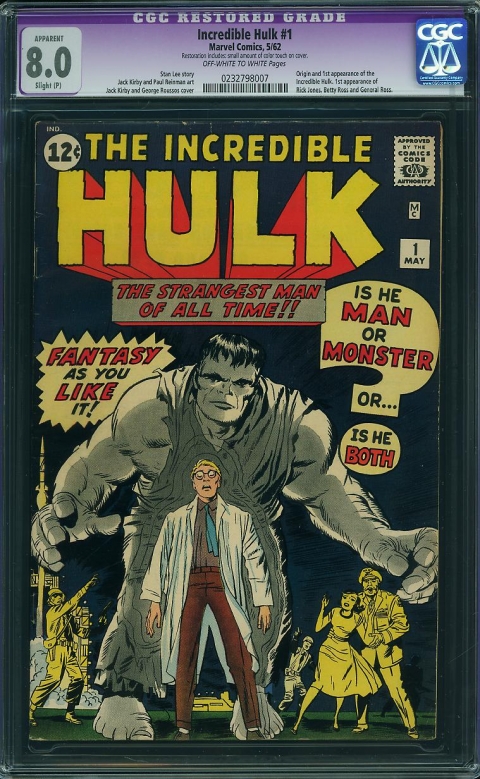 Incredible Hulk #1, Marvel Comics, May 1962 Graded by CGC at 8.0 Restored with Off White to White pages sold for $16,605.00.
I have a CBCS 8.5 Restored for sale in the ICE site so I was looking for this result. At first I went "YAY, mine has a chance to sell" then I read the restoration notes on the label – Slight (Professional), with small amount of color touch on cover – .
So someone wants to un-resto this book, send it down to some mad scientist paper guy and scrape off the added color that is on the cover. This must be the case because extensive resto for this book at this grade or higher sell from $7k to $9k.
On paper this is a good plan. On this same auction a Hulk #1 5.0 got close to $14,000 so this book will need to come back at least a 6.0 unrestored for this exercise to work – factoring in all the extra costs to get it to Blue Label.
Risky game and I'm not sure the owner of the book has any obligation to say whether he or she have already unsuccessfully tried this.
I'm thinking way too much but then again… so is the buyer…
Advantage Seller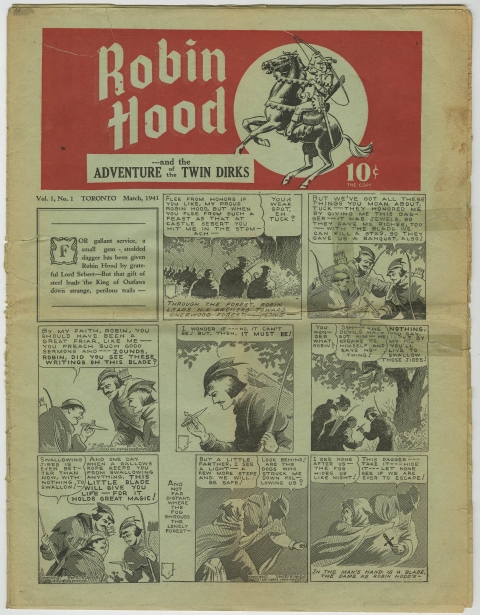 Robin Hood #1, Anglo American, March 1941 Graded by ComicLink at roughly a 3.0 sold for $3,399.00.
I'm happy to say I won this auction. There was a lot of excitement about this book coming to auction. I believe it's the 1st one ever to make an auction and it is the 1st one I've ever seen and I've been hunting Canadian Whites for years.
I think the sale amount is disappointing and I think a lot of it has to do with the lack of a CGC case. Oversized raw books are tough to mix in with everything else. Still, looking at the results the Robin Hood #2 and #3 got and the strong results for Three Aces #1 and #2 it's hard to argue against this book selling cheap.
Robin Hood #1 and Better Comics #1 from Maple Leaf Publishing share the honors of co-launching the Canadian Whites era back in Mach 1941. I'm excited about having a copy of each.
Advantage Buyer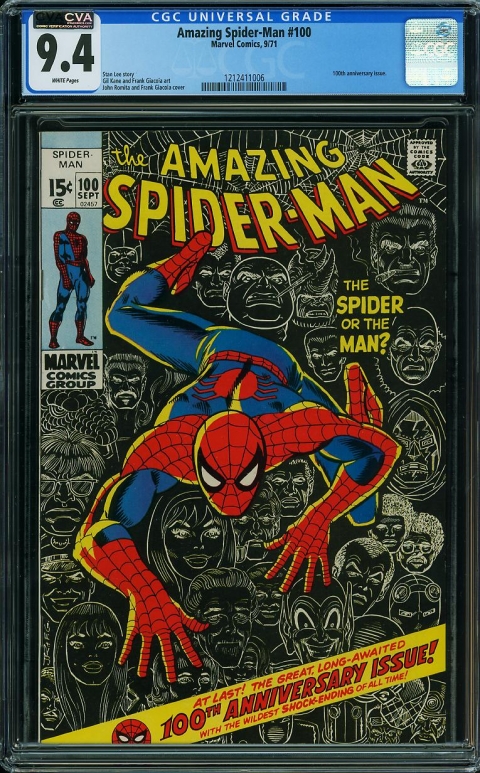 Amazing Spider-Man #100, Marvel Comics, September 1971 Graded by CGC at 9.4 with White pages sold for $405.00.
If I could ever give a seminar or a tutorial on how to buy graded comics I'd bring this copy into the classroom with me.
Have a look at this thing, it is jaw dropping in its technical near perfection. The Color Strike is vivid and bold, there are no arrival dates that I can see, the binding is at the absolute sweet spot, all you see is that 1/32 of an inch of white along the spine that does not deviant at all meaning that it's as perfectly bound as any copy of this book I've ever seen and meaning that its printed at a true 90 degree square. And hey, it has White pages.
I bid on this book and as I'm typing all this out I'm mad I didn't go higher.
Advantage Buyer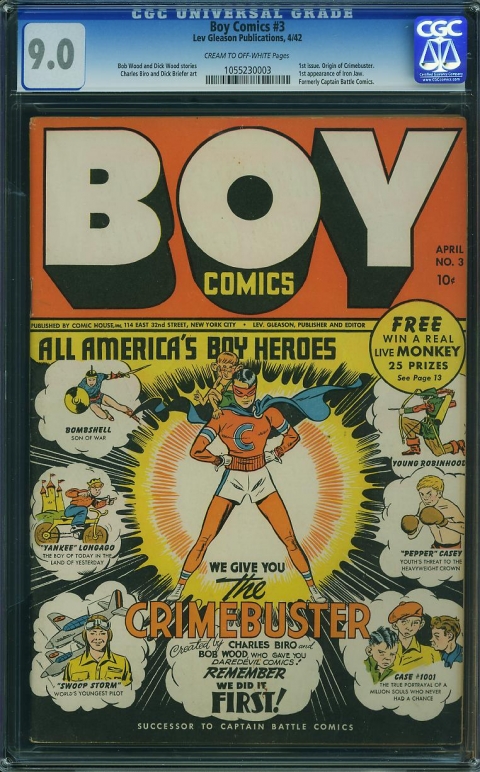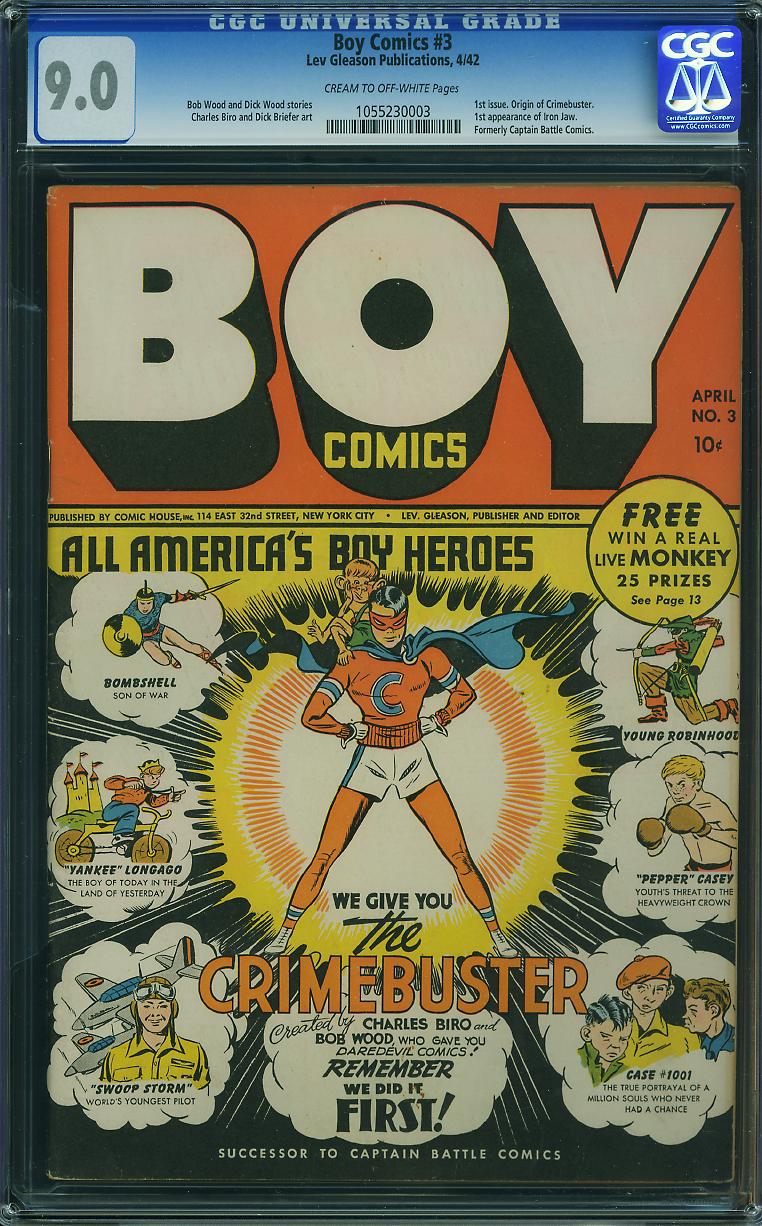 Boy Comics #3, Lev Gleason, April 1942 Graded by CGC at 9.0 with Cream to Off White pages sold for $2,311.00.
I bid on this book too but chickened out way too early.
This is a high grade Golden Age Key, it is the 1st issue of the run featuring the 1st appearances of Crimebuster and Iron Jaw.
I think Golden Age keys like this one stand to gain lots of ground over the coming years, just compare this price to what we're paying on Silver/Bronze and Moderns.
The only thing lacking here is awareness…
Advantage Buyer
So? You pick up anything?