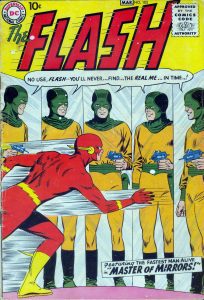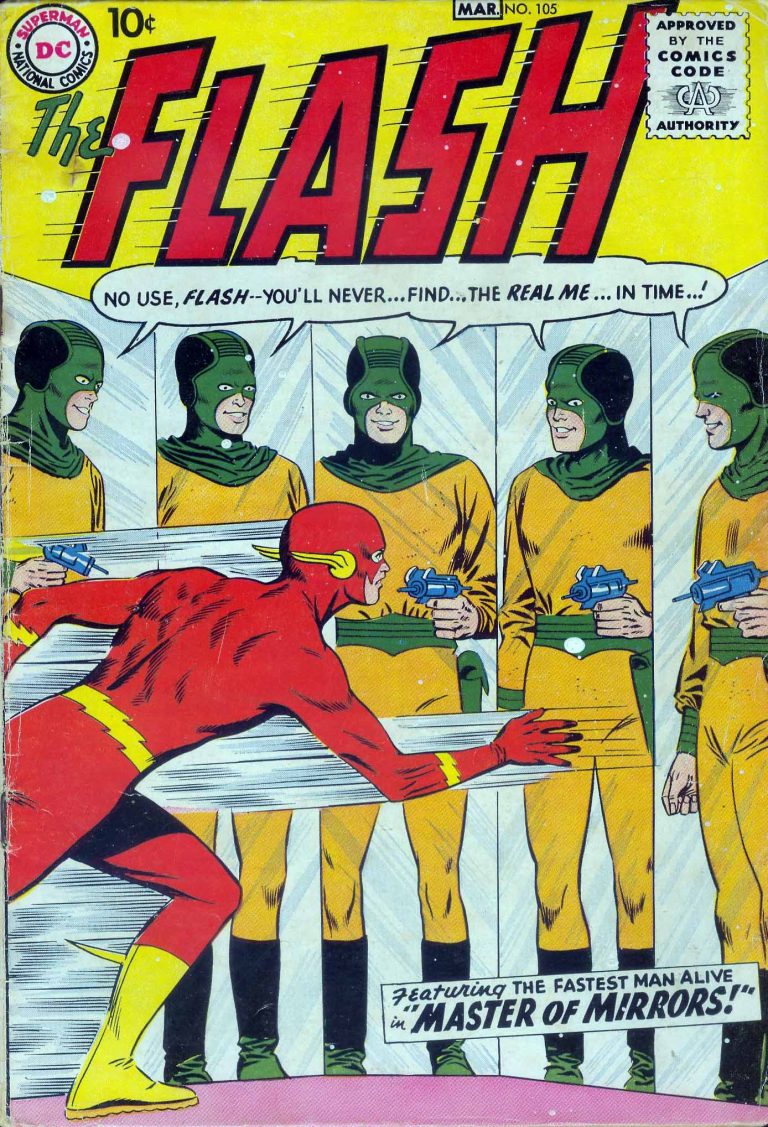 Today we take a look at a major DC Key that I think is a bit overblown in the Overstreet price guide. I may be alone here on this one. The book is a certified silver age key – no denying that. The Flash was the first golden age superhero character to reboot, and later the first hero to start being published in his own series in the silver age of comics.
Flash #105, DC Comics, March 1959.
Overstreet and the marketplace are in lock-step on this book, values increasing and demand is maybe at an all-time high. An ongoing successful TV series and movie appearances on the way. What more could you want?
I personally see Flash #105 as an over-heated and currently over-hyped book, much in the same way as I do with previous posts on Iron Man #1 and Silver Surfer #1. The book itself doesn't really bring that much to the table. It is currently the 3rd highest valued/ high grade Flash comic of all time. Only Flash Comics #1 and Showcase #4 are valued higher. Before we dig a little deeper, let's take a look at some current Overstreet values of Flash comics.
47th Overstreet Price guide prices.
| | | | | | |
| --- | --- | --- | --- | --- | --- |
| | 4.0 | 6.0 | 8.0 | 9.0 | 9.2 |
| Flash #2 (1940) | $2500 | $3750 | $8000 | $14000 | $20000 |
| All-Flash Quarterly #1 (1941) | $2500 | $3750 | $8750 | $14875 | $21000 |
| Showcase #4 (1956) | $12000 | $24000 | $54000 | $92000 | $130000 |
| Showcase #8 (1957) | $1680 | $2520 | $7600 | $14300 | $21000 |
| Showcase #13 (1958) | $686 | $1029 | $2916 | $6680 | $10300 |
| Showcase #14 (1958) | $720 | $1080 | $3050 | $6930 | $10800 |
| Flash #105 (1959) | $1120 | $2000 | $7000 | $16000 | $26000 |
I can tell you most of these books are completely out of my league past the 6.0 grade, but it is fun to dream.
As you can see Flash #105 takes a massive leap in value in the 9.0-9.2 grade compared to Flash #2, All-Flash Quarterly #1, and Showcase #8. This is a recent development particularly on Showcase #8 which was ranked higher than Flash #105 for first fourty plus years of the Overstreet Price guide.
When I look at that list of comics I put Flash #105 at about #6 in the canon of the Flash character. Behind Flash #1 & 2 (at least), All -Flash Quarterly #1, Showcase #4 & 8. I know some golden age fans would think there are more treasures to be had than this, and I know a lot of people think Flash #105 is perfect at #3.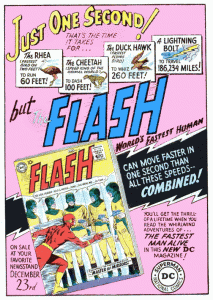 I think Flash #105 value is a bit overstated. It is the fifth appearance of the Flash in the silver age. Many people seem to think Showcase #4 came along and then was followed by Flash #105 and the Silver age of comics took off. It was really better planned than that. DC comics already had a stable of superhero comics that did not go away with the golden age of comics. Superman, Batman & Robin, & Wonder Woman were still being published – not a bad superhero core to start with. In 1956 Showcase #4 featured the all-new Flash Barry Allen. Showcase was being published every two months. Eight months later Showcase #8 was published with the 2nd  appearance of the new Flash. It is important to remember that back then sales figures seemed to take forever to obtain. Ten months after issue #8 and armed with sales figures from the first two books they produced the 3rd and 4th appearances of Flash in Showcase #13 & #14. This was followed in the spring of 1959 with the resumption of publishing and Flash #105. DC decided to use a resumption of the old numbering system picking up from Flash Comics that was cancelled at issue #104 in 1949. A mistake they did not repeat going forward. As you can see the return of the Flash was carefully orchestrated ensuring there was reader demand before moving ahead. The three Flash appearances that came after Showcase #4 were instrumental and I would say underappreciated in the successful launch of the new Flash series. It's hard for me to imagine the launch without them. There is a two-and-a-half-year gap between Showcase #4 and Flash #105.
When I think of the beginnings of the silver age of comics Showcase #4 comes immediately to mind, followed by Brave and the Bold #28 the first appearance of the Justice League of America. It was the success of the Justice League of America that later spurred on Martin Goodman and Stan Lee of Marvel comics to make a copy-cat comic book, that turned out to be the Fantastic Four. The Marvel Universe was born and it helped drive the bus for most of the silver age of comics. Flash#105 did not even need to be published to make that happen. The new Justice League and Flash's inclusion in the group could have come from his Showcase appearances. Ditto the Green Lantern. Flash #105 and Justice League of America #1 share the exact same value in Overstreet today. I think you can expect the JLA #1 to blow past Flash #105 in value sometime in the near future (in a flash -arrgh).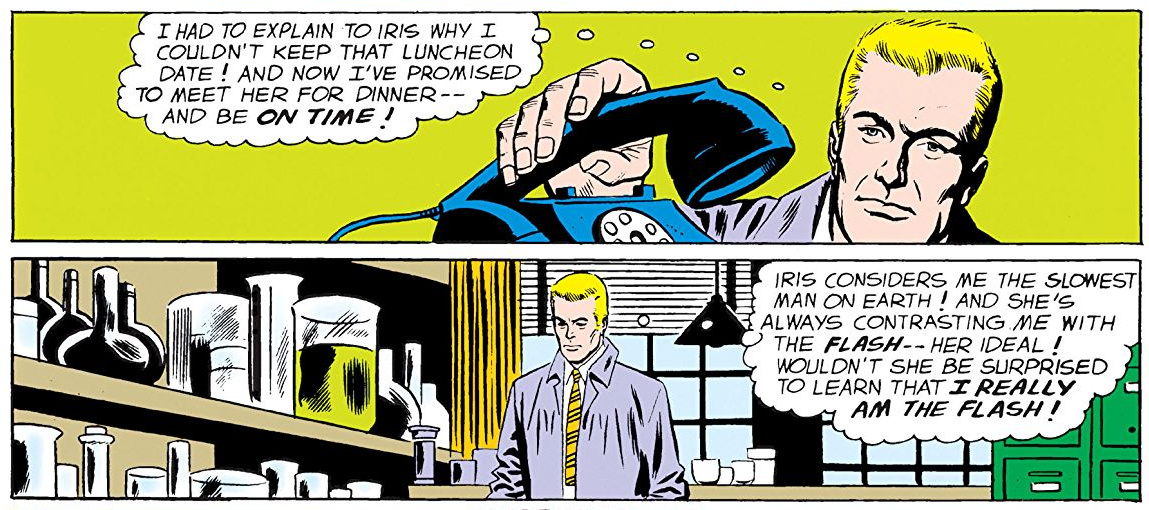 I'm not a huge fan of the cover of Flash #105 either, which I think is rather ordinary. It is kind of an oddity as I often think of Flash comics with pretty cool covers (like all of the Showcase books).
Flash is a hot property right now and likely will be for the next little while. For me this book has a lot of Green Lantern #76 in it, but on a much larger scale value wise. I hope I have this wrong, after all it is a number #1, and nothing goes wrong with them at Overstreet. Now where did I put my golden age Green Lantern helmet?