Entering the last week of the Kickstarter for my Heroes of the Home Front book where we stand just below $18,000 but are aiming for $25,000, I find myself waxing nostalgic back to the fall of 2012 when I was just beginning the far-reaching project of trying to reclaim all those artists whose names and art and stories filled out our lost Canadian WWII comic books. The first vision I had was more encyclopaedic. I intended to track down info on as many of the main creators working for the four main comic publishing houses (Maple Leaf, Bell, Anglo-American, and Educational Projects) as I could and put it all together into one book supplemented with reprinted examples of their work and perhaps some of their non-comic book work where available.
I had no idea what the road blocks and brick walls ahead of me would be. I was armed only with Loubert and Hirsh's The Great Canadian Comics and John Bell's two books Canuck Comics (Matrix, 1986) and Invaders from the North (2006) as well as a lifelong love of comics and heart that pumped maple syrup. The project certainly would have been easier and perhaps would have produced a better result a generation ago when many more of these Canadian wartime comic creators were still with us and I lament the fact that nobody took the opportunity to do this type of thing then.
However, what has somewhat mitigated that missed opportunity has been the rise of the internet including social media and the availability of digitized records. I hung ten on the internet surfboard and rode the swells of online newspaper archives, ancestry.ca, canada411, digitized magazine and academic journal archives, etc., as far as I could. But I couldn't avoid physical trips to public and university archives and libraries in Ontario to mine them for any relevant information and, eventually, I made a handful of trips to Ottawa and the Library and Archives of Canada which, I can assure you, is a far more interesting and informative place than the houses of parliament, just a couple of hundred metres down the road.
What I ended up undertaking was an actual archaeology of these first Canadian comic books. Unfortunately, in terms of the comics themselves, I only had one—a copy of the Tang 15 Cent Compendium—in my 35 long boxes in the attic. But with some application, I managed to accumulate a collection of just over 200 of them in a couple of years, just before the market on them seemed to break open. For example, I remember picking up a coverless copy of Joke Comics No. 25 for $10 from a seller in the UK because the seller and nobody else on eBay knew what it was. I didn't know what title or issue it was either, all I knew was that the listing picture showed Nitro on the first splash page and, therefore, it had to be a Bell Features comic. I remember that particular issue well because I recall letting my imagination fold into that Nitro splash page one afternoon and wonder who that fellow Jerry Lazare, who signed that first panel, was.  I imagined him as a dark-haired 30-something individual of Mediterranean background with a pencil thin mustache, sleeve garters, dangling cigarette, and the beak of a green visor protruding from his forehead, furiously churning out these WWII comic book pages. About a year-and-a-half later I got to meet Gerald Lazare (who had nothing to do with the Jerry Lazare of my imagination) and his lovely wife Setsuko and he generously shared his 75-year-old recollections of his time working for Bell Features as well as what it meant to live a life in art. Now I'm fortunate and proud to call Gerald Lazare (who turned 90 on Monday—happy birthday, Gerry!) my friend and that splash page has his real signature on it.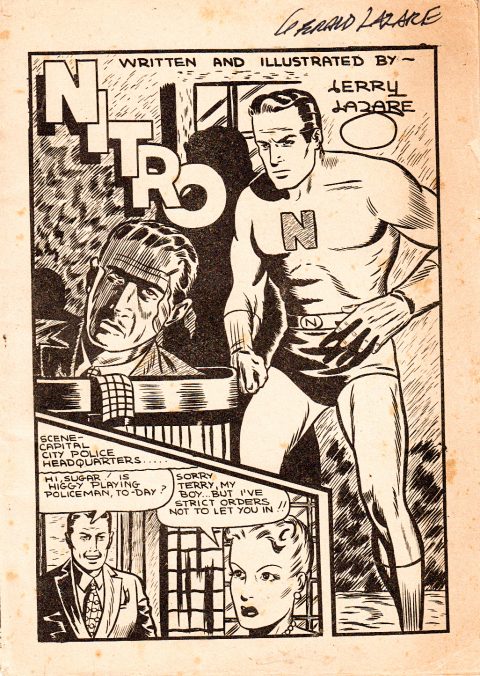 I also managed to connect with some of the leading collectors of these comics, such as Stephen Lipson and Eddy Smet, who kindly shared information about some of the rare issues they had and allowed me to make a photographic record of them. There is a strong camaraderie amongst the collectors of these peculiar comics and their willingness to help in my project was a positive boon.
But it was the visits to the Library and Archives of Canada in Ottawa that deflected the original direction of my project. The third-floor research room provided me with almost a complete collection of Bell Features comics (a number of them in duplicate) and over 2300 individual pages of original artwork from those comic books.  It was this treasure trove repository of original art Bell Features pages that caused me to narrow my focus from all four major Canadian wartime publishing companies to Bell alone. I realized that these pages, never yet reproduced in their original state, could form the backbone of a desirable, informative, and engaging book that Canadian comic book aficionados might covet if I could get it on shelves.
The detective work was daunting, but the first human resource I was able to contact was Alene Alexanian, daughter of Aram Alexanian, carpeting and flooring king of Southern Ontario. I was able to find her through a couple of local phone calls and I interviewed Alene and her husband John Farr (who ended up being the designer of the Book) at Big B Comics in early February of 2013. I made a good number of other contacts because a few relatives of these artists googled the artist's name and came up with a column of mine on Comic Book Daily. This happened with relatives of Lou Skuce, Clayton Dexter, Manny Easson, and Doris Slater, for example. Others were cold phone call stabs in the dark (sometimes after a number of apologies to near misses) and that's how I connected with the relatives of Tedd Steele, Al Middlestadt, and also Murray Karn himself. Some were email stabs in the dark that succeeded, like Jack Tremblay, Mel Crawford, Charles Zusi, and Edmond Good. With Gerald Lazare, I bought a print from his web site and asked him by email if I could pick it up and pay for it in person and talk to him about his short career in comics. …And so it went.
The greatest reward of this whole project has not been going through those 2300 original art pages on the third floor of the Library and Archives of Canada getting the white cotton gloves they make you wear progressively darker. It has not been finding, for myself, a small engrossing collection of those rare first Canadian comics. It has not been seeing the draft pages of my book crystallize into John Farr's wonderful designs, nor has it been, by the default of this whole research process, becoming some sort of generally accepted authority on these books and the people who created them. It was not even the gratification that I may have had some small role in retrieving these first Canadian comics from their well of obscurity and positioning them more clearly on the radar of modern comic culture. It was, in fact, meeting all these wonderful human beings along the way, especially the relatives of these lost comic creators. They were invariably accommodating and eager to share information about that relative, and they each glowed with the honest pride that their artistic father, mother, uncle, or sibling would finally be achieve some recognition for the WWII Canadian comic book work they did. In the end, this book is not about the comic books or the art, but about the people that created them.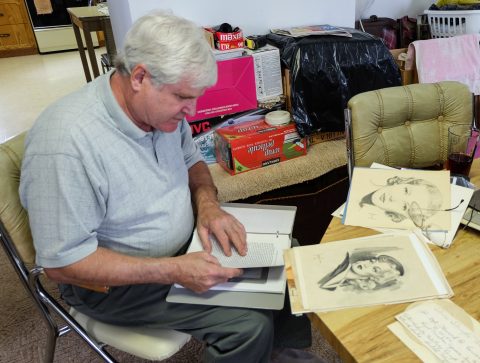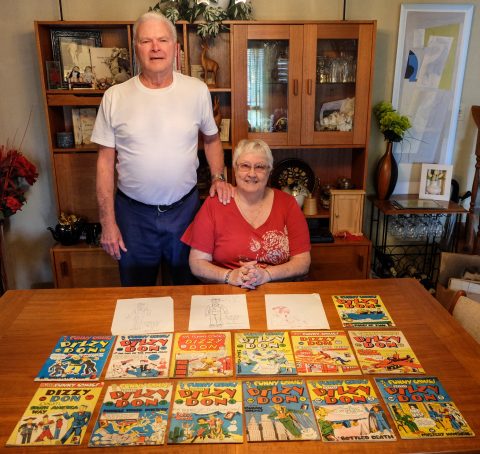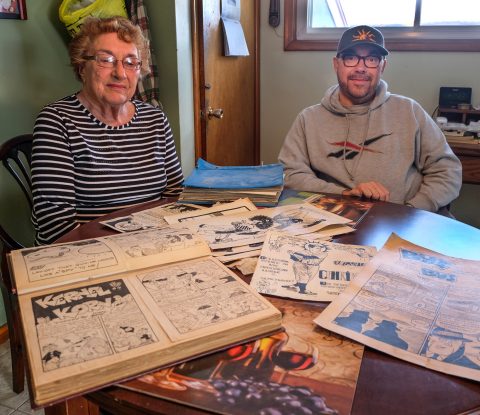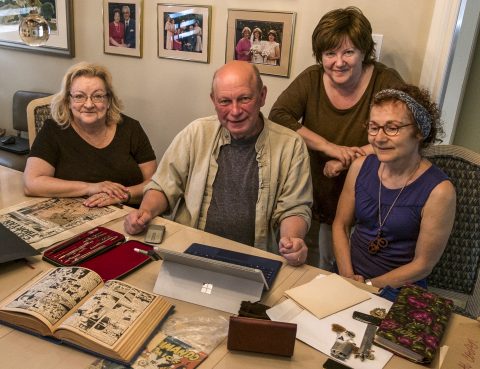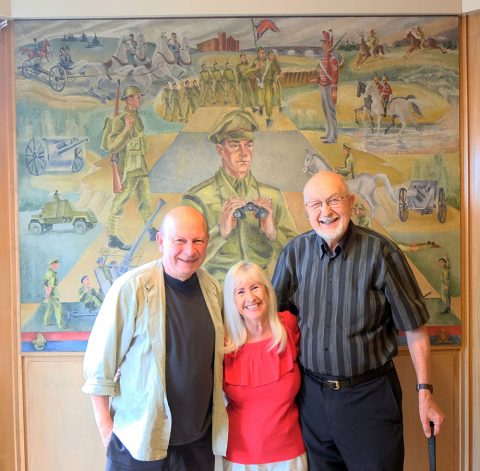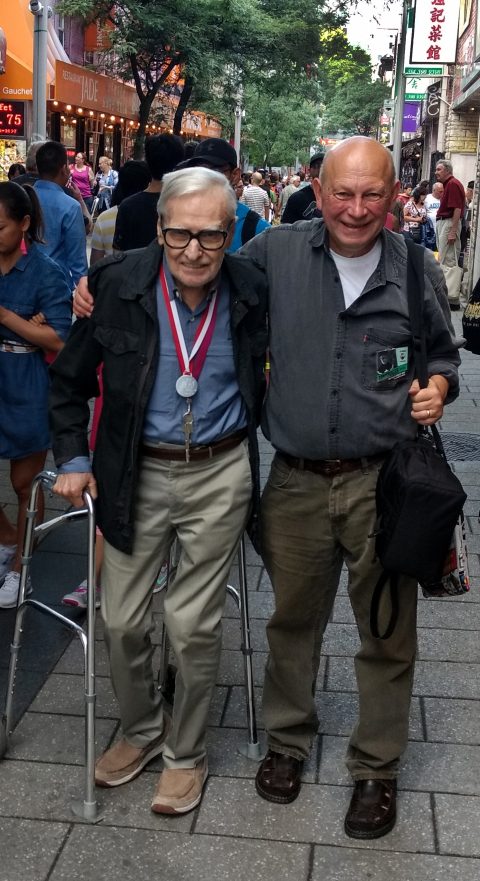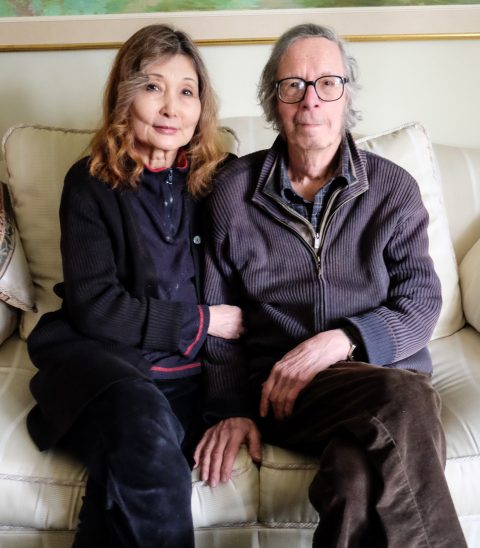 I pitched the book, as a proposal and in various draft forms, to a number of publishers but the response was always the same. The book was a niche product and they didn't think they could sell enough copies to make money off it. With the encouragement of individuals who wanted to see such a book as mine in print, I decided that a Kickstarter crowdfunding campaign had to be the way to go. The book was essentially finished by the spring of 2017 and all the reward items were marshalled into place through the summer and the Kickstarter launched on Labour Day.
Now we are a week away from the Kickstarter deadline and still have a bit of a hill to climb. I am confident that we'll get over this final hump and that this book will see daylight early next year. We all recognize that this book is a distinctly niche product and won't make any great sales impact. There was never any expectation or need to make money off the project. My sole aim with this crowdfunding is to get an elegant hardcopy end-product into the hands of those people that want it without losing any money and perhaps place a few copies on bookstore shelves around the country (and maybe below the border) that might be happily discovered by a prospective fan of these old comics. In this way, I will have made some contribution to the wider aim of allowing these first Canadian comics and the creators behind them to become "less forgotten" (I'm not sure if there is a more efficient English adjective to insert here….) and slightly less arcane.
Thanks to all of you who have shared this ride with me. Let's bring it home!