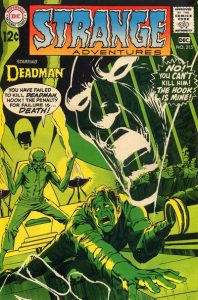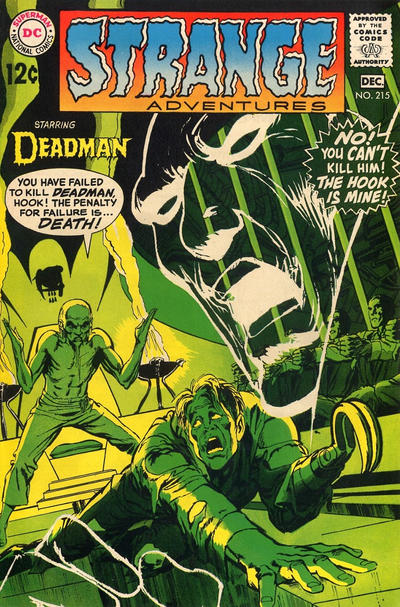 Strange Adventures #215, DC Comics, November/December 1968.
This week I'd like to shine the Undervalued Spotlight on Strange Adventures #215.
Strange Adventures #215 is a great book, in the issue Deadman's killer, a mysterious assassin known as the Hook finally meets his fate and Deadman, to his dismay, finally learns why he himself was killed.
The Hook was an assassin on his first assignment for a secret society of assassins, he killed Boston Brand who then became Deadman. The society of villains' leader, a deadly martial artist from Hong Kong known as the Sensei believes that the Hook had failed on his assignment and sentences the Hook to death for his failure. Deadman wanted real justice for his killer but had to settle for assassins honoring their code.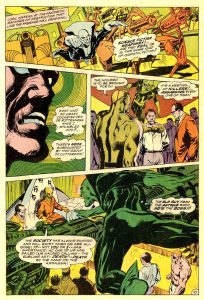 The Sensei and the society of assassins are of course the League of Assassins and Strange Adventures #215 represents their 1st appearance.
Oddly Detective Comics #405 has long been viewed as the League of Assassins' 1st appearance, I guess it helps with a cover saying "Introducing the League of Assassins". In Detective #405 we see an assassin named Tejja meet his match in Batman and that's about it. But Detective #405 remains an important book because it 1st formally calls this group the League of Assassins and it sets up through a little text blurb at the end of the story the 1st appearance of Dr. Darrk in Detective Comics #406. Dr. Darrk is the 1st formal leader of the League of Assassins and his right hand man is none other than Strange Adventures #215's own Sensei.
Dr. Ebenezer Darrk didn't last long, he died in Detective #411 which is a very important comics. Darrks death came after an unsuccessful attempt at kidnapping Talia al Ghul. Detective Comics #411 is of course the 1st appearance of Talia al Ghul.
Detective Comics #411 is also an important book in that it 1st mentions Ras al Ghul who is famously introduced in Batman #232.
Ra's al Ghul turns out to be the ultimate leader of the League of Assassins.
There is a bit of a disconnect with Strange Adventures #215 and Detective Comics #405, they are published 2 years apart. It's like Denny O'Neil read the story and said "hey I think you have something there Neal". Actually Brave and the Bold #86 from November 1969 is a nice bridge issue that sees Batman team up with Deadman to take on the Sensei.
Strange Adventures is obviously the League of Assassins key, the concept moving over to the world of Batman 2 years later is great because the story spawned Talia and Ras al Ghul.
Neither the Overstreet Price Guide nor sites like Comic Vine credit Strange Adventures #215 as the 1st appearance but sites like Wiki, Fandom and Comic Book Religion do say that Strange Adventures #215 is the 1st League of Assassins.
The markets seem to be ho hum on Strange Adventures #215 most sales have been languishing well below Guide with one recent CGC 9.0 sale just cracking the Guide price. Detective Comics #405 meanwhile is enjoying strong sales with a CGC 9.0 getting almost 3 times what a Strange Adventures #215 is getting.
The League of Assassins is a very cool concept that has been used effectively by DC over the years, it is tied to Ras al Ghul and it is tied to Batman, two good things to be tied to but it sprang from Deadman. I think this is a good pick up in high grade anywhere near Guide right now.
The 47th Overstreet price break for this book is $57/$111/$165 in the 8.0/9.0/9.2 grade splits.
Reasons to buy this comic book as an investment.
1st appearance League of Assassins, here called the Society (of Assassins)
Part of the classic Neal Adams run