Our Overvalued featured book today is Iron Man #1. I think this book is one of the most grossly overvalued books of Marvel's Silver age. I personally think there hasn't been a more overvalued Marvel comic since this was printed in May of 1968 (excluding price variants – a topic for another day). There are contenders for that mantle, however for me this book is it.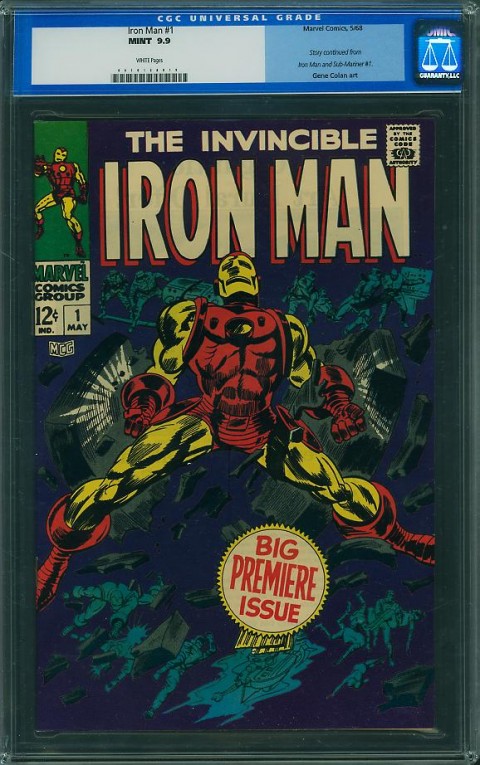 Having said that I still feel this book is an OK investment for the present, particularly for the CGC slabbed investor. I will explain.
Demand! No super-hero has benefited more from his movie appearances than Iron Man. Robert Downey Jr. has made Iron Man hip and super-cool even better than he is in comics, and with more movies to come I see no cooling off for the character in the immediate future.
An excellent inspired cover by Gene Colan that would add some value to any comic. A great cover really helps on a slabbed book. Outside of what is noted on the label, what is inside the book doesn't count for that much in a slabbed comic.
Now we will get to the overvalued part, and it starts with the cover.
The #1 on this comic cover adds unwarranted value to this comic. This book is actually like Iron Man #63 (Tales of Suspense appearances), plus 16 appearances in The Avengers, plus crossovers etcetera. When Iron Man #1 is published he has well over 80 appearances under his belt. Walt has discussed the whole #1 issue before and I agree with him. See Undervalued Spotlight #128 and Market Trends.
This book IMO is not a true re-launch. Like Captain America #100 this is in fact the last episode of a lengthy storyline that began in Tales of Suspense. In Captain America #100 you have a 3 page retelling of how Captain America returned to the Marvel universe via the Avengers and it is woven in neatly to the storyline. The Black Panther/Captain America team-up battle against a fake Zemo is a very good story and more importantly this book leads the Black Panther to the Avengers (on Cap's recommendation). This book has some teeth. In Iron Man #1 we get the also well done conclusion of the Iron Man vs A.I.M. storyline. A three page recap of Iron Man's origin is lazily added at the end of the book. This an OK book. The bounce both books get for the "relaunch" versus the value Tales of Suspense #99 that precedes it, seems excessive especially Iron Man #1 (over $1000 more in 9.2 grade).
Since Iron Man #1 was first published in May of 1968 I can only think of four Marvel Comics that are valued higher than this book. Incredible Hulk #181, Giant Size X-Men #1, X-Men #94, and Silver Surfer #1. All of those books contain important character introductions, original origin stories, or are real new launches or relaunches of a comic series. Not so much in Iron Man #1.
The only other book that wasn't a relaunch but a minor change in title is Thor #126 in which the title Journey Into Mystery was dropped. The bounce from issue #125 to issue #126 is very similar to Captain America #100. I don't see why Iron Man #1 would still be 1/3 higher in price than either Thor #126 or Captain America #100 given the positive push those two characters have also received in the movies. My wife and all her friends vote for Chris Hemsworth and Thor #126 is officially cast here.
Lastly, maybe it's just Overstreet. In my first post David Simon commented on Overstreet's systematic annual price increases and he was spot on. Iron Man #1 has been higher than both Captain America #100 and Thor #126 almost since day one. I have no idea why. Overstreet #11 (1981) and the latest 45th price guide info is listed below.
| | | | | |
| --- | --- | --- | --- | --- |
| 45th Overstreet Price Guide | 6.0 | 8.0 | 9.0 | 9.2 |
| Iron Man #1 | $300 | $600 | $900 | $1200 |
| Captain America #100 | $150 | $350 | $575 | $800 |
| Tales Of Suspense #99 | $24 | $51 | $96 | $140 |
| Thor #126 | $96 | $230 | $515 | $800 |
| | | | |
| --- | --- | --- | --- |
| 11th Overstreet Price Guide | Good | Fine | Mint |
| Iron Man #1 | $8 | $16 | $24 |
| Captain America #100 | $3 | $6 | $9 |
| Tales Of Suspense #99 | $1 | $2 | $3 |
| Thor #126 | $1.50 | $3 | $4.50 |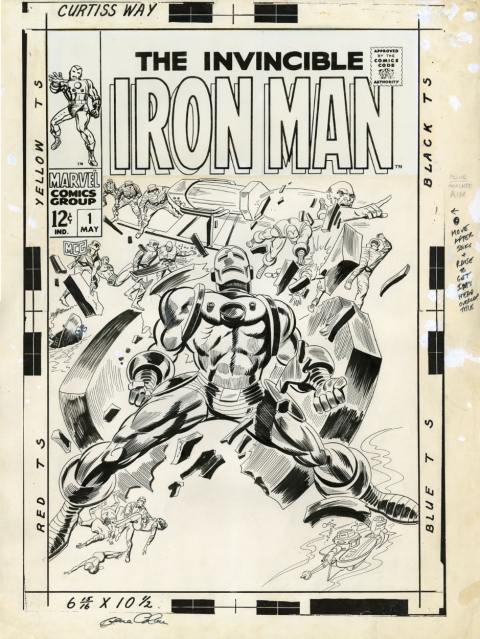 Full Disclosure: I have owned probably 3-4 Iron Man #1's in my lifetime. The first one was off of the spinner rack from my neighborhood grocery store. I always viewed it as the last issue of Tales of Suspense. I had to have it, but it is a very overvalued book today in my opinion.