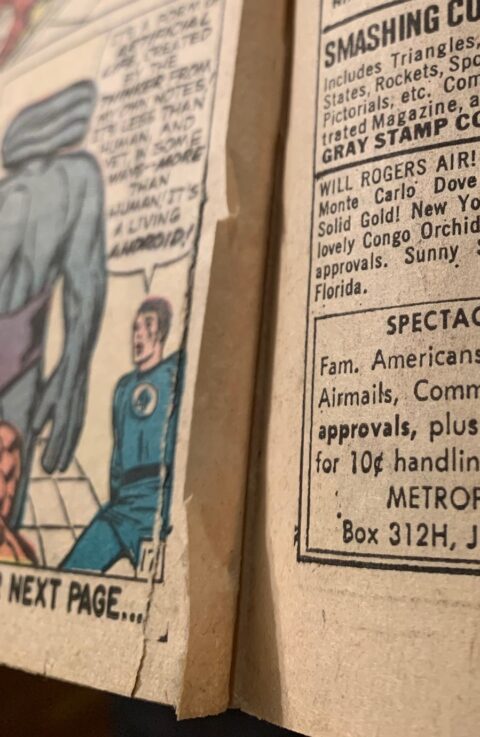 Lately, we've been selling a lot of raw incomplete comic books through our eBay auctions. Over the past two weeks, we sold copies of Amazing Spider-Man #2 and #3 both missing ad pages and both around the 3.0 Qualified grade. The Spidey #2 went for $1125 USD with the Spidey #3 sold for $1005 USD. Last night we even sold a very very incomplete copy of All American Comics #20 featuring an early Green Lantern appearance, the first 6 pages of the Green Lantern Story was missing along with most of the rest of the book yet it still sold for $113.50 USD.
We obviously plan on putting more incomplete raw books up through our weekly internationalcollectiblesexchange eBay auctions because we like the results we've been getting.
I've been around a while and have had the luxury of having many many copies of books like Amazing Spider-Man #3 go through my hands so my knee-jerk reaction to the growing value of incomplete books was one of disdain. My friend Mike helped turn me around on these things with his philosophy of "everything left is original and if it is an ad page that does not affect the story it doesn't really matter that much, besides not many people can afford complete ones these days". The last part stuck with me, he was right, not many people can afford complete ones.
So what used to be relegated to the realms of the big key books like Action #1, Amazing Fantasy #15, Detective Comics #27 etc. has moved on to books like Amazing Spider-Man #2, projecting a line into the future I see books almost worthless now as incomplete being worth money, these are the current penny stocks. I remember about 10 years ago I found multiple incomplete copies of Avengers #10, what the heck was I to do with them? I threw them in the $5 bin and they sold over time. I should have kept them!
Collecting incomplete books is not for everyone, I know a lot of comic collectors and these people are usually obsessive, incomplete is a big hurdle to cross for obsessive types but those who can have opened up a new collecting strain for themselves with a new ability to reach books once thought unreachable.
I see incompletes being more attractive to investors, dealers and flippers. It's a growth area well established and with an upward trend. The disconnect here and thus the "opportunity" that presents itself is that old-time collectors selling their stuff will usually think their incompletes are worthless and let them go for nothing. The gentleman that owned the Spidey #2 and #3 is tickled pink at his results but looking forward I'm starting to think he may have sold them cheap!
Speaking of Boba Fett, last night on our eBay auction we sold a nice raw copy of Star Wars #42, featuring the first Boba Fett appearance in comics, the grade was a nice tight 7.5 and it sold for $291 USD or about $100 less than for a graded CGC 7.5. I like this buy, you get a quality book without the cost of grading added in, this approach is not for everyone but for collectors of raw books it was a smart buy, advantage buyer.