Did that ever go by quick, like a blink. Back to work gang.
I received an email from Gemstone Publishing celebrating the Overstreet Price Guide finally going digital. Part of the press release reads:
Gemstone Publishing Launches Overstreet Access, an online Collection Management Platform with valuations from The Overstreet Comic Book Price Guide
Overstreet Access is the ultimate evolution of The Overstreet Comic Book Price Guide. Part price guide, part collection management platform, and 100% online, Overstreet Access marries the best of all worlds to provide subscribers with Price Guide values, personalized collection management, extensive search capabilities, a robust comic database, and more. As subscribers catalog their collections, they can leverage the Overstreet Access one-of-a-kind gap list technology to identify missing issues, create want lists, and match their lists with stock at local comic bookstores to complete their collection. The extensive search capabilities allow users to search by story arc, characters, publishers, contributors, titles and more.
So it's not a sales tracking system like GPA, it looks to be focusing on collection management and then extending that into helping you source the issues needed in the collection. I think some services are filling in this need at the moment, but if Overstreet were to use their database and get this fulfilment search thing working, I can see that segment of the market using this product. I was still hoping for a GPA type of Guide that taps into realized sales from reporting sites, if they could throw this into the mix I'd be in too.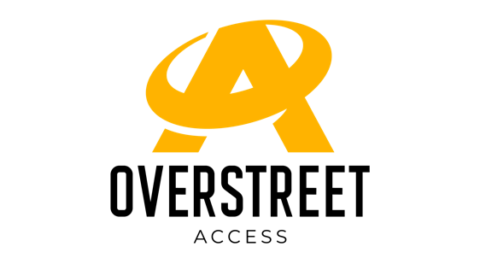 I was getting a pile of those Bizarre Adventure magazines ready for auction last week when I noticed a familiar name on the back cover ads. Bud Plant Inc. was a prolific advertiser on the back covers and every month different messages, products and features were highlighted. I have two questions (for now) for Bud. The first is How did the Asterix stuff sell? I'm still a big fan, I even took my kids to the Asterix Theme park outside Paris back in 2009. The second question for Bud is, how difficult was it to produce so many different ads? I think I had 8 consecutive issues and each had a different back cover ad. A quick third question, did these ads work back in the day? Were you getting good orders from these ads?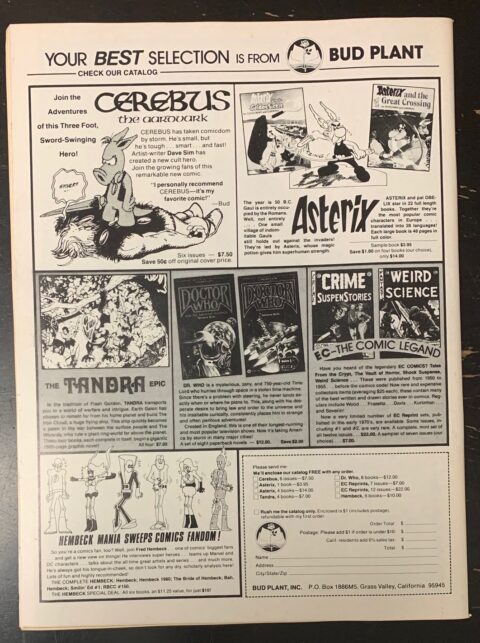 Next week I'm auctioning the complete set of Marvel's Fun and Games from 1979. These books were so much fun to look through, I just love the god-awful puns they were using to match heroes with music. They forgot Tony Stark: I am Iron Man, Tiger Shark: Eye of the Tiger (Shark) – these were tougher t come up with than I thought, I'll leave it to you to add more. By the way, Spidey is beating up on the alphabet soup because the letters spell out Kraven, Kingpin, Lizard and a few more of his rogues' gallery.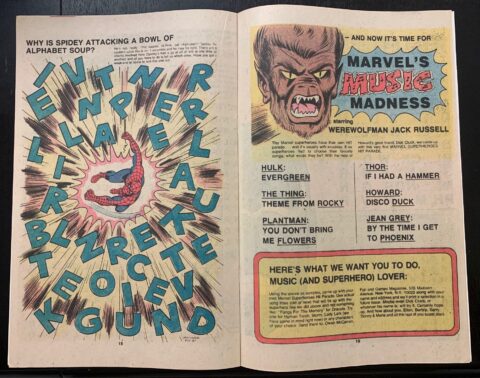 We've been adding a different Wolverine Weapon X #1 signed and sketched from the Hero Initiative every week to our eBay auction and the results have been great. Artists take a blank sketch cover and do their take of Wolverine on it. Next week we're putting up my favourite of the lot, this Joe Benitez signed and sketched copy leaves a very strong impression.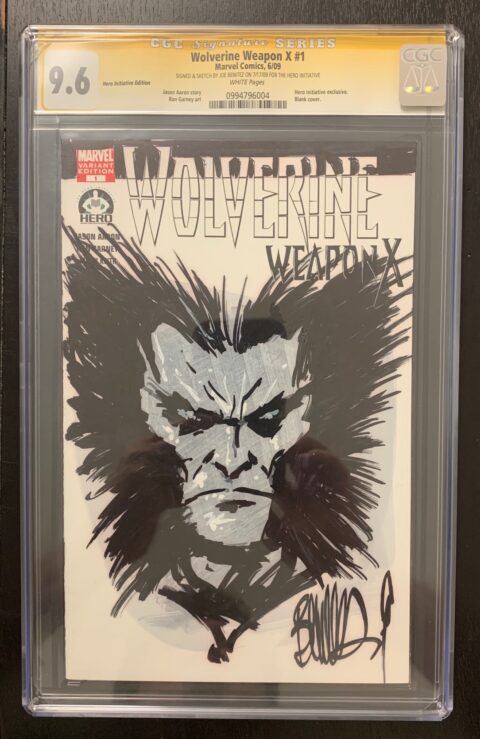 Speaking of eBay auctions, our weekly internationalcollectiblesexchange eBay auction ended last night and I really liked the finish to Detective Comics #100; this raw copy we graded a 3.5 and it fetched a healthy $609 USD. Ever notice that Action #100 and Detective #100 came with no fanfare but Superman #100 and Batman #100 were celebrated as anniversary issues with special covers.