How is June here already? I have plans to leave my warehouse by the end of this year. When I made the decision back in December, I imagined I'd have about 40% of the warehouse dispositioned, moved, sold or even tossed out by now but I swear to you there is more stuff in there now than there was in December. I'm obviously doing something wrong. Warehousing hundreds of thousands of comics is very, very labor intensive but it's not just grunt work: the labor has to have that immersive hobby talent that allows one to rifle through a box in several minutes dispositioning into price piles by quick eye and split-second decision making. The piles don't have to be perfectly right, letting a $50 book into the $10 pile is not a big deal as long as it doesn't happen often, the alternative would be to stop every time you're unsure and check prices online but that brings dispositioning volume down drastically. Again, having the right eye go through these boxes is the key and again, accidentally sprinkling in some steals just adds to the draw of the bins you are creating. I think the key will be finding the sales avenue for the bulk comics, I'm talking 10 to 25 long boxes at a time. I think the buyers will be there, it's getting the boxes ready, that's the issue! The struggle continues, I'll try to update my progress as July approaches.
My old comic pal Ron Hobbs dropped by the warehouse last week to hand in some books he needed sent in to CGC. Ron is one of the truest comic connoisseurs I know, he has that eye for the good stuff and almost always attains it years before you and I realize what's even happening. Unfortunately for me Ron has a bit of a mean streak in him, case in point his bringing down, 'to show me', this to-die-for copy of Cinderella Love #29, by far my favourite Matt Baker cover. I tried every trick in the book, well maybe not every trick, but all the tricks rooted in masculinity and honour, but to no avail. Seriously, I did not want this book to leave and I tried lining up some crazy trades, but as I said Ron has that rare eye. I'm glad he brought it down though, it's always good to see how the other half live. Ron did allow me to use this gem as my cover of the week. Perhaps you all can help me exact my revenge on Ron by finding me a nice tight, crisp copy…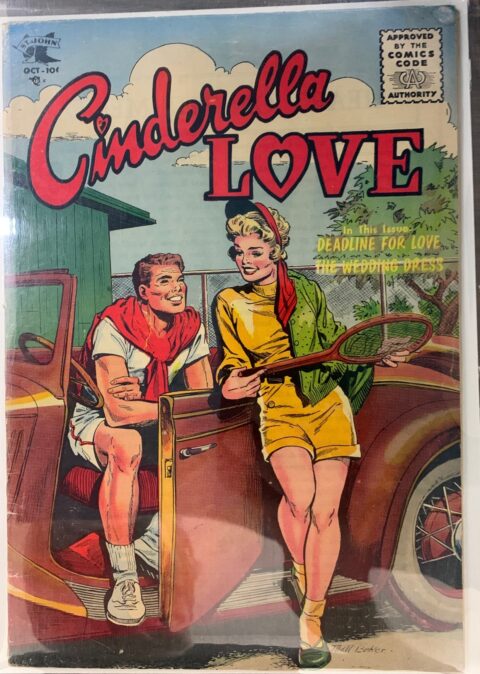 Our ad of the week comes from the inside cover of Orb Magazine #1. All you old-timers in the Toronto area remember Bakka Books on Queen Street. Bakka was one of the earliest places in Canada to offer back issue comics, I'd love to hear a few stories down in the comments field of some stuff some of you bought from Bakka back in the day.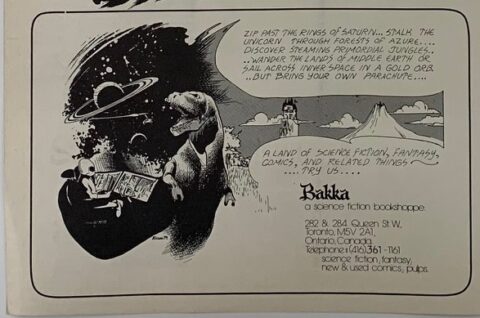 It's been a while since a nice little pile of comics walked into the shop. These came in last week for pressing. It's funny how age plays into the hobby, I, being an old veteran, was able to identify these as desirable books but easily kept my calm in their presence. My pal Sammy, about a solar cycle younger than me was as giddy as a schoolgirl when he saw these. Sammy wanted all of these, especially those two copies of Batman Adventure #12. Me, I'll save my giddiness for when those pre–Batman Detectives walk in!

Last night our eBay Canadiana Auction closed with some truly amazing results. There were so many we were watching, one of which was this copy of Dime Comics #1, it's a big Canadian Whites key issue and it sold for a respectable $3,162.00 USD. We're already planning for out next Canadiana auction, worst case it will be next Spring but if consignment submissions are healthy enough, we'll set another one up in the fall. Thanks to all the bidders!