Sneaky Chris Owen pulled a fast one on me for this week's Comic Culture podcast. We had picked a topic for the show and as we were getting the gear out and setting up I was just casually telling him about my decision to not set up at Fan Expo this year, well he hits the record button and decides to go there! The Great Shekky Feldstein joins us for this week's show. We'll have it posted for Wednesday morning.
We've been talking a lot about collecting and value and potential niches to concentrate on. I think we've veered far enough away from the center that we can reintroduce the center as a niche to re-explore. Out of this week's "for our eBay auction" pile I found a nice little run of early Hulk issues, as I spread out Hulk #121, 122 and 123 it hit me right away there there were three standout Battle Covers. We all know that covers based collecting has really taken off, especially with the advent of CGC collecting ganing more and more prominence. Under this umbrella of covers I'd say that Battle Covers are right near the front and center in terms of immediate desirability and long term viability, these things never get old. And when you start adding some more value layers like principle character, principle villain, the artist, the color scheme etc, then you're getting into the really good stuff.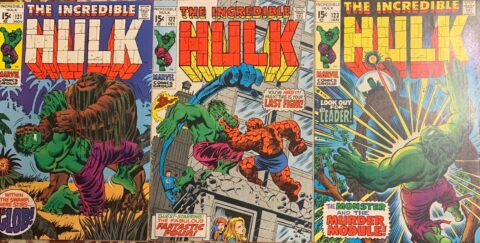 What the hell is going on in this ad? I actually pegged it as my Splash for the week because I liked the art then I got the gist. You're looking at the back cover of Mad #42 from November 1958. Things were certainly a lot different 65 years ago. It might be a baby boomer thing but I know me and most of my pals from the old East End would have loved to trade spots with young Richie here, at least that's what we'd tell each other over beers and chicken wings. Of course this ad could only have flowed in one direction, reverse roles and the police would have been at the EC front door. How many bombs like this are there lying in the pages of Mad magazines from the mid 50 to the, say, early 1970s, I bet you could publish a book on this stuff.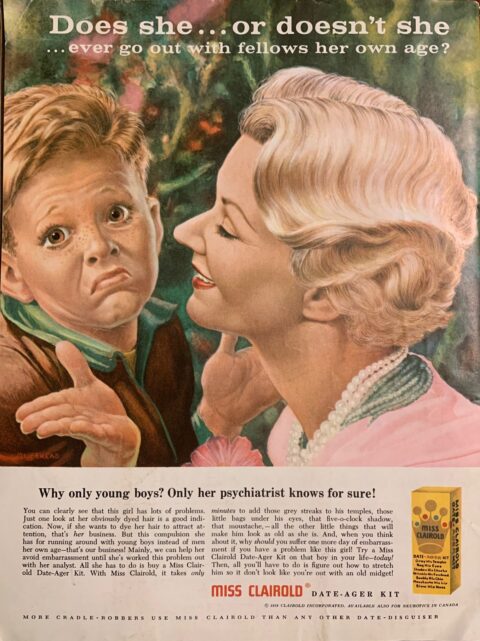 My real ad of the week comes from Panic #12. The Franklin Institute looks like a school that will prepare you for government job applications. I'm assuming once you pick your field you'll be trained, graduate and then be government job ready! In Canada government jobs have a reputaion of being cushy, good pay, good benefits, lots of holidays, good retirement package, all us guys without one bitch about government employees primarily because we're not government employees! I like the fact that vets get preference but I don't like the fact that those advertised salaries remind me about inflation! $4,205? You couldn't buy a Hulk #181 with that today!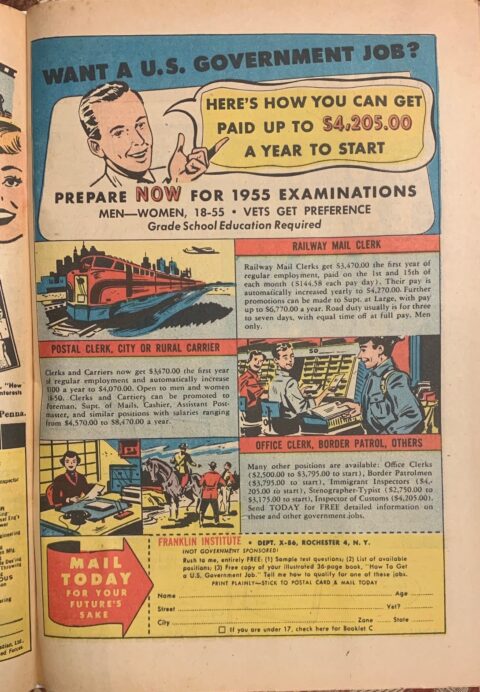 Another weekly icecollectiles eBay auction ended last night with some strong results. When I can, I like to take a measure of how our auction is doing vis a vis the marketplace. A Good test was this Amazing Spider-Man #300 CGC 9.0 that ended up fetching $580. Our book beat the last sale and it also beat the 90 day average, job well done ICE Collectibles auction!!