Last week I had an amazing piece dropped off to me for next week's Canadiana auction we're running on eBay (items will be posted May 29th and the auction will run for 10 days). Behold this beautiful Cosmicon poster with artwork by Jim Steranko promoting the 1975(?) event held at Toronto's York University. Comic artists in attendance included Jim Steranko. I am going to need some help confirming which year this poster promoted. Cosmicon ran for 4 years from 1972 to 1975 with each one growing in size and stature. I know the 1974 edition was held January 25-27 so this poster can't be for 1974, which had attendees that included retailer Phil Sueling and artist Neal Adams and I think Stan Lee. I looked online but couldn't nail down the exact year this poster was for, I think 1973 was held in January as well. There is a picture online of the inside front cover to some underground comic featuring Cheezy Nuggets by Alex Emond but it advertises the same Steranko poster with a January 24 to 26 1975 date? Perhaps early organizers and attendees, that means you Ron Kasman, Art Cooper, Vince Marchesano and Ivan Kocmarek, can help me identify for which year this poster was made. This is a wonderful piece of Canadian Comic history.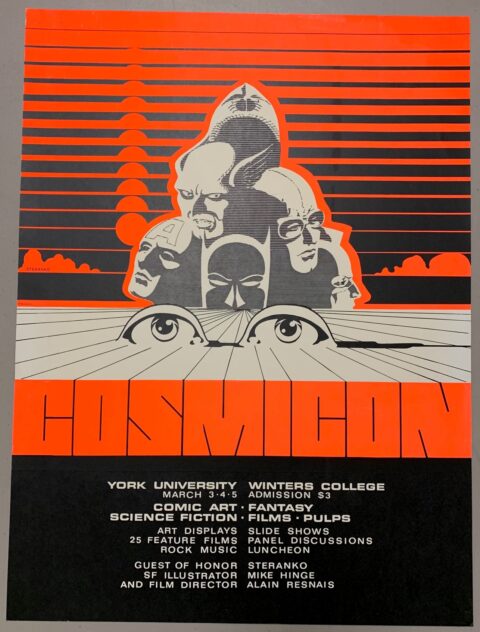 I'm such a sucker for this Gil Kane Tomb of Dracula cover. Comics.org says John Romita added some alterations as well. The cover screams early 1970s Marvel horror and gives us a classic battle cover with a beautiful damsel in distress for good measure. Those 20-cent Marvels felt so much beefier in the hand than the 25-cent Marvels: I'm not sure what month the switch over was but the 1975 issues were so much narrower and used really thin paper stock, holding one of each side by side is disheartening.
Check out this early in-house DC ad from All-Star 6, September 1941. These are early days, just as the superhero phenomenon is exploding in popular culture. Note this is before the US entered World War II and before titles like Sensation Comics and Wonder Woman.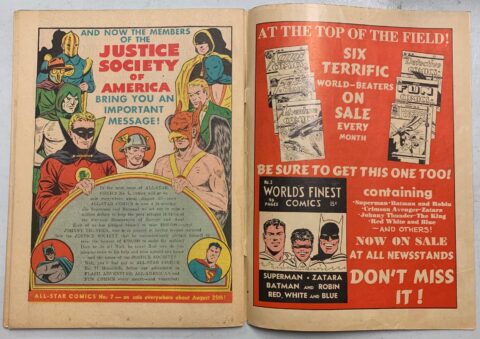 I tried to get this ad in last week but it lost out to the joke book ad which reminded me of Norn MacDonald. I thought I'd slide it in this week in honour of commentor Dave who often reminds us that in the 1950 and 60s there was no internet and fans were starved for information and photos of their favourite stars. There were monthly magazines catering to these fans, mags like Teen Beat. Deluxe Photo Service out of New York caught on to this demand and offered 631 movie and TV star pictures for 25 cents! Kim Novak looks fetching but wow Perry Como, hubba hubba!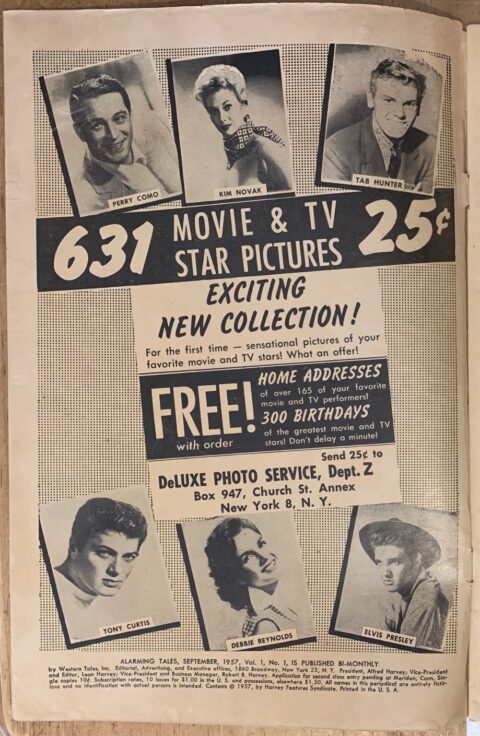 Our internationalcollectiblesexchange weekly eBay auction was another busy one with some great results. I thought the House of Mystery lot of 7 comics did well. These early 70s DC horror books are hard to snag; not many quality copies come up for sale. This lot didn't really have any iconic covers in it yet they are part of the run and did well I thought.