A couple of weeks ago the gentleman listing his incomplete books on our eBay auctions dropped a bombshell on me when he said "I think I still have the clippings". Amazing! I asked him if he could bring them in and sure enough late last week he proudly walked in with a bag full of four-colour magic.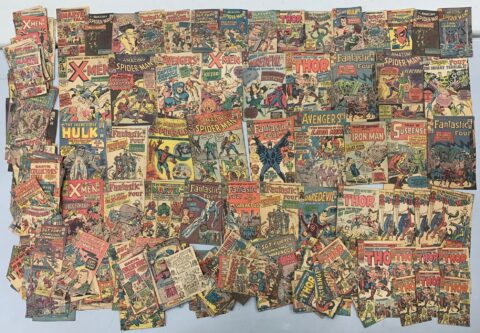 He told me he clipped them to remind himself that he had to go out and hunt them down. Judging from that bottom right-hand corner I think it's safe to assume that he ended up snagging copies of Journey into Mystery Annual #1 and Amazing Spider-Man Annual #1.
I'm going to be honest, this was so much fun to sift through, seeing all these classic covers, knowing they were clipped out back in the 60s from contemporary issues that he picked up that same month added even more to the experience. This whole pile needs to be turned into some sort of art collage; I don't know a thing about collaging so I know it won't be me doing it.
This whole experience started because I was curious if he still had the missing ad page he cut out of X-Men #1, the infamous page 12. The pic below shows the only full-page clippings he had and unfortunately, there is no page 12 for X-Men #1 in there. I don't know the books these pages below came out of and I'm not sure if these pages were in multiple books during that sales month. Does anybody have any idea?
I've checked through a lot of Silver Age books in my day, thousands and thousands of them. I'm going to give you my unscientific estimate on what percentage of books from this era had coupons cut or pages were torn out of them: I say it is 5% or roughly one in 20 books, based on my experience. You bring me twenty old collections with each collection having a copy of Amazing Spider-Man (ASM) #14 and I'll bet one of them is missing something! A quick check of the CGC Census shows roughly 2% of the ASM 14s are Qualified but I'm thinking guys wouldn't send down incomplete books for grading so perhaps I'm close with my estimate.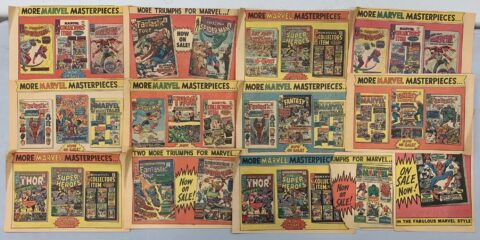 Perhaps I can convince him to run these things on an eBay auction? Speaking of which, our biggest weekly internationalcollectiblesexchange eBay auction by the number of lots this year finished last night; there were lots and lots of goodies available. A beautiful CGC 9.4 Avengers #59 sold for $685, a bit off its high sale in September when a copy fetched $795 but I have noticed a lot of December have dipped in price. Our copy had strong colours and a good even cut. Advantage Buyer.