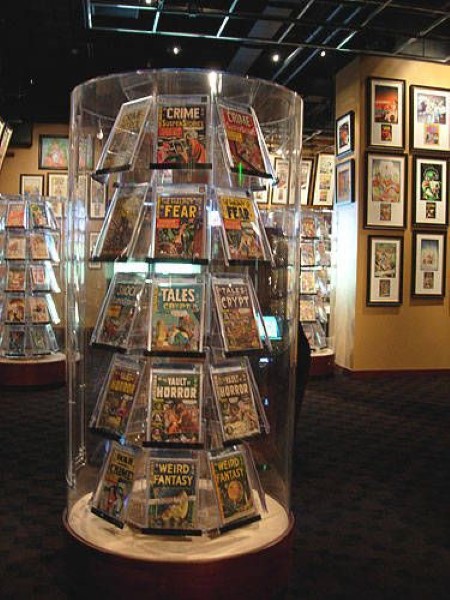 My pal Chris Owen sure does seem to inspire a lot of these posts, he's a good kid that one.
Chris and I will sometimes show each other books from our PC. I can't tell you how much of a good time it is, and its always the little gems that win the day. I remember once Chris showing me his and I went goo-goo over a nice tight crisp and very raw copy of a Gold Key Jet Dreams #1. I wanted it so bad and the SOB would not sell it to me. Let's leave that hurt aside and focus on what was really happening, Chris was showing off his collection for someone else to see. There's something to that and I want to see if I can find it, lets poke around together in this post.
Comic collecting used to be a loner hobby, our collection sat in closed boxes in a closed closet hardly ever seeing the light of day. Every now and then, when we needed to re-bag or when we needed to move them we may have taken an hour or two to peruse the boxes for our own enjoyment but we never really invited another comic person over to just revel and gawk at all the goodies there.
We old time comic collectors were not that good at showing our books off.
Thankfully today there are options available to us to show off our collections, CGC has a Registry Set ranking where you are in the list of "best this set or that set", who wouldn't like to have the #1 ranked set of CGC's Detective Comics! But the CGC registry set is a bit too impersonal for me and the books are all slabbed.
I like social media as platforms to show off our books. Instagram is a great one, I've seen many posts of happy buyers showing off their latest acquisitions. The problem with Instagram though is that it is a stream of posts and that nice find you bragged about yesterday will be lost in the current of other posts by tomorrow.
Do any of us show off our books in our homes or in our offices? I've been to a few nice homes where prominent paintings by prominent artists hang on prominent walls where all can see. I've also seen the site comicartfans.com, it's a site that has a marketplace for buying and selling art but it also has a very prominent and heavily visited gallery where comic art owners show off their prized possessions.
Is there a site like this for comic books and even more specifically, raw comic books? I guess Pinterest comes close but it is a massive platform with thousands of categories to roam through. I'm thinking of a more specific place to go just for comic book fans.
It seems like the only time I ever get to see anybody's comic collection its when they bring it into the shop because it is time to sell, my pal Chris Owen the showboat excluded. How many Jet Dreams type books are lying about in your collection, books that would surely bring joy to others if only they could see them.
I've been thinking about devoting a showcase in the shop to a dozen or so books that I'd like to show off, not necessarily big money books but big smile books when people see them. The problem is I know I'd get flack, there'd be guys begging to buy some of the books, just like I was begging to buy that Jet Dreams. I'm afraid putting up an NFS note would just make the people make silly high offers just to get the books … hey, wait a minute …
I can tell through our comments section that many of you have nice comic collections. Do you show your books off? How? Who do you show them to?