I read over on CBR that Kickstarter broke a record in 2022 for the number of successful comic projects launched: the numbers were 2,205 successfully funded projects out of 2,805 submissions, a 78% success rate. I also read that this was not an anomaly: this was the sixth year-over-year record-setting for comic projects, meaning this trend started well before the pandemic hit. The article noted that the comic category was the most successful in terms of the percentage of projects making their goals.
A lot of the more successful projects were launched by established creative teams; artists already in the industry that are looking to launch new ideas but don't want to go through the Marvel and DC route. Intellectual property control is the name of the game here.
I'm trying to figure out what this 6-year trend means, say, another 6 years from now. My first thoughts were the Kickstarter comic ecosystem is very niche and the projects that come out of it are not mass appeal, will not reach casual readers and will not have an industry mechanism behind them to propel the more successful characters to an even wider audience through other media like film and TV.
The fact that more and more fans and more and more funds are backing these projects must mean the current comic shop model via the big publishers is not delivering enough innovation and variety to the fans. Then again it may not mean that, it may just mean that this is another developing vein of the industry and can co-exist with a thriving traditional model. I'm leaning more toward the first scenario, though I'll admit I'm not well-versed enough in either to make the call. If this trend creates more fans that enjoy comics medium then it's a good thing and that's what I hope is happening here.
Has anyone here ever helped finance one of these projects? Has a Kickstarter project from years past ever broken through into pop culture past the point where just the people funding it reaped the sequential art rewards? I think this is an interesting topic as it is showing what comic book consumers are doing, and where they are moving the industry too. This has to have longer-term implications for the collecting and investing community I'm just not sure yet how it will all tie in.
I'm finding the darndest things in my pile of comics that are destined for weekly eBay auctions. This copy of Jumbo #98 jumped right out at me with its nice high grade and high gloss; I've decided to send it down to get graded as the price on these things is so dependent on grade. Still, it was nice to hold and leaf through and it easily wins cover of the week. Comics.org has question marks beside the Artist tab: can anyone guess who drew this?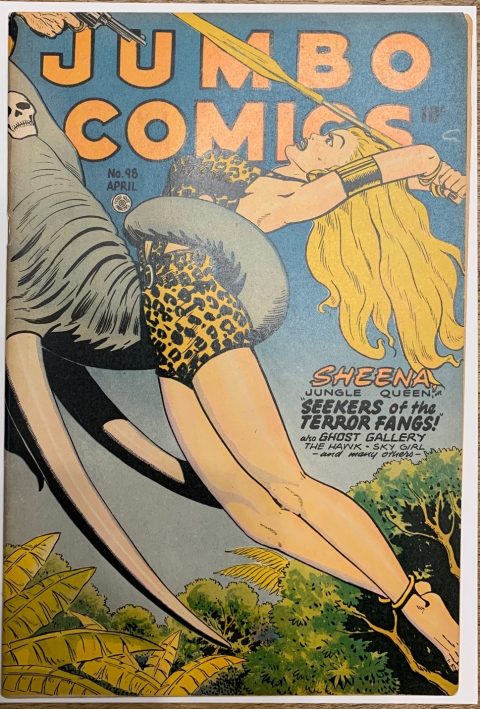 I remember as a young teen discovering the Savage Sword of Conan magazine and being instantly enthralled. This memory was sparked by my leafing through Marvel Preview #3, the Blade issue, and seeing this great Tony DeZuniga splash page, which is way better than the lame cover in my view. Discovering these Curtis magazines in the mid-70s was an important part of my comic journey. I remember feeling "more adult" as I consumed the stories which were always edgier and more graphic than the comics, for me the black and white just added to that more "mature' material. Thanks for the memories splash page of the week.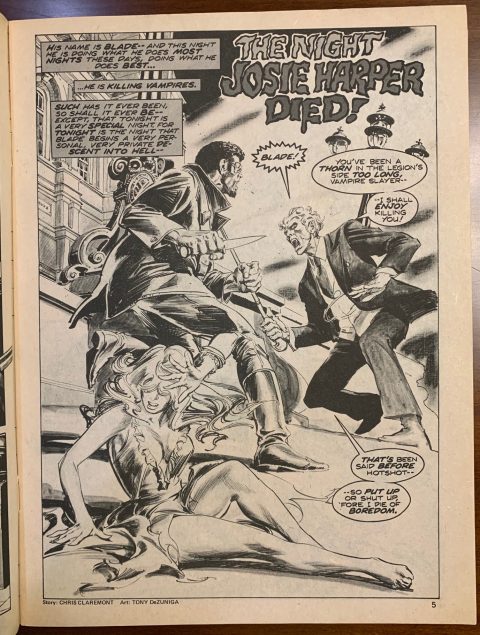 I love these old back-issue comics lists, lots of companies ran these ads of which I think Mile High is the most famous. It's human nature for the eye and the mind to immediately go and see that a copy of Amazing Spider-Man #50 was $4 and an FF #52 was $8. Keep looking though, and you soon realize that you've been looking through rose-coloured glasses, all the Conan's above #25, the later Avengers, the later FF, the Super Special Magazines, the later Hulks etc, most of these are worth the same now as they were selling for then. It's easy to be a Monday morning quarterback but the reality is a lot of us were buying stuff that the passing decades did nothing for in terms of collecting value.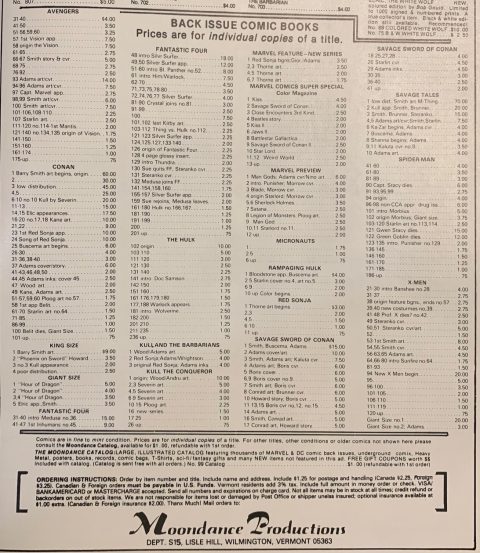 Our weekly icecollectibles eBay auction had another strong finish last night with raw books continuing to earn healthy prices, with our copy of X-Men #101, featuring the first appearance of Phoenix, exceeding expectations and finishing up at a final price of $480.98. I'll say this, the market seems to love these key issues being offered up on auction in their raw ungraded form, combine that with a seller that has earned a rep for fair grading and strong results ensue.