OK, I'll tell you what happened. I was planning this huge Romance Comics auction to start later this week just in time for the winning bidders to get their books before Valentine's Day. I had eBay on board to help me with some promotion for the auction and I had close to 100 lots of some sweet books ready to go. Last week I started working on the pile, writing up the descriptions, assessing the grades etc. Things hit a snag when I got to the second book in the box, the second book, Love Diary #37, which you see below immediately captured my heart and I put it over in the "keeping it" pile. No problem I thought, I might find one or two more along the way but that will leave me plenty. About an hour in I realized my "keeping it" pile was bigger than my "running it on auction" pile. I did the smart thing and scrubbed the whole exercise; well not entirely scrubbed, I did find 14 strong lots that I was willing to run and I'll be putting them in amongst the regular weekly auction that goes up on Thursday. Look for "Happy Valentine's Day" in the auction title description.
My cover of the week will not be going to auction, apologies to the collecting community. Love Diary #37, from October 1953, has a quite striking cover by the mighty John Buscema, the sparse composition and simple yet striking image leave the interpretation to the viewer. I see that she's got him against the ropes, has him cornered as a matter of fact, but he's exactly where he wants to be and we know he'll treat her right, with kid gloves.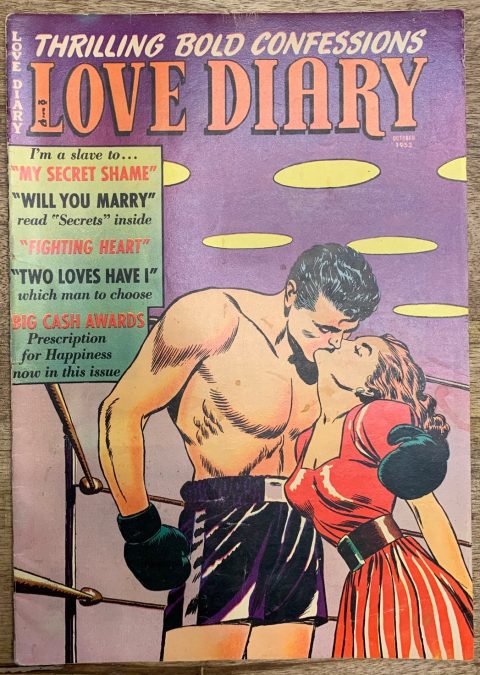 We're going to stay with Love Diary #37 and we're going to stay with the mighty John Buscema for our splash page of the week. My Secret Shame is the last story in the book and features an unfortunate scene at a restaurant where our lovely young Janie asks for just one more drink. Major spoiler alert: of course, I had to read the story, Mark dumps her for being an alcoholic but love is a powerful drug and Janie quits drinking and wins back her man, god I love these books! Great work by Buscema here.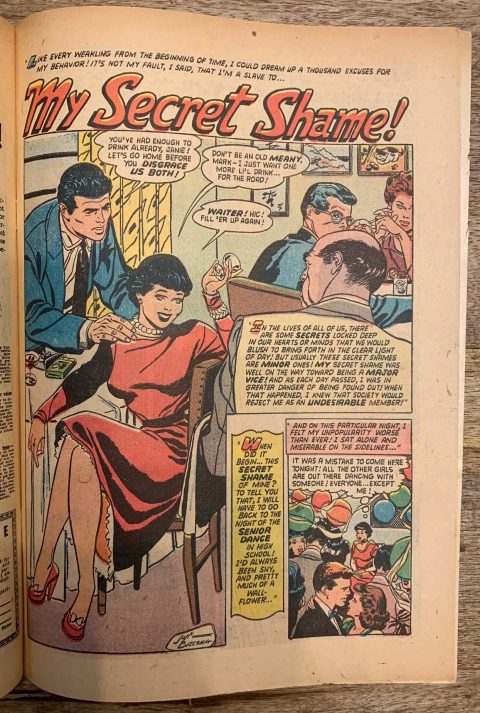 Do any of you collect these? The sealed pack comics? I've seen them go back into the 1960s and some can be very valuable. Do they go back further than the 1960s? I know some of the Whitman issues of the Disney characters were only sold through these packs. The pack you see below was from 1973 and contained three DC 20 centers, Wonder Woman #207 with that awesome cover, Superman #208 and Wanted #9 squished in the middle. In this case, the middle book is the least desirable so the urge to tear this thing open isn't as strong. What if the best book was in the middle, the's no way of knowing what will be popular in the future so I'm sure this is the case with many of these three packs, that would be ten times worse than CGCing the book, imaging having a great and not even being able to look at it let alone leaf through it. I'm sure you've all tried to see what the middle book is in one of these, you have to hold the plastic in a way where the two books fall away while the one book is kept up tight, then you have to angle the package a bit and kind of nudge the middle book into view from the other side. I swear all three books lose half a grade every time we do this.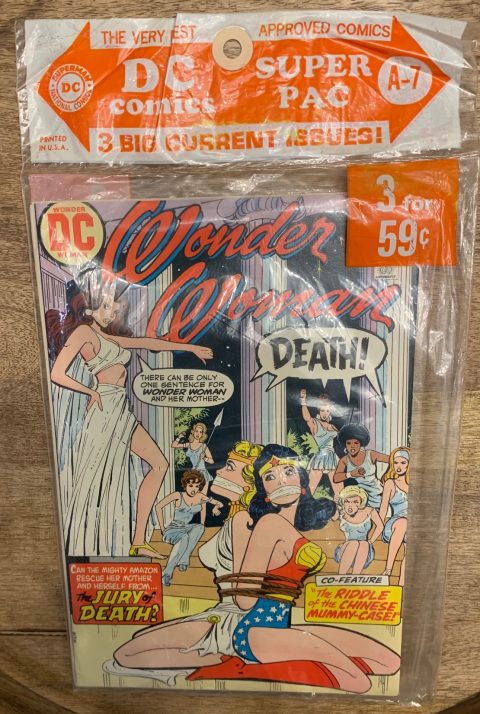 For our ad of the week, I'll take you back to Love Diary #37; I spent a good 15 minutes going through that book so I might as well get some use out of it. Look at that schlump on the couch, remind you of anyone? Too bad we didn't send away for the Dollar Book of Etiquette: for a buck we could have found out how to behave in and out of love, how to dispose of bores, pests and similar "characters" (I might use this one on Chris Owen). My favourite is how to "blind" date with "open" eyes and, looking back, the one I deeded the most, how to date without regrets. Note the bottom ad promised to help you write thrilling love letters, these old comics were worth their weight in gold.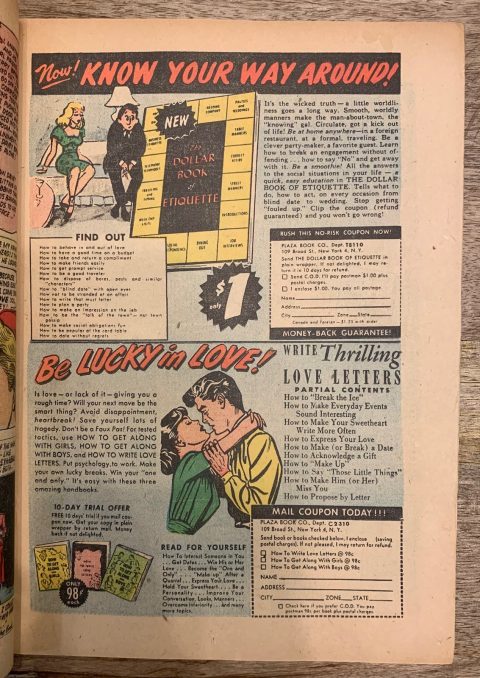 Last night's weekly icecollectibles eBay auction saw a flurry of last-minute bids, the snipers were out in force. Does anyone actually have and use the sniping software for eBay auctions? I've never tried any sniping software. One of my favourite Marvel covers was up for auction last night, a high gloss mid-grade copy of Incredible Hulk #104, with that great Rhino cover, sold for $92.51; a steal as far as I'm concerned.