December has always been kind to comic book shops, at least it has to the Big B shops over the years. Christmas and the holidays are in the air and gift-giving is on people's minds. Luckily for comic shops, there are a lot of comic book pop culture fans out there who have friends and loved ones who know exactly what they like. These folks are shopping and asking questions and clicking things on their phone and generally perusing through the shop, at least this is the scenario in early December. By the time the calendar rolls around to December 20th all bets are off, at that point anything can go at any time and at any price. It's a peculiar mix of people that have looked but could not find that perfect gift, procrastinators, gift add on'ers and the like. These shoppers can do a lot of damage in one visit. If you are a comic book shop you best be putting your relevant, new, quality items front and center and if you are a shopper – our address is 1045 Upper James Street, Hamilton!
Stay safe out there, bundle up, be courteous, be kind- unless you're fighting for that last Furby – and enjoy the wonders that the season brings.
I'm now lining up books for our upcoming ice collectibles auction that ends on Christmas Day. It's a good day to play Santa to yourself: there are lots of cool gifts you can pick up for yourself in that auction so make sure you're tuned in.
You'd think picking a cover of the week would be easy but I found myself torn so I thought why not go with both? First up is this gorgeously simple George Wilson painted cover for Doc Solar Man of the Atom #22: great composition, great colours, great feel to this fun cover. Second up is this very nice Matt Baker cover to The Hawk #12. We all know Matt Baker for his girls but subject matter aside the man's quality just shines through.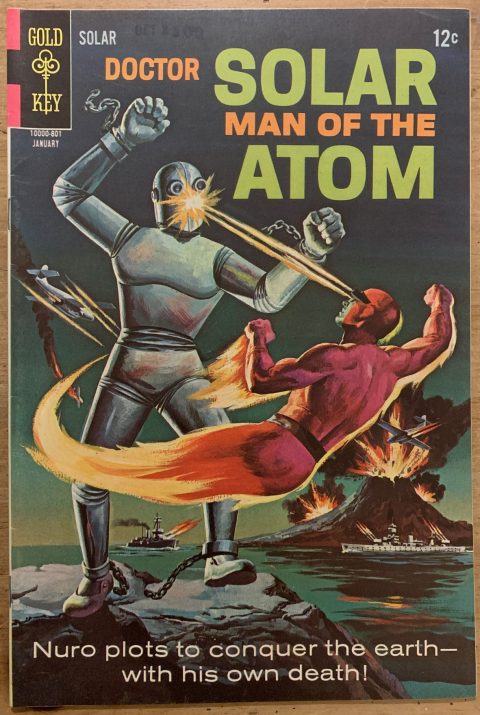 Speaking of doubling up, these in-house DC ads come from 1943's Mutt and Jeff #9. DC was firing on all superhero cylinders in 1943. I like how they call the first page "The Big 8" and treat the second ad like "oh and we make these too", meanwhile the second ad has Batman and Superman and Wonder Woman. If you were a kid and a DC fan you'd a had to come up with $1.60 to get all 16 issues, though I'm not sure if the quarterly's had ended by then or if any of these were bi-monthly. Still, that's a lot of reading and a lot of clams.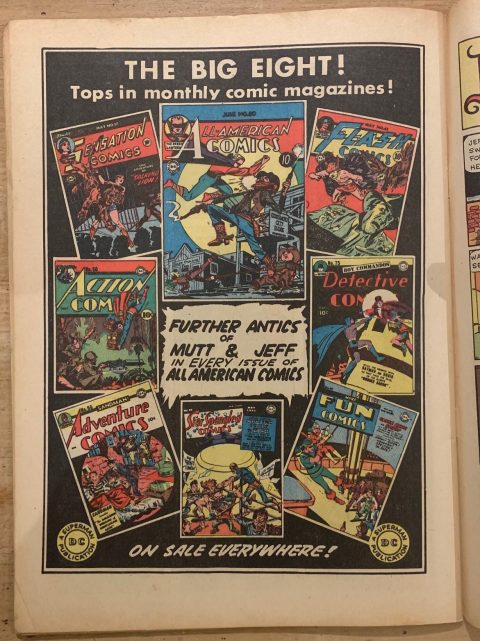 I have this lovely run of Witching Hour comics going up for the Christmas auction; talk about a Hall of Fame run of artists drawing for that title, Kirby, Morrow, Cardy, Tuska, Adams, DeZuniga and more. This splash from Tony DeZuniga caught my eye and I'm featuring it as the splash of the week! I've always liked DeZuniga's style.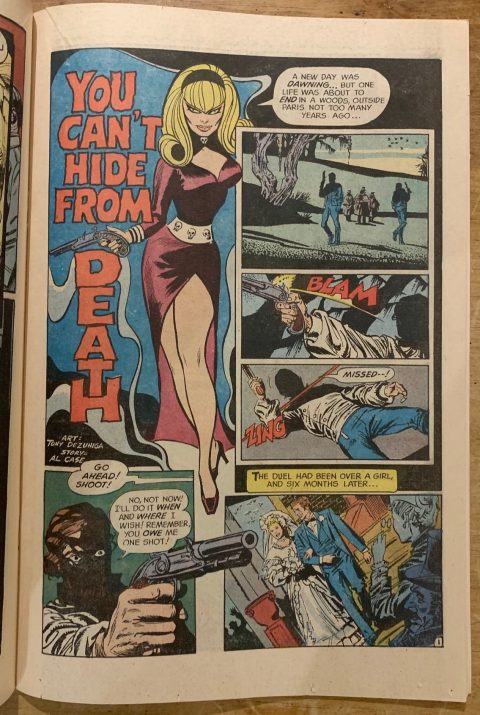 This week's ice collectibles eBay auction produced some more great results: I want to feature the $164.50 earned by the Superman versus Spider-Man Treasury Edition. This book marked the first Marvel and DC collaboration; imagine if Marvel Buys DC!