I hope everyone in the good ol' US of A had a wonderful Thanksgiving and enjoyed their long weekend. A bit of shopping on Cyber Monday then no more excuses, everyone back to work and let's lean into it shall we?
It was nice to see a raw copy of Vampirella #1 reach my future eBay auctions pile, I thought of posting a pic of Frank Frazetta's famous cover but I know most of us are well familiar with it already. I peaked inside and was delighted to see the Tom Sutton splash page, a deserving entry as this week's Splash feature.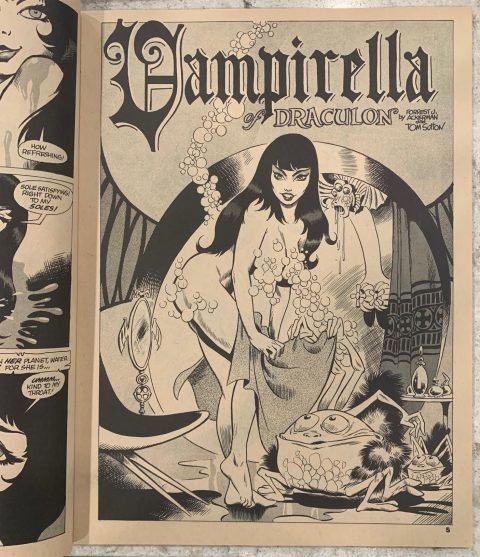 Ernie Chan was a gladiator for DC back in the mid-1970s. He's not often mentioned in the same breath as greats of the era such as Wrightson, Kaluta and Adams but he did quality work. I like the dramatic composition on the cover of Claw #6, add to that the dark black cover and it makes for a striking image and it's my pick as the cover of the week.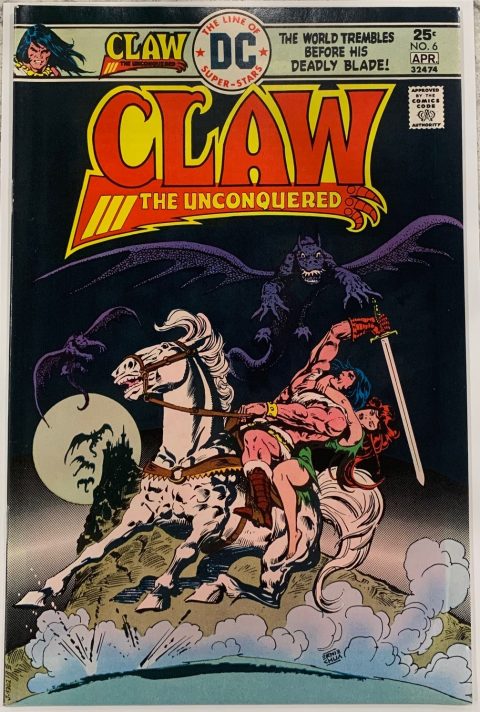 For our ad page of the week, I stayed with Claw #6: I was feeling nostalgic and knew I'd find something from my youth inside. When I first read the bottom half ad I thought it said Big Ass Life Size Hang Ups which to me means a trip to the psychiatrist is in order but then I realized it was for those big moveable cutouts. I've never even seen one of these cutouts, none of my friends had even one of these, at least that I remember. I'm wondering if they're collectible today. Remember a few of our older posts we had a bit of a thread going on ads that promoted college tuition prizes etc., I think this ad for going to a school to learn to become a motorcycle mechanic is the most enticing of the lot. What young kid wouldn't want to own a motorcycle, these were the days of the Fonz and Evel Knievel, and fixing them sounds cool, they knew that and led with the "Fast Track to a Cool Job" line.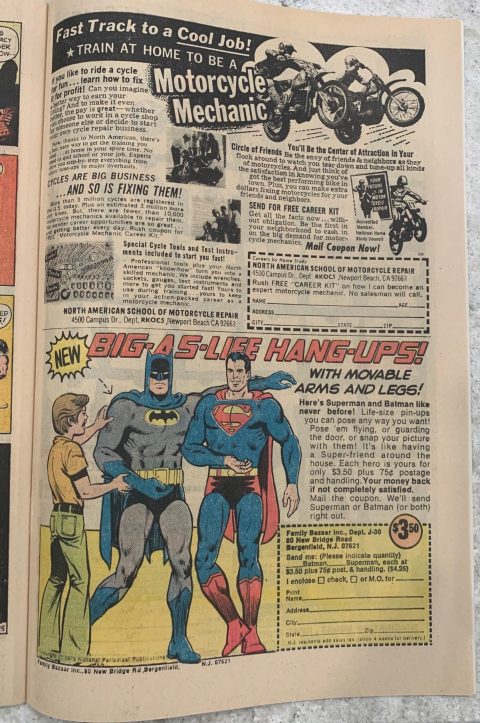 Last night our ice collectibles weekly eBay auction produced some amazing results, perhaps none more so that the lot containing coverless copies of New Adventure Comics #24 and 27, the lot fetched $1,852 USD on the power of #27 featuring an ad for Action Comics #1. Truth be told I didn't even mention that in the description, I knew #26 featured the Action 1 ad a month before Action #1 came out and that it was a big deal but New Adventure #27 is a June 1938 book, the same month as Action Comics #1.
This result shows that the guys that know what they want, know what they want and it also shows that these ads that predate the first appearances obviously are in favour at the moment. I remember a few years back books like More Fun that features the Action #1 ad and even the Human Torch #2, that pre-dated and featured the two ads for Captain America #1, were slow and hitting sales marks that didn't seem to reward the importance of the ads. Perhaps the modern-age books showed the error in the old ways, the attention given to Marvel Previews #95 is well known with the Miles Morales Spider-Man solicitation.
We have the Human Torch #2 closing next week and we have the Marvel Previews #95 lined up to close the week after. We'll see if this hot streak continues.