My pal Chris sent me a text showing this auction item from ComicConnect, all he sent me was a link to the auction and the letters – WTF?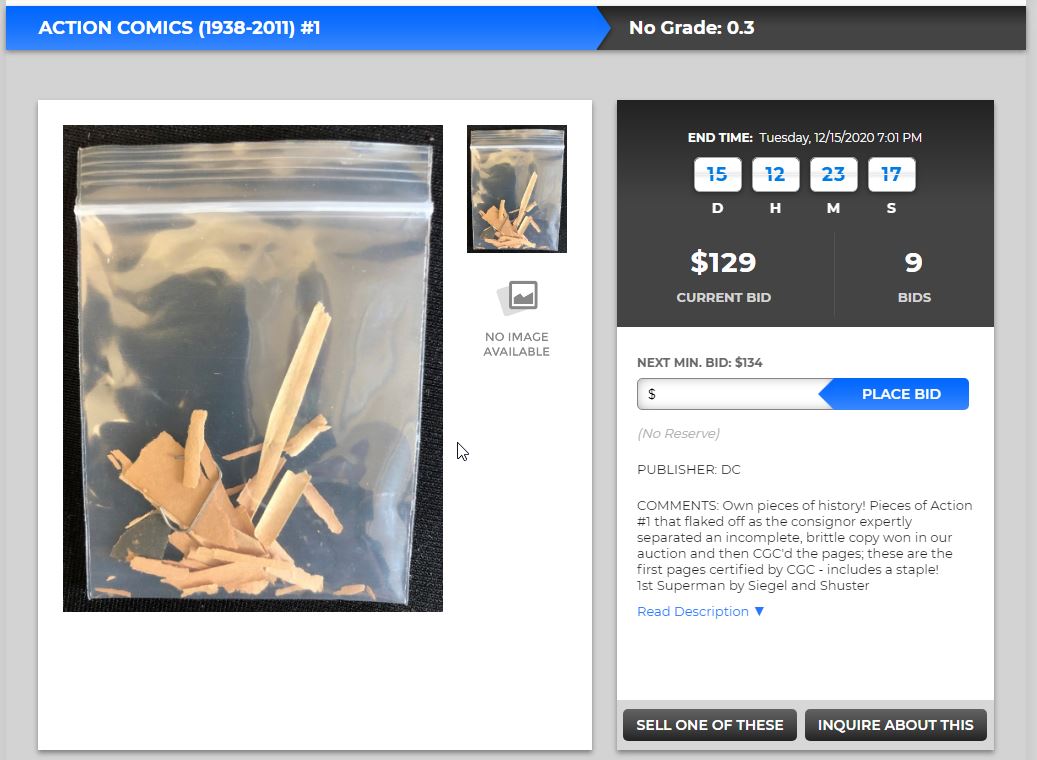 The auction closes in about two weeks, I'll give the link here. Here is the ComicConnect description;
"Own pieces of history! Pieces of Action Comics #1 that flaked off as the consignor expertly separated an incomplete, brittle copy won in our auction and then CGC'd the pages; these are the first pages certified by CGC – includes a staple! 1st Superman by Siegel and Shuster The most important comic book in history, Action #1 stands as the introduction of the archetype of all other heroes to come as Superman transcends comics and pop culture as an icon of truth, justice, and the American way! bag measures 2″x3″
I've actually known for a while that the best investment in comics I could have made these past ten to fifteen years was buying ultra low grade key issues. I'll list a few examples that actually had relevant data we can use and compare to;
Superman #1 from 1939, a CGC 0.5 Blue Label sold for $7,700 in 2004 then again for $23,900 in 2015.
Amazing Fantasy #15 from 1962, a CGC 0.5 Blue Label sold for $1,130 in 2013 while the last sale in 2020 went for $8,625.
Incredible Hulk #181 from 1974, a CGC 1.0 Blue Label sold for $148 in 2003 while the last sale in 2019 got $980.
These were some of the best rates of return across all grades.
It seems that we are settling for less and less as the years go on and as books get more expensive and availability dries up. I remember balking at a guy trying to sell me a Hulk #181 with the Shanna Marvel Coupon clipped out, years ago I also didn't buy a copy of Amazing Spider-Man #1 because it had an ad page cut out that did not affect the story, I was afraid I wouldn't be able to sell it. I was a lot younger back then and I think most of the guys buying off me were my age or older so they most likely shared the same or had even tougher tolerances on what they would accept.
Back when I was collecting more actively I had a low-end threshold I tried not to go below, no tape, no brittle pages, no chipping, no resto, must be complete, etc, etc. My motto was that I wanted to be able to look at the book without wanting to throw up. But that was when I could still afford to make a play at a CGC 8.0 Hulk #181 or even a CGC 2.5 Amazing Spider-Man #1. As the prices for the key issues started climbing I found myself priced out of the grades I preferred, it was time to lower my standards or abstain.
How low would you go to have a copy of some book you really wanted? No ad page? No cover? Just the cover? Shards that fell of the book while somebody sent the single pages down for grading?