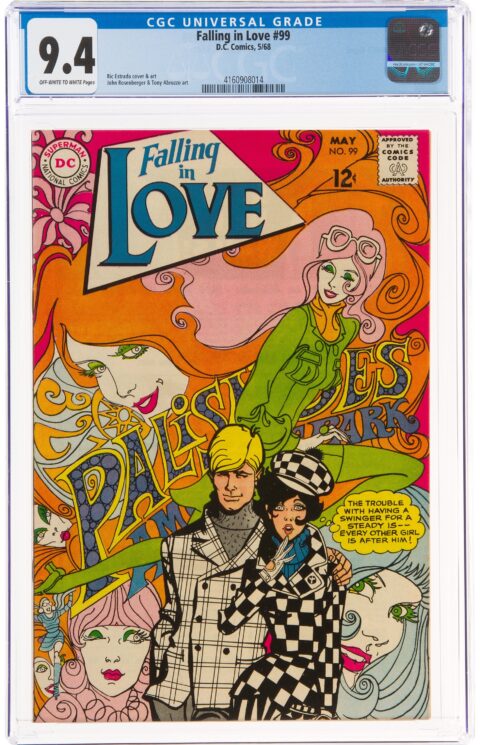 The Mighty Alex Sorensen sent us this great study on the high-end Romance Comics market. I know a big auction of Romance Books just finished up on Heritage; hopefully, Alex can critique it a bit as to how it fits into his list below. I know you didn't come here for me so let's pass this over to Alex.
Top 50 Most Valuable Romance Comics
Happy Valentine's Day!
What is a romance comic? My definition is that the comic must have a Romance cover without other obvious genres appearing. This means Venus 19 (Horror), Showcase 9 (Superhero), Linda Carter Student Nurse 1 (Humour) are out. It Rhymes With Lust is a Crime comic despite its title and cover. Many comics could be considered Romance but are more in line with Teen Humour such as Archie, Millie the Model or Tessie the Typist.
Romance comics are one of the fastest-growing collectible genres in comics.
There are great innuendo comics such as #3 – Teen-Age Romances #9. Aside from the wordplay, there are a number of items found in the artwork. Was she sitting on a bolt? After a while, the boulders start to look like something. That story title may not work well today.
Interesting topics such as alcoholism and insanity are included in #27 – Lovelorn 53, #50 – Romantic Adventures 50 and #16 – Love Journal 10.
If we were to make this list a year ago we would not have the #19 comic "Going Steady #13" which had an April 2022 sale of $5,040 in CGC 5.5 Fine Minus. Instead, we would have had to use a $22 sale in good plus from 2009. This comic would not be in the top few hundred. Secrets of True Love 1 is another rare comic that only recently made the list.
Many comics should be on this list but have little sales data. Forbidden Love 3 and Cinderella Love 28 come to mind.
The median highest grade for these 50 comics is 6.5, fine plus. High grade generally does not exist. Only three of these comics have a high grade at or above near mint minus. The lowest high grade is a CGC 2.5.
Great covers? Matt Baker has 39, Al Feldstein has 2, Ogden Whitney, Ken Bald?, Bernard Baily each have one, unknown cover art amounts to 2 and Photo covers are at 3 including two of Marilyn Monroe. The #10 comic Daring Love 1 includes Steve Ditko's first published work. The Bernard Baily cover on this book would likely keep it on the list if Ditko was not included.
Where are the L.B. Cole comics? LBC is in the 60th position with Confessions of Love #11. He also has 7 comics in the next 50.
Young Romance 1, the first Romance comic comes in at 99th position. Cinderella Love 25, the #1 romance comic below would be in 104th position for all comics, almost cracking the Top 100.
Comics below are conservatively estimated based on sales for near mint minus. I have also added my estimate for 2013 for comparison.
| | | | | | | | |
| --- | --- | --- | --- | --- | --- | --- | --- |
| Rank | Year | Month | Publisher | Title | Issue | 2023 | 2013 |
| 1 | 1954 | 12 | St. John | Cinderella Love | 25 | 72,000 | 2,300 |
| 2 | 1949 | nn | St. John | Giant Comics Edition | 12 | 49,000 | 10,000 |
| 3 | 1950 | 4 | St. John | Teen-Age Romances | 9 | 22,000 | 1,900 |
| 4 | 1950 | nn | St. John | Giant Comics Edition | 15 | 21,000 | 2,700 |
| 5 | 1955 | 10 | St. John | Cinderella Love | 29 | 19,000 | 620 |
| 6 | 1951 | 2 | St. John | Teen-Age Romances | 14 | 18,000 | 570 |
| 7 | 1955 | 5 | Charlton | Negro Romances | 4 | 17,000 | 2,000 |
| 8 | 1953 | 7 | St. John | Teen-Age Romances | 32 | 17,000 | 1,400 |
| 9 | 1950 | 6 | Fawcett | Negro Romance | 1 | 15,600 | 4,200 |
| 10 | 1953 | 9.5 | Gilmor | Daring Love | 1 | 15,500 | 2,400 |
| 11 | 1955 | 12 | St. John | Teen-Age Romances | 45 | 14,700 | 330 |
| 12 | 1949 | 10 | St. John | Teen-Age Diary Secrets | 6 | 14,100 | 610 |
| 13 | 1953 | 6 | St. John | Teen-Age Temptations | 2 | 12,800 | 910 |
| 14 | 1948 | 8 | Atlas | Venus | 1 | 12,600 | 1,900 |
| 15 | 1950 | 3.5 | EC | A Moon A Girl…Romance | 12 | 12,100 | 3,100 |
| 16 | 1951 | 10 | Orbit-Wanted | Love Journal | 10 | 12,100 | 160 |
| 17 | 1953 | 10 | St. John | Diary Secrets | 20 | 11,700 | 250 |
| 18 | 1955 | 4 | St. John | Cinderella Love | 27 | 10,600 | 1,140 |
| 19 | 1955 | 6 | St. John | Going Steady | 13 | 10,300 | 260 |
| 20 | 1954 | 9 | St. John | Teen-Age Romances | 39 | 9,800 | 1,240 |
| 21 | 1953 | 9 | St. John | Wartime Romances | 17 | 9,600 | 750 |
| 22 | 1952 | 9 | St. John | Teen-Age Romances | 25 | 9,500 | 620 |
| 23 | 1955 | 9 | St. John | Diary Secrets | 30 | 9,500 | 220 |
| 24 | 1949 | 1 | St. John | Teen-Age Romances | 1 | 9,400 | 1,100 |
| 25 | 1955 | 8 | St. John | Teen-Age Romances | 44 | 9,300 | 330 |
| 26 | 1954 | 11 | St. John | Diary Secrets | 26 | 9,100 | 220 |
| 27 | 1954 | 9.5 | ACG | Lovelorn | 53 | 8,900 | 116 |
| 28 | 1955 | 2 | St. John | Cinderella Love | 26 | 8,500 | 1,330 |
| 29 | 1949 | 4 | St. John | Teen-Age Romances | 2 | 8,200 | 870 |
| 30 | 1952 | 10 | St. John | All-Picture All-True Love Story | 1 | 8,200 | 740 |
| 31 | 1950 | 4 | Comic Media | Honeymoon Romance | 1 | 8,100 | 2,200 |
| 32 | 1955 | 3 | St. John | Teen-Age Romances | 42 | 8,100 | 1,170 |
| 33 | 1949 | nn | St. John | Romance and Confession Stories | 1 | 8,000 | 1,900 |
| 34 | 1951 | 10 | St. John | Teen-Age Romances | 18 | 8,000 | 550 |
| 35 | 1954 | 6 | St. John | Teen-Age Temptations | 8 | 7,900 | 1,800 |
| 36 | 1950 | 12 | St. John | Teen-Age Romances | 13 | 7,900 | 890 |
| 37 | 1955 | 5 | St. John | Teen-Age Romances | 43 | 7,700 | 1,100 |
| 38 | 1958 | 2 | St. John | Secrets of True Love | 1 | 7,700 | 62 |
| 39 | 1954 | 8 | St. John | True Love Pictorial | 11 | 7,500 | 810 |
| 40 | 1953 | 2 | St. John | Diary Secrets | 16 | 7,500 | 780 |
| 41 | 1953 | 12 | St. John | Diary Secrets | 21 | 7,500 | 220 |
| 42 | 1954 | 12 | St. John | Going Steady | 10 | 7,300 | 410 |
| 43 | 1953 | 1 | St. John | Pictorial Romances | 17 | 7,200 | 1,090 |
| 44 | 1949 | 6.5 | EC | Modern Love | 1 | 7,100 | 1,350 |
| 45 | 1953 | 8 | St. John | True Love Pictorial | 5 | 6,900 | 1,200 |
| 46 | 1954 | 1 | Fawcett | Sweethearts | 119 | 6,800 | 4,000 |
| 47 | 1949 | 7 | St. John | Teen-Age Romances | 3 | 6,500 | 1,310 |
| 48 | 1954 | 8 | St. John | Cinderella Love | 15 | 6,500 | 420 |
| 49 | 1953 | 11 | St. John | Teen-Age Romances | 34 | 6,100 | 340 |
| 50 | 1954 | 10.5 | ACG | Romantic Adventures | 50 | 6,100 | 131 |