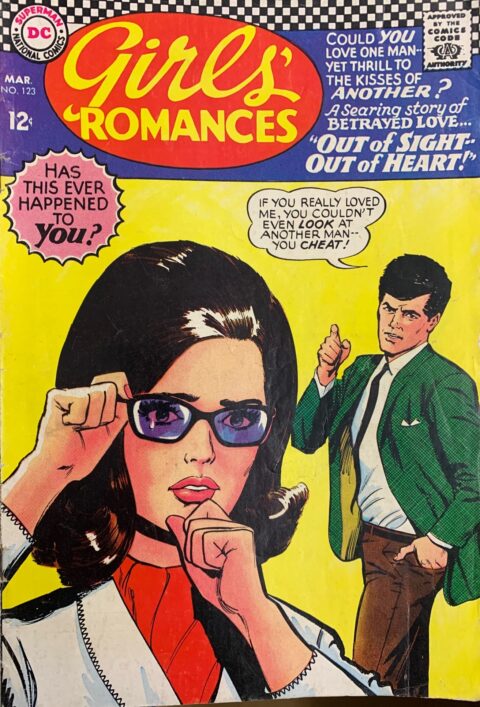 A crowded day for posts as we try to fit in a couple of Valentine's Day-themed posts in before the big day. Tomorrow I'll post my regular Time to Collect article.
Our pal Alex Sorensen just can't leave well enough alone, the comments for his last post got him thinking so he went back to the drawing boards and re-jigged the thing for our pleasure. See his "Director's Cut" version below.
The Most Valuable non-Matt Baker Romance Comics
Once More With Feeling. So, here it is and something jumped out at me. The oldest Romance Comic is Classic Comics 32 – Lorna Doone (A Romance of Exmoor), and I am placing it on this list due to its historical significance despite the Matt Baker cover. It is dated December 1946, while Young Romance 1 is nine months later.
Similar to the first Horror-Suspense comics, which are also Classic Comics, this is a point of debate as many collectors tend to dismiss CCs and it is sometimes easier to follow the Legends than the truth. Simply put it is a comic and the story and cover are romance.
The #3 comic Teen-Age Diary Secrets 6 contains Matt Baker art but the photo cover of Marilyn Monroe in a sweater gives it position.
Covers now fall to LB Cole with 16, Al Feldstein 12, Unknown 8, Photos 6, Ogden Whitney 2 and 6 others with 1 each.
| | | | | | | |
| --- | --- | --- | --- | --- | --- | --- |
| Rank | Year | Month | Publisher | Title | Iss | 2023 |
| 1 | 1955 | 5 | Charlton | Negro Romances | 4 | 17,000 |
| 2 | 1950 | 6 | Fawcett | Negro Romance | 1 | 15,600 |
| 3 | 1949 | 10 | St. John | Teen-Age Diary Secrets | 6 | 14,100 |
| 4 | 1953 | 9.5 | Gilmor | Daring Love | 1 | 13,800 |
| 5 | 1950 | 3.5 | EC | A Moon A Girl…Romance | 12 | 12,100 |
| 6 | 1951 | 10 | Orbit-Wanted | Love Journal | 10 | 12,100 |
| 7 | 1954 | 9.5 | ACG | Lovelorn | 53 | 8,900 |
| 8 | 1949 | 6.5 | EC | Modern Love | 1 | 7,100 |
| 9 | 1954 | 1 | Fawcett | Sweethearts | 119 | 6,800 |
| 10 | 1954 | 10.5 | ACG | Romantic Adventures | 50 | 6,100 |
| 11 | 1950 | 7 | Comic Media | Confessions of Love | 2 | 6,000 |
| 12 | 1949 | 1.5 | EC | A Moon A Girl…Romance | 11 | 6,000 |
| 13 | 1950 | 3.5 | EC | Saddle Romances | 11 | 6,000 |
| 14 | 1952 | 7 | Star | Confessions of Love | 11 | 5,400 |
| 15 | 1950 | 10 | Fawcett | Negro Romance | 3 | 5,200 |
| 16 | 1953 | 3 | Star | Popular Teen-Agers | 15 | 4,700 |
| 17 | 1949 | 9.5 | EC | A Moon A Girl…Romance | 9 | 4,700 |
| 18 | 1950 | 4.5 | EC | Modern Love | 6 | 4,700 |
| 19 | 1953 | 7 | Lev Gleason | Lovers' Lane | 35 | 4,600 |
| 20 | 1950 | 8.5 | EC | Modern Love | 8 | 4,500 |
| 21 | 1950 | nn | Fiction House | Cowgirl Romances | 1 | 4,400 |
| 22 | 1951 | 10 | Star | Popular Teen-Agers | 9 | 4,400 |
| 23 | 1952 | 4 | Star | True-To-Life Romances | 11 | 4,300 |
| 24 | 1950 | 7 | Comic Media | Honeymoon Romance | 2 | 4,300 |
| 25 | 1954 | 5 | Star | Confessions of Romance | 9 | 4,200 |
| 26 | 1953 | 3 | Star | Confessions of Love | 4 | 4,200 |
| 27 | 1954 | 10 | Star | True-To-Life Romances | 23 | 4,200 |
| 28 | 1954 | 8 | ACG | Lovelorn | 52 | 4,000 |
| 29 | 1952 | 11 | St. John | All-Picture All-True Love Story | 2 | 4,000 |
| 30 | 1950 | 9 | Superior | Modern Love (Canadian) | 8 | 3,900 |
| 31 | 1947 | 9.5 | Prize/Headline | Young Romance | 1 | 3,900 |
| 32 | 1953 | ? | Star | True-To-Life Romances | 19 | 3,900 |
| 33 | 1952 | 7 | Star | True-To-Life Romances | 12 | 3,500 |
| 34 | 1950 | 8 | Fawcett | Negro Romance | 2 | 3,500 |
| 35 | 1946 | 12 | Gilberton | Classic Comics | 32 | 3,400 |
| 36 | 1949 | 12.5 | EC | Modern Love | 4 | 3,400 |
| 37 | 1950 | 11.5 | EC | A Moon A Girl…Romance | 10 | 3,400 |
| 38 | 1953 | 7 | Star | True-To-Life Romances | 18 | 3,300 |
| 39 | 1952 | 9 | Star | Popular Teen-Agers | 13 | 3,300 |
| 40 | 1950 | 2 | Atlas | Venus | 8 | 3,200 |
| 41 | 1950 | 2 | Superior | Saddle Romances (Canadian) | 10 | 3,200 |
| 42 | 1954 | 10 | Star | Popular Teen-Agers | 23 | 3,200 |
| 43 | 1957 | Fall | Charlton | Giant Comics | 2 | 3,200 |
| 44 | 1950 | nn | Fox | Strange Love | nn | 3,200 |
| 45 | 1952 | 9 | Star | True-To-Life Romances | 13 | 3,100 |
| 46 | 1951 | 11 | Star | Top Love Stories | 5 | 3,100 |
| 47 | 1952 | 4 | Star | Popular Teen-Agers | 11 | 3,100 |
| 48 | 1949 | 10.5 | EC | Modern Love | 3 | 3,100 |
| 49 | 1950 | 3 | Superior | My Life | 13 | 3,000 |
| 50 | 1954 | 11 | Star | Top Love Stories | 19 | 2,900 |