A big ComicLink big auction ended this past week with record sales in the high end of the market. We keep questioning the validity of these record prices and the next big auction keeps pushing past the record prices set by the last big auction. I sound like a broken record but we are in uncharted territory. While I continue to advise everyone to stay with books that deliver all the good things like first appearances, great covers, iconic artists etc. I'd like to add that we should all be careful when dealing with the variable of time. Time is very important, especially to the younger collectors who benefit from having more of it before them. Time isn't always kind to a book though, it can be both good and bad to the nostalgia cycle: it's good for Ninja Turtle collectors but not so good for people harking back to the Three Stooges, time can turn against you after a while if you don't invest in properties that have the ability to make that generation jump and remain viable to a new audience. Time can work to your disadvantage as well when it comes to supply. As I said before, just watch out for the things that get hot overnight: they are only scarce in high grade for a few months, supply will then ballon with new returns from CGC. An increase in supply doesn't mean your investment is in trouble though; there was only one Amazing Fantasy #15 at CGC 9.6 when it sold for $1 million, there are now 4 at CGC 9.6 and one of those got $3.6 million, that's four times the supply and we still got 3.6 times the result. Consider time when picking books to invest in.
Two characters that seem to be transferring their popularity over to new fans are Daredevil and Punisher and this week's original art wish goes to this nice two-page Frank Miller spread from Daredevil #184, No More Mister Nice Guy! I remember this story arc, it hit the stands when I was a 17 year old and it had quite an impression on me. The 17 issue Elektra arc remains one of my favourite stories ever. This would loo sweet all framed up and hanging in the man cave!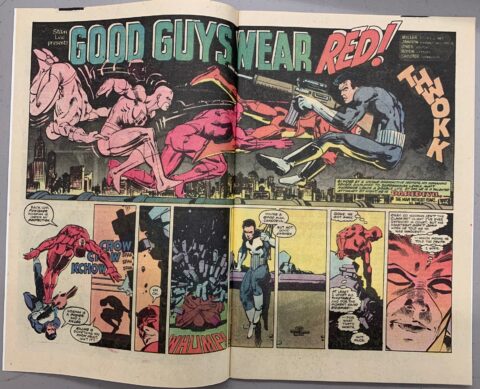 When did Fedoras lose favour? In 1960 those hats were everywhere but by 1970 nobody wore them. The Fedora adds so much "mid 60s spy fun" to this splash from the I Spy story in Showcase #51. Showcase #51 predates Nick Fury Agent of SHIELD's 1st appearance in Strange Tales #135 abd came a few months after Showcase adapted James Bond's Dr. No in Showcase #43. These books are verymuch becoming period pieces and exemplify mid 60s cool.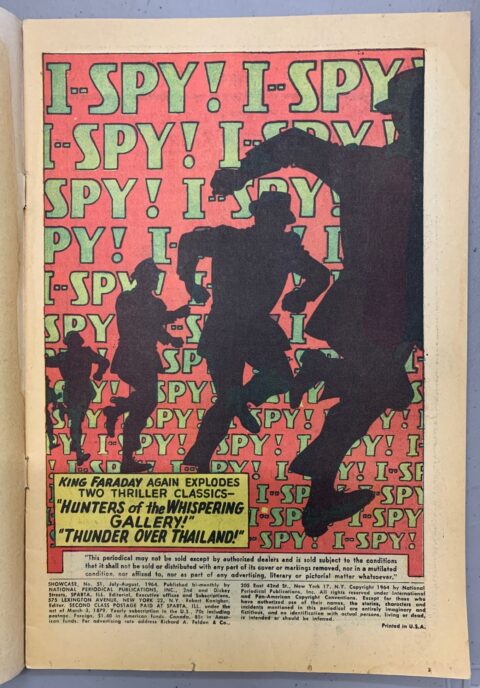 This week's ad is one of the most famous and fun to look back. The Mile High catalogue ad: I used to pour over this marvelling at some of the prices the books were getting but I never actually ordered from it, perhaps it was the No Canadian Funds instructions. At the top left, they announce that 480,000 more comics had arrived bringing their total to 1.1 million. This ad is from Daredevil #183 from 1982: so we have 1.1 million comics from 1982 and down, I'm wondering what the street value would be today of that warehouse at that moment in time. Spidey #50 for $7.50 and FF #48 for $15, sigh…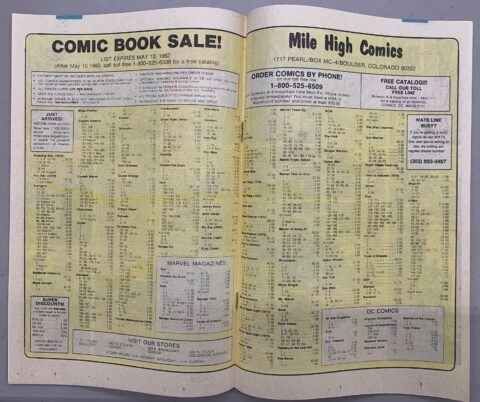 Our internationalcollectiblesexchange weekly eBay auction ended last night with some strong results. I was watching the X-Men #94 CGC 9.2 White pager to see if it could buck the recent downward trend; the last three sales ranged from $3,400 to $3,500 but the book was getting just over $4,000 before that. Our copy closed at a strong and corrective $3,950, nice-looking book and so much harder in high grade than the Giant-Size X-Men #1 and the Hulk #181.