Last week Spider and I were texting a few things back and forth to each other and the end result was this business venture that we think will be a surefire hit. We've developed a POOP index, that is a Probability Of Over Paying index and we think there will be great demand for the service. So you want to buy a comic, maybe an Amazing Spider-Man #101 or perhaps a Batman Killing Joke, you send us the info such as the grade and price and for a small fee we'll send you back a POOP index reading for your potential buy. Our POOP index will either persuade you to follow through with the buy or it will dissuade you, whichever way you choose you still have to pay us! I'm thinking rather than an index based on a 1 to 10 rating system we go with a smell guage, so if we designate the potential deal you sent us details on a Rose then you know we think its a buy, if our verdict is a Pepe then you know to stay away, we'll have to come up with a few other designations to fill in the spectrum that lies between Roses and Pepes. Our only disclaimer when you decide to use our service is that we will be wrong more than we will be right so caveat emptor.
A service like the one descriped above is actually not a bad idea, considering the volatility in comic values, I think market analysis is needed when buying expensive comics these days. Reading the tea leaves has never been more important. You don't just look at the activity of that particular book in that particular grade, you look at what the grades above and below have been doing, you look at the issues above and below wherever you can find similar type books, you look at other similar keys if it is a key issue you are after, you look at census activity, have there been a bunch coming into the census lately, you look at what the book was averaging in 2020 before the pandemic started inflating values, you look at economic indicators in the "real" world, and you look at a bunch of other factors and well. To make a good and informed decision on an expensive comic today you have to put on your Warren Buffet hat, or skip all that hard work and send some money to me and Spider!
I cannot escape the weekly comic books destined for our eBay auctions stack but truth be told I don't want escape, these piles hold treasures at every turn and the potential for new discoveries keep me at full attention. As soon as I saw the Joe Kubert cover to Weird War Tales #39 I knew it was my cover of the week, the book it made me think of right away was the classic cover to Blue Bolt #114 with that iconic L.B. Cole monster cover. I actually had a CGC 5.0 copy of that Blue Bolt #114 a few years back but sold it, my stupidity never ceases to amaze me.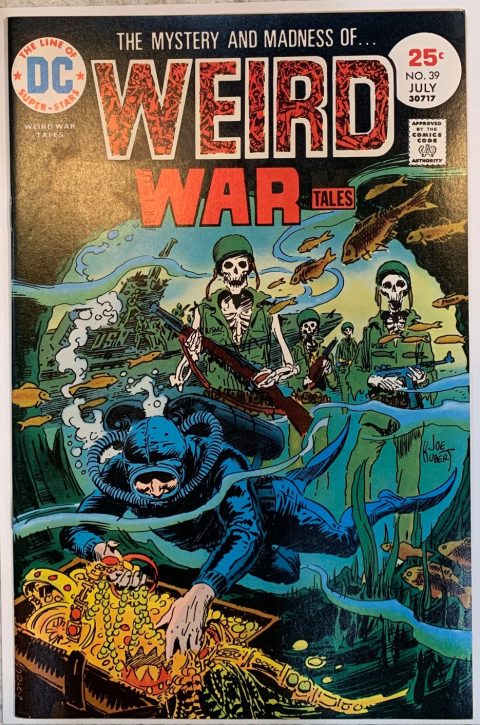 I found another bound Jack Kirby edition, this ne was for Boys Ranch. Leafing through these is loads of fun, Kirby was very creative in the 1950s and in each issue of Boys Ranch he took the time to give us a two page spread like the one below, apologies, I forot to not which issue this was from, you can get lost in these books, truly amazing stuff from the great Jack Kirby.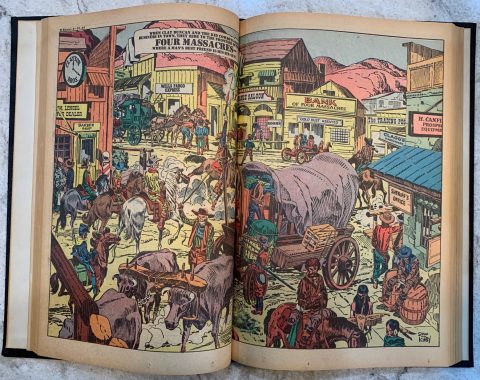 The ad of the week comes from the back cover of Warren Magazine's Eerie #8, the front cover features one of Frank Frazetta's classic covers while the back cover is flogging 8mm Home Movies. I've never noted ads for 8mm home movies before but I'd imagine these were directed at young adults that worked and at perhaps rich kids, who had an 8mm film projector at home and if you did where did you go find 8mm film to watch? Was there a Blockbuster type of place that had a selection? Perhaps record shops had a selection? I bet you there were mini conventions for this material in larger cities, obviously ads in periodicals got to some buyers. The quality was probably crap but I can see how the allure of ordering this must have been strong.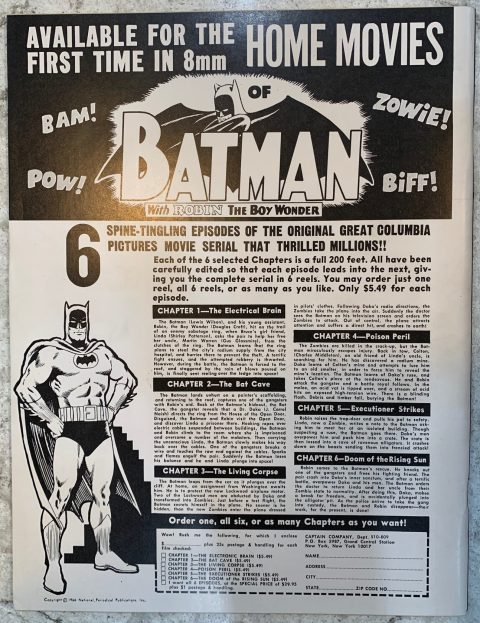 Our weekly ice collectible eBay auction ended last night with a good mix of cards, toys and comics, we're starting to throw in more toys and cards as we move towards widening our auctions into full pop culture collectibles auctions. The main focus remains comics though and last night I thought our Marvel Spotlight #11 graded CGC 9.6 went a little light at $227.50 USD, I though the Mark Jewelers insert woulf push this copy closer to $300 so I'm calling this an definite Advantage Buyer.