Greetings everyone. It's been a long couple of weeks with Hal-Con sucking up most of my time and energy. It was the first major fan convention that Tania and I have vended at since the pandemic began. Despite the work involved it was the best Hal-Con we have ever attended. In my opinion, they finally highlighted the comics guests properly for the first time. Said guests were treated like stars. I didn't have a chance to interact with all of the comic creators who attended, but I had great encounters with Gene Ha and his fabulous wife Lisa, Mike Rooth and Hugh Rookwood, the organizers of the upcoming Big Country Comics Expo in Fredericton, Canada's own long-time partners in crime Janet Hetherington and Ronn Sutton, and the indefatigable Tony White. I missed a few folks (like Jim Zub and Ed Brisson), but it was hard to get away from the booth. It was that busy.
I also spent time with some of our great local indie stars such as Andrew Clark and Dave Howlett, as well as other shop owners like Jay Aaron Roy and Blaire Edgett from Cape and Cowl, Jim and Dan Johnson from Rainbow's End, Calum Johnston from Strange Adventures, Mike Crossman from Monster Comic Lounge, and our usual travelling companion Richard Silvert from Lost World Games, Toys and Records. Comic buyers were out in full force and we had a chance to reconnect with quite a few folks who we hadn't seen since the world went sideways. It was great to have so many friends of East Coast Toys and Games (old and new) in the same building for the first time in a long time. A few Comic Book Daily readers stopped in to say hello too!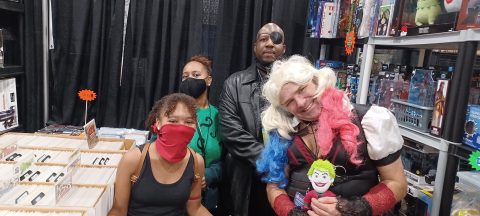 Last month I set the table for a discussion of the emergence of the Saint John and Fredericton comic scenes as the Canadian Silver Age was coming to an end. In the meantime, I have been trying to source more information about said scenes in order to help flesh things out. Ultimately, I have not been able to come across enough information about the Saint John scene to do it proper justice right now. A few of my leads didn't pan out and since Hal-Con got in the way I have decided to kick this one down the road for now.
On the other hand, my leads regarding the Fredericton scene bore quite a bit of fruit. With the first-ever Big Country Comics Expo taking place at the Fredericton Inn in only a matter of weeks, it seems like a good time to showcase the work of the two women who really kick-started the comic culture in New Brunswick's capital city before Calum Johnston opened Strange Adventures in 1992. This month will examine the work of Dr. Mary Ann Bramstrup and Monique MacNaughton. Let's light the fuse.
---
Prior to getting into the comics industry, Dr. Mary Ann Bramstrup had already written several science fiction novels (as M.A. Bramstrup) and was working as a family doctor in Fredericton. Bramstrup's first novel, Saga of a Star Stallion, was published by New Brunswick's Carlton Press in 1973. She then published three novels in quick succession in the early 1980s beginning with Star Destroyer in 1981, continuing with Courier in 1982 and ending this burst of creativity with Hybrid in 1983. All three of these novels featured cover art by Owen Oulton. Some sources claim that these were graphic novels, but I am certain this is not the case. All three of these novels were published by Larson Press in Woodstock, NB. Since these books were self-published and distributed regionally, they can be quite hard to find outside of Atlantic Canada. Saga of a Star Stallion is extremely rare, but the other three tend to be available from online booksellers. Star Destroyer sold well enough that it had a second printing.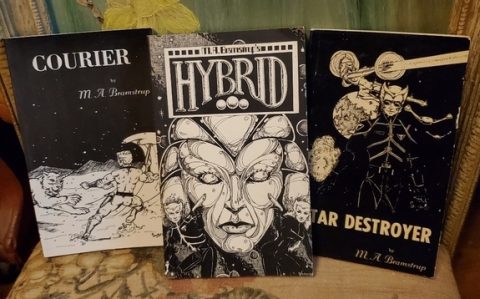 Bramstrup started to develop a comic series in 1984, which would eventually become Dragon's Star. The concept involved a dystopian future where humans had been nearly wiped out and replaced by a genetically modified race of their own creation called the "schonn." Humanity is ultimately saved from extinction by a group of schonn-human hybrids who have their own motives.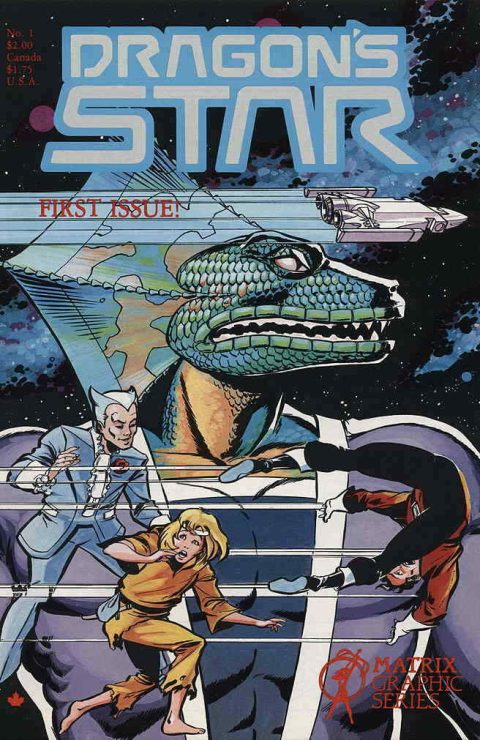 When Bramstrup attended one of the last Maplecon's in Ottawa in the mid-1980s, she was introduced to Mark Shainblum (owner of Matrix Graphic Series) by Deni Sim. Shainblum liked the idea and was trying to grow his roster of comics at the time. He introduced Bramstrup to artist Ian Carr and Dragon's Star ultimately debuted in 1987 (just as the market for black and white comics was starting to collapse). Dragon's Star was based around the adventures of a human child named Chandra and her companion Marrik, a member of the fictional Draconis sapiens race.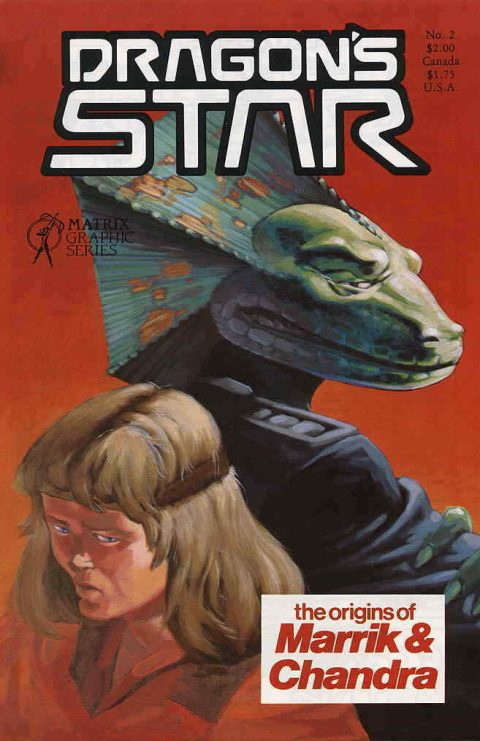 The comic was well received and the duo of Bramstrup and Carr released three issues with Matrix Graphic Series before the company went out of business. The series was intended to run for more than three issues and a fourth issue was effectively completed when the series was cancelled. American comic legend Walt Simonson was a fan of Dragon's Star and in 1989 Caliber Press picked up the comic and published the original three issues (plus the unpublished fourth issue and two additional stories) in graphic novel form with an introduction by Simonson. This would ultimately be the end of Bramstrup and Carr's collaboration.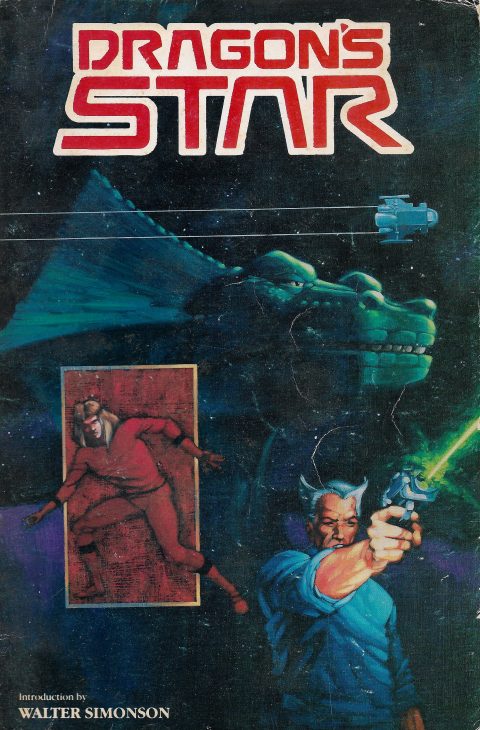 With the backing of Caliber, Bramstrup embarked on a new project, the science fiction spy comic series Triarch. The series debuted towards the end of 1990 with artwork by Patrick Zircher. Triarch was intended to be a three-issue miniseries but was cancelled after only two issues. Zircher would go on to become a well-known comic book artist over the next two decades as a regular on Marvel and DC properties.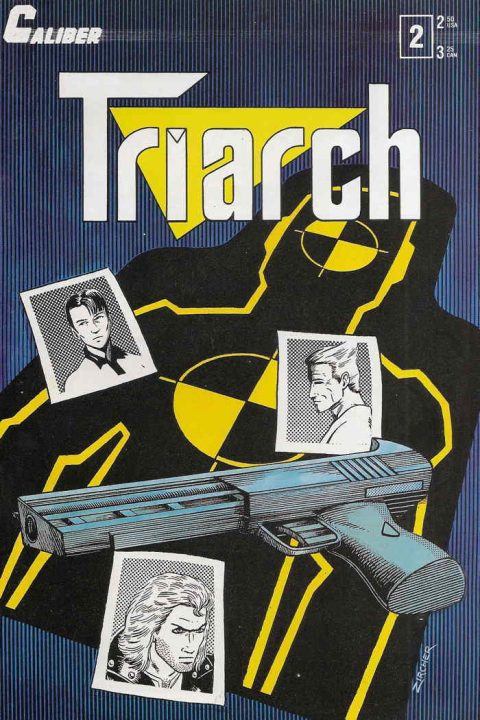 Bramstrup would return to writing comics with Dragon's Star 2 at the end of 1993. Again, this miniseries was intended to last three issues but was cancelled before the third issue was released. Simonson contributed the cover to the first issue of Dragon's Star 2, but was otherwise not involved with the series. Halifax's David Cullen provided the artwork for the series, which he did after finishing up the second volume of Marvel's What If?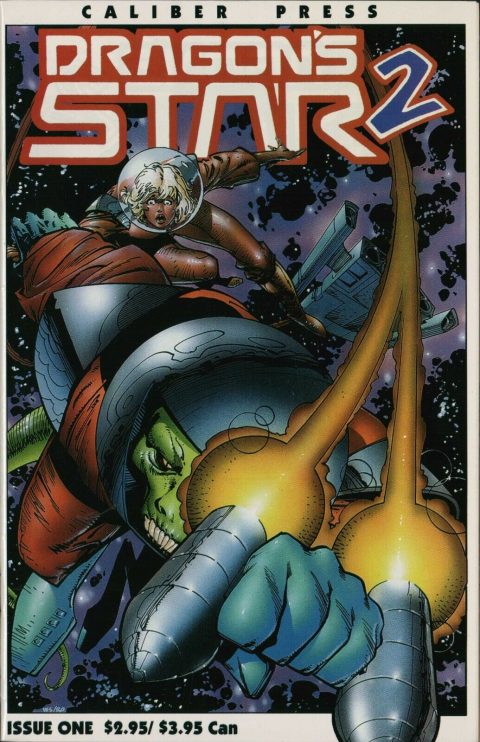 After Dragon's Star 2 was cancelled before the series was finished, Bramstrup did not write another comic book that I am aware of. However, she was still heavily involved in comics as the editor, collator, and central mailer of her APA fanzine CRAPA (which originally meant "Completely Ridiculous Amateur Press Association," but would later change to "Comics Related and Comedy Related"). The fanzine launched in the late-1980s and was published monthly for roughly a decade. It remains one of the most important and longest-running comic fanzines to ever come out of the province of New Brunswick. Issues are incredibly rare and almost never come to market.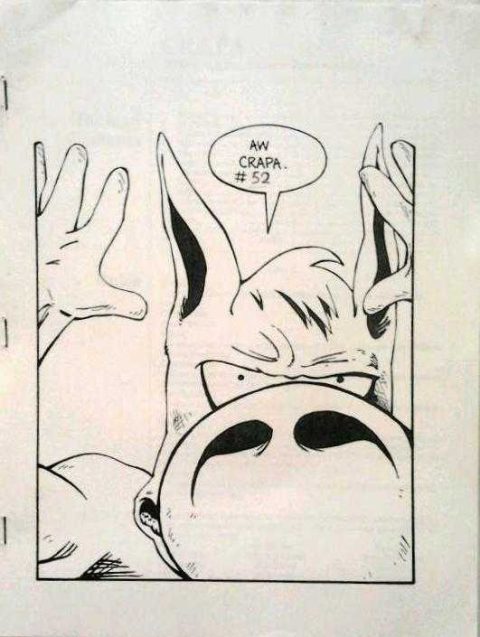 In 2000, Dr. Bramstrup sold her family practice in Fredericton and moved to Nackawic, NB. New Brunswickers (or "herringchokers" as they are sometimes called) know the town well due to it being one of the region's newest communities. It was established in 1976 after the province moved residents of the village of Otis to the area to make room for the Mactaquac Dam. The town is also famous for being the location of the world's largest axe, which stands 15 metres (49 ft) tall and weighs over 55 tons. Bramstrup still practices medicine from her home in Nackawic and has largely stayed out of the public eye since leaving Fredericton, though she was involved in a high-profile dispute with the town of Nackawic in 2009 after it deemed several dog breeds dangerous, including Bramstrup's own Rottweiler-Labrador mix.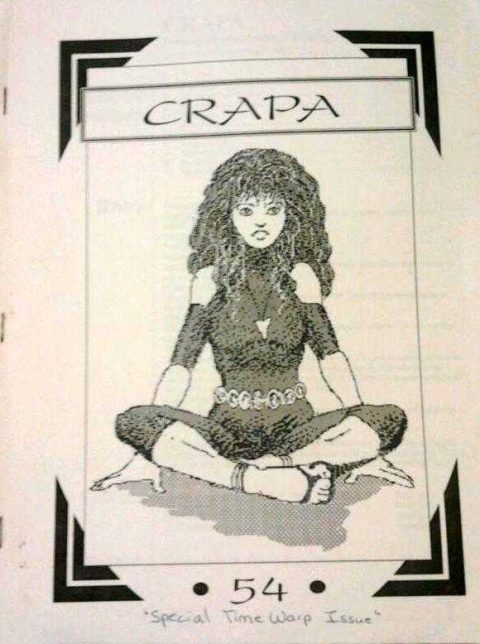 ---
It is something of a coincidence that the other originator of the Fredericton comic scene, Monique MacNaughton, has also called Nackawic home. I briefly wrote about MacNaughton last month and her comic Cybercom, Heart of the Blue Mesa. MacNaughton got her big break thanks to Matrix Graphic Series, but due to the timing of the release of her comic it only lasted for one issue.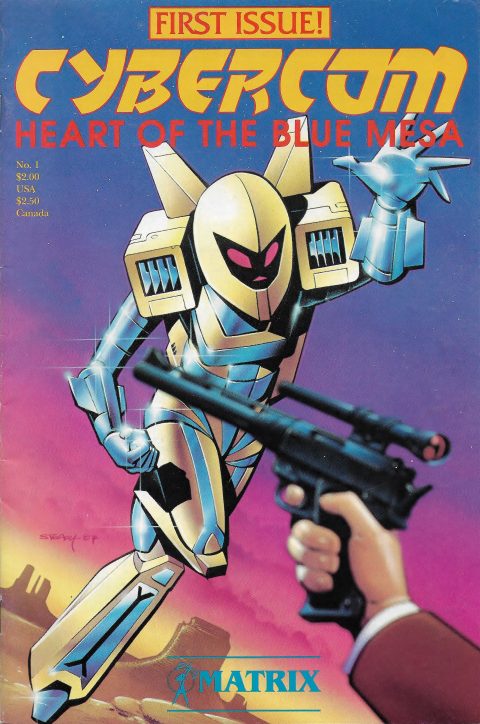 MacNaughton was born in Ottawa to a military family. Her father was posted to CFB Gagetown in 1978, where the family settled down. MacNaughton has lived in the Fredericton area ever since and is still making comics today. She often works solo as a writer and artist, but also collaborates with American writer Darryl Hughes on a regular basis. Together they have published numerous titles in various formats since the early 2000s, including GAAK (aka Groovy Ass Alien Kreatures), The Continentals, Hit Girlz, Sky Commander and Chevalier (to name a few). The majority of these releases have been published as graphic novels or as webcomics.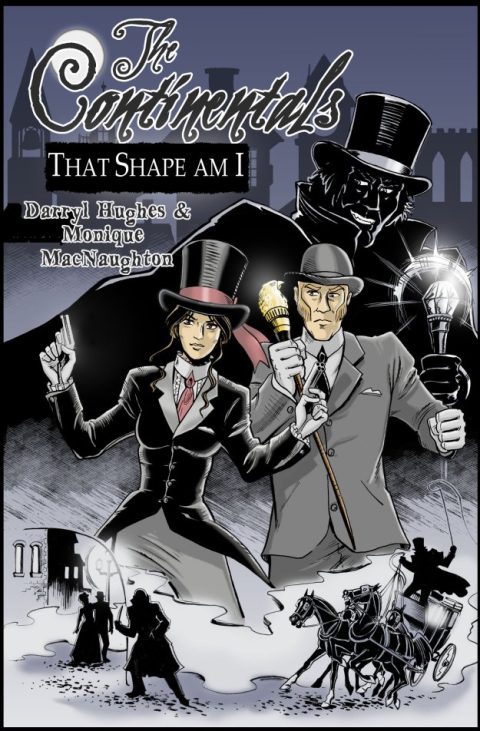 MacNaughton also sometimes works with other comic writers from New Brunswick, such as James Hachey and Peter Breau. Although these releases are outside of the purview of what I generally discuss as part of Forgotten Silver, it is important to point out that MacNaughton is still making comics and is perhaps the most prolific indie comic book creator in the history of New Brunswick. She just happened to get her start at the end of the Canadian Silver Age.
At the beginning of her career in comics, MacNaughton used the pseudonym, Monique Renée. She used the pseudonym for Cybercom, Heart of the Blue Mesa and continued to use it for several more years. This first comic by MacNaughton is quite a debut. She wrote and drew her portion of the issue (which makes up the bulk of the comic), with Haligonian creator Louis Little contributing a backup story.
MacNaughton's style during this early period is heavily influenced by anime and manga, making her work somewhat ahead of its time. Her comic follows a young woman named Chemaine Ortega who is living with her father in northern Mexico when she happens to witness a shooting star (that is actually the female wardroid TX-19 landing her spacecraft at a remote location called the blue mesa).
It turns out that Chemaine's father, Ramon, is hiding from some mobsters, which is why the family is living in remote Mexico. After the family is attacked by henchmen, Chemaine flees into the wilderness with her horse, but is hunted by a Doberman and its handler. TX-19 witnesses this unfold and intervenes to save Chemaine and then Ramon. We subsequently learn that the female robot is from a distant planet that is similar to earth, but was politically organized as a matriarchal society before being attacked by an alien race. The cliffhanger ending was intended to lead to a second issue, but Matrix Graphic Series cancelled the series and went out of business shortly after the comic was released.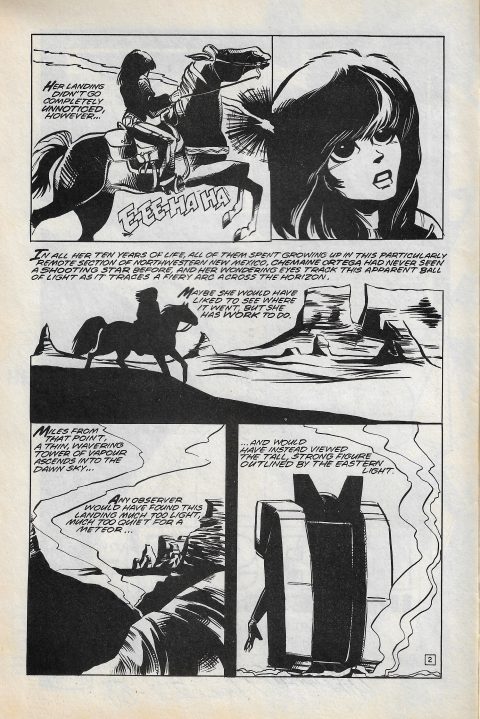 Unfortunately, due to the crash of the black and white comics market, Cybercom, Heart of the Blue Mesa flew under the radar. It's a really good comic by a fledgling female comic creator whose work could have made inroads if not for bad timing and a lack of a local comic community to rally behind her. For several years after this, she managed to continue to put her creativity to work as a graphic artist for a small tourist-oriented publisher in New Brunswick.
Nevertheless, MacNaughton would continue to make comics. From what I understand, she published another comic called Arrowflight around 1992. She also contributed to issues of CRAPA with Mary Ann Bramstrup in the early 1990s. However, she would start making major inroads in the regional scene when she began collaborating with visionary comic shop owner Calum Johnston after he opened his first Strange Adventures comic shop in Fredericton. After opening his store, one of Johnston's early pet projects was to create his own comic book profiling comic creators from New Brunswick (and eventually Atlantic Canada). MacNaughton (still using the pseudonym) contributed to at least the first three issues of Strange Adventures: The Comic Book Anthology beginning in 1993. It was here that MacNaughton's long-running opus UNA Frontiers was first published.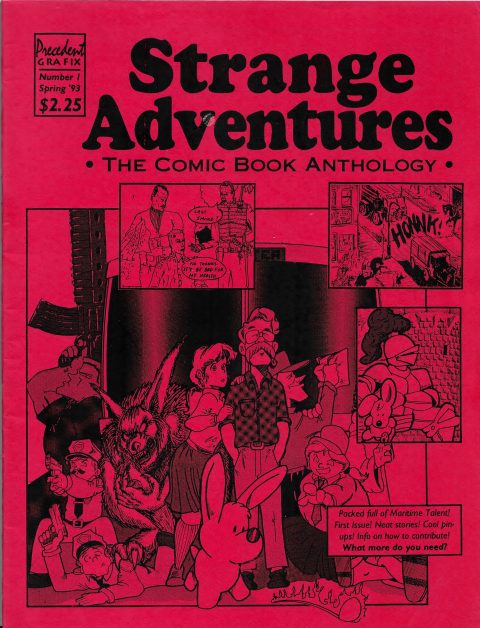 Today, MacNaughton has an extensive social media presence where she sometimes used the name "Coydog." You can find her on Twitter at @UNAFrontiers and check out more of her work on her Duck Webcomics page. Many of her webcomics are available for purchase at Drive Thru Comics. She also posts often on her Deviant Art page and her work is really worth checking out. Unfortunately, she rarely makes appearances in the New Brunswick comic scene anymore. Unless I am mistaken, she has never attended the East Coast Comic Expo as a guest and she is not on the guest list for the upcoming Big Country Comics Expo either (though one of her occasional collaborators, Peter Breau, is a featured guest this year). Somehow, despite being one of the progenitors of the Fredericton comic scene, she is rarely given the attention she deserves in the region. I really respect her work. She really is one of the hidden gems of the Maritime comic scene.
---
That's all for now, folks! I am hoping to do something a little different next month now that the event season is coming to an end. We will be at the Halifax Record Fair on November 12 and the final Funky Flea Market of the year on November 13, but that's it for events until 2023. Stay tuned and don't hesitate to leave a comment in the comments section!