I wonder if the yearly rhythms of the comic book marketplace create discernible patterns. Are November sales always slow? Is June the traditional point of the year where we see price gains? I know markets have general directions I'm just wondering whether there are seasonal or monthly tendencies within the general direction the market is moving in. There is obviously a lot of data out there and I'm sure someone can crunch GPA numbers from the last two decades and come up with something but boy does that ever sound like a lot of work. I hope we can blame the slow start to the November sales data on these potentially true idiosyncrasies, I really do hope so. As the spoiler sentence you just read hinted at, November sales figures are off to a bumpy start with most of the usual "in demand" issues of the Silver and Bronze Ages all continuing their slide down. One bright spot has been the Golden Age: prices seem to be holding a bit better for the quality Golden Age offerings. Modern Age CGC graded keys look like they are taking a big hit; obviously, a readily available and ever-growing supply needs an ever-growing demand, and that's not happening at the moment.
We are where we are; it's best to be aware of it and adapt to the times. There are still so many fun – and profitable – ways to participate in the hobby. Case in point this lovely splash page is found inside Penny #1, 1947 from Avon Comics. At the time the success of Archie Andrews was well into its fifth year yet our Archiekins continued to fan a teen humour comic book gold rush. I'm getting hints of Ditko with that simple minimalistic layout.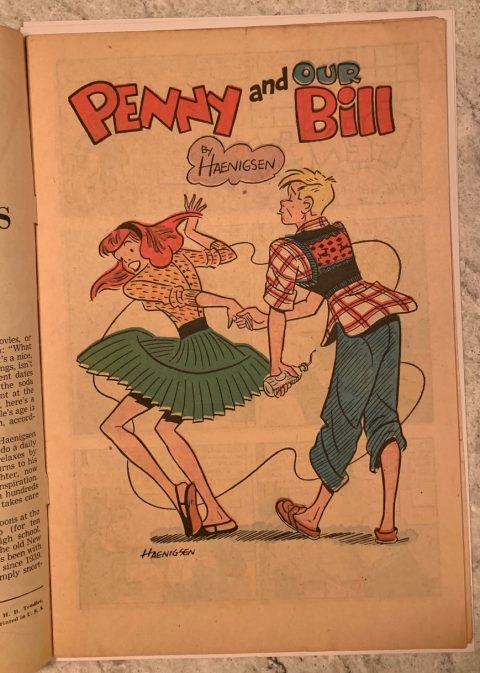 Umm… I don't think this one is making it to the auction! My cover of the week goes to Cowgirl #8 from Fiction House, Winter 1951/52. Grand Comics Database gives the art cover credits to Maurice Whitman with a question mark. Whoever did the art did a fine job if you ask me. Now does this belong in the Western Genre or the Goof Girl Art Genre? I've looked at all the covers from the Cowgirl Romances run and I'm definitely putting them in the Good Girl art genre.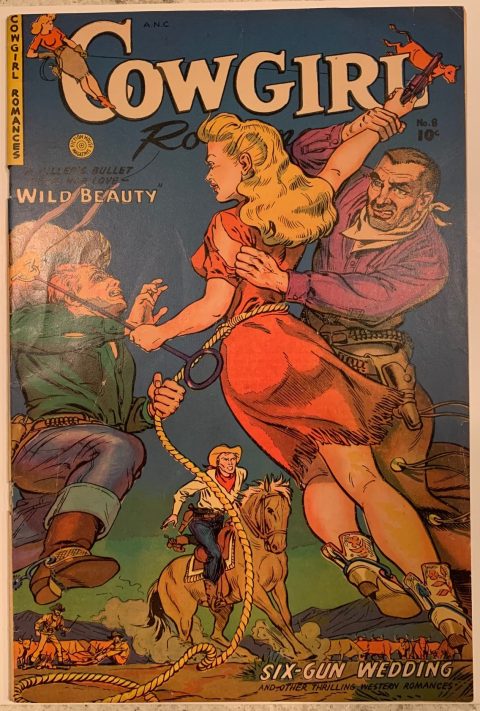 I got a nice batch of raw X-Men I'll be running on auctions over the coming month; it's an almost complete run from #2 up. The guy who brought it in said he has no idea how he ended up with almost the whole run. He's a big John Byrne-run fanboy, that was his youth and those were the books he set out to collect, a decade or two later he ends up with #2 up, talk about lack of focus! He said he's gonna miss the Bryne run the most so I think I found a Christmas present for him. I was leafing through a stack of Wheelie and the Chopper Bunch from Charlton Comics when I found this little gem in the middle of issue #1. Jungle Stories features some very early Byrne comic book art, it's May 1975 so probably just after his backup stories in E-Man. What's better, a Byrne Wheelie and the Chopper Bunch or a Romita Our Love? The answer is they're both great, it's always nice to see great artists' artwork from comics other than their classic runs unless, of course, you're Jack Kirby who happens to have 23 classic runs.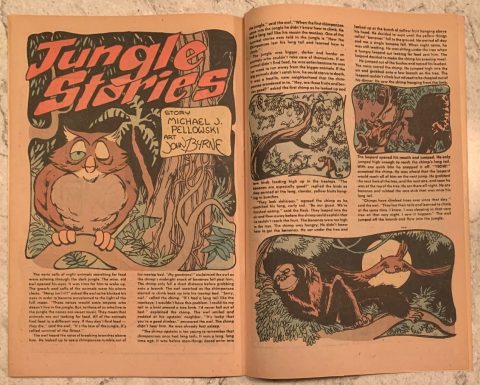 Out ice collectibles weekly eBay auction ended last night and it continued to produce some strong raw comics sales results. A low-grade copy of Tomb of Dracula #10 finished strong at $562.77 USD, we had it graded at a 2.0. This result shows the floor is high on these tough Bronze Age keys, it is hard finding a Tomb of 10 or a Spotlight #5 in very low grade at a bargain, demand is strong for these books.