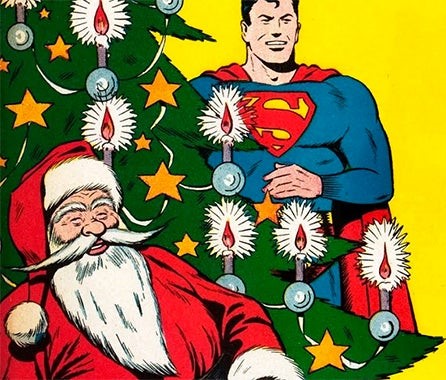 'Twas the post before Christmas and all through the shop, goodwill reigned, let it never stop.

Allow this goodwill to others you now feel in your heart, to take root and grow, let this be the start.

The new year is upon us, let's all lead the way, for better tomorrows let's begin today.

Merry Christmas and Happy Holidays
I have to keep it to the preamble this week as I could not get the time to start on next week's eBay auction pile of comics because my St. Nicholas slava is today, the 19th. Trust me when I tell you the "honey do" list I had devoured most of my weekend, lots of prep for these feasts. I'll be attacking that comic pile hard on Tuesday though, that's if the HINE cognac doesn't do too much damage. We usually go a little light with the auction listings at this time of year anyways due to people taking a few days off to enjoy the holidays.
We've had more than enough December sales data come through to see that the comic book price correction is still pushing values south. Yes, there are a few strong sectors, like Pre Code Horror, but it's clear the most heavily traded titles and issues of the Silver, Bronze, Copper and Modern Ages are still taking their lumps. Those 2020 GPA averages look more and more like the latest sales figures and that kind of makes sense. Comic values in the first half of 2020 were for the most part at historic highs, our hobby enjoyed the best decade it ever had between 2010 and 2020. All of a sudden the world gets turned upside down and comic prices double, sometimes triple over the course of a year. Looking back on it all now we see the folly of it and time will allow us to make sense of it, to come to terms with the fact that what we are going through right now is the price we have to pay.
The books that intrigue me are the ones that gained so much but have not settled back down yet. Incredible Hulk #181, for example, is showing incredible staying power, at least up to this post. Overall I think we'll see some books sink below their 2020 averages, more for large increases in the supply of these books, a supply increase that was triggered by those abrupt price increases of 2021. Some books will somehow keep most of their gains, they will retreat a bit but will firm up a beachhead well above their 2020 averages.
I'm not sure what the "bottoming out" indicators will be, perhaps the timeline will be different for different eras and genres but eventually, we will all get the sense that we are on stable ground. I'm looking at a nice buying spree happening at that time.