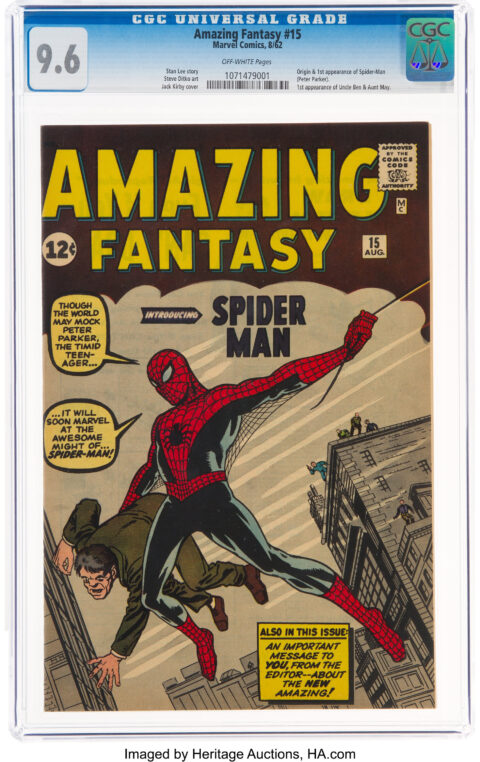 There are two very important auction closings fast approaching, one, a CGC 9.8 Incredible Hulk #181 closes this week while the other, a CGC 9.6 Amazing Fantasy #15 closes in early September. The buzz and anticipation in the marketplace is high for both these auctions, a couple of people I've talked to say the results can either reignite and propel even further an already hot market or send it into a panic with poor results. I checked prices of both books last night and I can see that there is no danger of a panic due to low sales, both are well past the highest ever recorded sales.
Both these auctions are being watched very closely for a number of reasons, each are heavyweight blue chip issues that are seen as top tier investments. Both of these books, the Hulk #181 and the Amazing Fantasy #15 are widely owned, relative to say Action Comics #1s or Detective Comics #27s so while Action #1 selling for over $3 million gets headlines most of us cannot relate because we can't even afford 0.5 incomplete copies. Many of us that have been in the game for a while have or have had in the past a low grade copy of Amazing Fantasy #15 and many more of us have have copies of Hulk 181, so there is a connection to these two books that those impossible Golden Age grails can't provide.
Both books are Marvels and Marvel Comics has been leading this incredible market surge in value this year. Marvel Keys are where its at and can you get two bigger keys than these two?
Neither has sold recently in the condition offered in these auctions. This is relative of course with the last recorder sale of a CGC 9.8 Hulk #181 happening way back on March 4th 2021 while the last recorded sale of a CGC 9.6 Amazing Fantasy #15 happening a lifetime ago in March 2011. Since the last 9.8 Hulk sale there have been 26 recorder sales in the CGC 9.2 to 9.6 range, almost 6 months has gone by since the last 9.8 sale and everyone is keen to see what happens.
For the CGC 9.6 Amazing Fantasy #15 its even a bigger deal, a decade has gone by since the famous sale that topped $1 million, if I remember correctly at that time that was the only CGC 9.6 on the census and I remember when the other 9.6 copies appeared people were saying the buyer of the first one would never get his money back.
I think the over/under for the betting types should be $100,000 for the Hulk #181 and $2,500,000 for the Amazing Fantasy #15, I'm calling over on both.
Unfortunately we had no big hammers like these ending on our internationalcollectiblesexchange auction on eBay last night but we did sell some quality collectibles. Check out this very solid copy of Amazing Spider-Man #87 at CGC 9.0, it sold for $280. We set a new all time high for a CGC 9.0 with our sale being almost 50% higher that the old highest price. The White Pages, the continued focus on strong desirable covers and the continues run on all things within the Amazing Spider-Man title did not hurt the book.