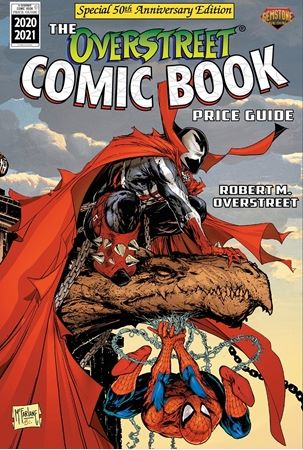 The 50th edition of the Overstreet Comic Book Price Guide hit the shelves last Wednesday so it's a good time to open it up and check it out. For the rest of this post, I'll simply call it the Guide.
It was great to read all the accolades and salutations the Guide received for reaching the BIG 5-0. I know we all get our up to the minute pricing online now but the Guide continues to deliver so much more.
My favourite part of getting a new Guide is reading all the market reports. There are so many knowledgeable people giving us insights and their opinions, it's worth taking the time to read each one, it's a big undertaking but it leaves you with a good sense of what people in the know are seeing in our hobby. This year I noticed all the contributors kept their Market Reports short and sweet. We need to get Bud Plant to write one next year, perhaps they can do an expanded edition?
Make sure you head into your local comic book shop and buy a guide, you'll be supporting your LCBS and you'll be supporting the hobby you love. Carry it around with you, I leave one in the car, it's perfect for heavy traffic and those long red lights.
Speaking of Market Reports, me and Jay Halstead have ours on page 116, I do a write-up for Big B Comics Hamilton and Jay talks from an I.C.E. perspective. Speaking of Big B Comics and I.C.E. our ad is on page 219. Hey, it was nice to see a lot of Canadian contributors to the Market Report, make sure you read Comic Book Daily contributor Ivan Kocmarek's on page 138.
Lets also welcome new advisors Kelly McClain, Tim Kupin and Frank Verzyl. Welcome fellas, the rookie always buys coffees at the cons!
There's a nice War Report section on pages 177-185 talking about and ranking War Comics with contributions from our friend Andy Greenham from Forest City in London Ontario.
As a fan I appreciated the memorials for Denny O'Neil on page 1157 and Joe Sinnott on page 1159.
Top Comics is still my favorite section of the Guide this year it starts on page 190, here are some thoughts on what I saw.
The Guide value of Action Comics #1 is now $1,600,000 ($4,600,000 vs. $3,000,000) more than Detective Comics #27, I'd still rather have the Batman book.
The biggest gainer in the golden age was Captain America #74, increasing 18% over last year.
I've been saying Superman #1 is overvalued for the past 15 years but does anybody listen? Sup #1 is now firmly #3 at $1,700,000.
These days it's all about the covers, there are 4 top 100 Golden Age books that get all their value from their iconic cover, Pep Comics #34, Punch Comics #12, Phantom Lady #17 and the king of the covers Suspense Comics #3 which came in at #29 on the list at $130,000. Detective Comics #31 doesn't count because a lot of the value is in the 5th Batman appearance.
The most valuable non-hero comic is still Pep #22 with its first appearance of Archie Andrews at #9 worth $385,000.
I counted 34 of the top 100 books that owe their value to either Superman or Batman.
Detective Comics appears 17 times, the most of any title.
There are only 2 Funny Animal books left on the top 100 list, Walt Disney's Comics and Stories #1 is the highest at #60.
Amazing Fantasy #15 is the dominant #1 for the top 50 Silver Age books at $425,000, Spidey's first appearance would actually crack the top 10 in the Golden Age and comic in at #9.
Action Comics #242 was the biggest jump of all the Silver Age books, up 14% from last year.
Superman's Girlfriend Lois Lane #1 should not be on this list, and why is Adventure Comics #247 at #15 and ahead of a book like Fantastic Four #5?
I did not see any Silver Age comics in the top 50 that have value just based on their cover appeal.
I still hate the Star Wars #1 price variant but it's clear that I am the only one as it still securely holds the top Bronze Age spot at $12,000.
I sure would like a high-grade copy of Scooby-Doo #1 – Gold Key!
Green Lantern #76 does not belong in the Top 10.
The Copper Age belongs to the Teen Age Mutant Ninja Turtles!
Platinum Age? What's that?
I like the Modern Age section, can Walking Dead #1 hold value? I like Bone #1 long term.
Can something be deader than dead? Try Westerns.
We need a top 20 Magazine format section.
I miss the cover galleries, in an age where covers rule please bring back and even expand the cover galleries.
Don't forget to go out and grab a Guide.