Happy Solstice everyone.
The Heritage Auction results are in and in the words of a friend of mine that had a bunch of items in the auction "it was a blood bath"! He says he actually lost money on most of his submissions and says the prices were around 25% to 40% below what he anticipated when he sent the books to Texas a few months ago. I also did a very unscientific study and watched the three Amazing Fantasy #15 results roll in: there was a 7.5, 6.5 and 5.5, all CGC and all three were about 30% below the last GPA tracked sale for the grade. So taking my friend's data and the Amazing Fantasy data I'd say we were looking at a pretty broad 30% correction on this auction. "Walt, that's not a large enough sample size to say that". You are right, it isn't. I also won two books on the auction: a CGC 9.8 White Page Amazing Spider-Man #77 and a CGC 9.8 Amazing Spider-Man #97 CGC 9.8, both of around 50% of last recorded GPA sales for the two books. I needed the Spidey #97 to complete my Drug Issue run and I had no intention of getting the #77, I saw the cover, loved it, put in a very low bid… and won it.
Yes, there were some big winners too, I saw the Famous Funnies #1 from 1934 sell for something like $27,000; I thought it was worth maybe $10k tops. Generally though, the commonly traded items that I was observing were down, overwhelmingly. Taking these observed results with the results I'm seeing day to day on the GPA I'd say a correction is underway.
I've also been observing CGC absolutely clamping down on their 9.8 grading. We've been sending down pre-screen batches for years and on good lots we'll get 23 out of 25, on so-so lots maybe 16 out of 25. We've seen a lot of books over the years and by necessity, we've gotten to know how CGC grades; we don't want to waste our money sending in stuff we know won't pass and as I've mentioned we've done a good job over the past few years. CGC is hiring and training a lot of new graders which I agree is much needed. It seems to me though that they are training these new graders to be extra vigilant. We've received three batches back in recent days and we got killed! We went 8 for 25, 7 for 25 and I forget the third one but it was well under a half. That's a lot of $8 reject fees. We'll have to adapt to their new graders.
While I won't yell at CGC for being way too tight on their grading I will point out that the combination of them grading way harder and the market going way south might not be the best combination at the moment. CGC needs to do a real wide-sweeping analysis of how they have historically graded and train the new graders within those boundaries. We do not need buyers looking for 9.8s graded "after May 2022" because they are all "true 9.8s", and let's extend that across all grades and all eras and all tiers. Imagine a soft-looking 8.0 Silver Age key competing against a downward trending market and also competing against recently graded 8.0s of the same book. We will need consistency from CGC to help weather this current correction.
Boy do I have a huge stack of books heading to our eBay weekly auction; there's a nice little run of early Marvel Tales and in nice shape. I stopped when I saw the #12, which is my cover of the week: something was off about the cover but I wasn't sure what. I thought it was a redraw of #39 but this is what it says on comics.org – but I think they have it wrong because that's a very Romita Spidey, oh and also it should be corrected to read – 1963 series!
The cover is a composite of the Spider-Man figure from the cover of The Amazing Spider-Man (Marvel, 1962 series) #17 and the Green Goblin figure from the cover of The Amazing Spider-Man (Marvel, 1962 series) #39. Additional background art likely by John Verpoorten.
So it's a bit of Ditko's ASM #17 and a bit of Romita's ASM #39. I think they knew this was a great layout because they went back to this with the Spectacular Spider-Man magazine of 1968 and then again in the early 1970s with Amazing Spider-Man Annual #9.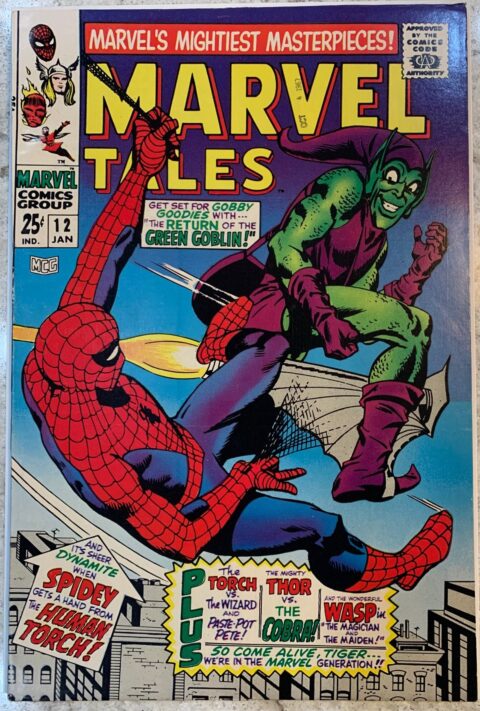 The ad of the week highlights my absolute ignorance of the early video game scene. I've never seen this ad before nor have I ever heard of these games. Sometimes though it's these obscure ones that end up being worth a lot of money to collectors because they really are scarce. I think I'd be way better at the Lunar Pool game, if it's anything like Pocket Pool I'd be great at it!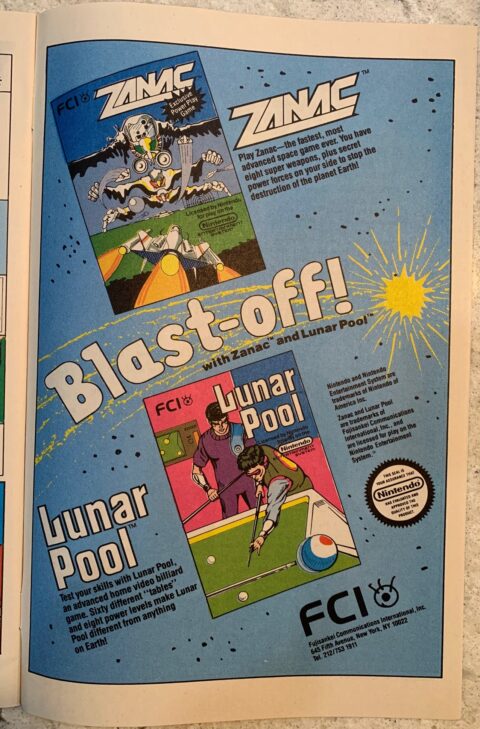 We've talked a few times about how the original art market values are skewing heavily to important pages, remember that first Spider-Man in black costume page by Zeck? Leafing through Daredevil #57 it was like I was ignoring all the other fantastic Gene Colan pages in my haste to get to the page where he reveals his identity to Karen Page. This page would fetch a pretty penny I'm sure.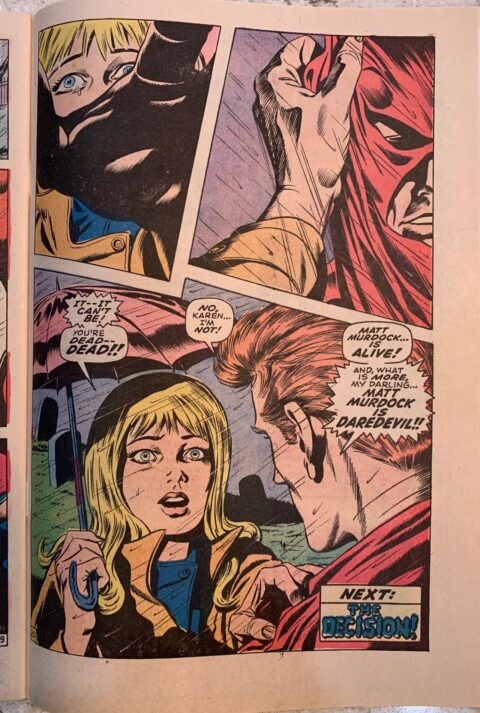 Our weekly internationalcollectiblesexchange auction on Bay had another solid week. The market doldrums are not hitting the raw listings as much yet and it didn't seem to dampen the enthusiasm for our CGC 3.5 copy of Falling in Love #1. There was only one sale of a CGC 5.0 back in 2018: it got $125. I was hoping our CGC 3.5 would trade a bit above that price and the book delivered, finishing at $224.72. Nice book!