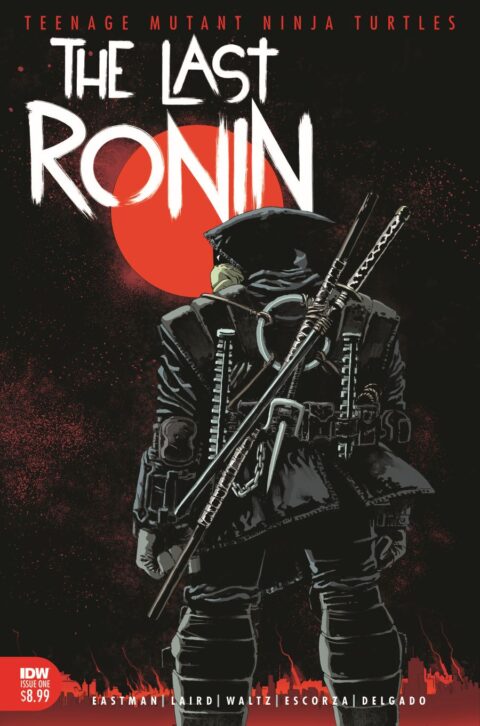 Last week was crazy at the shop, the new Teenage Mutant Ninja Turtles (TMNT) book The Last Ronin #1 hit the shelves and it was bedlam. We decided to keep the book available for as long as possible on the New This Week shelves so we had to limit the book to one per customer. I believe we sold out on Saturday which was way better than most shops selling out by Wednesday afternoon. We figured a one per customer policy would get the book into the hands of as many fans and readers as possible and out of the hands of as many eBay flippers as possible as it would hardly be worth it to drive in from another city just for one copy.
Kevin Eastman and Peter Laird back together to work on an epic five-part TMNT story arc, how can a comic shop go wrong?
Our initial order was 200 copies which we deemed ambitious given the $8.99 USD price tag. In hindsight of course we should have ordered 2,200 copies. Store preorders weren't even met by the distributor as publisher IDW fell short of the production total, comic book stores saw their orders allocated. Strong buzz, allocated shipments, how can a speculator go wrong?
The whole thing was exciting actually, there was this massive buzz at the comic shop about a new release issue, the phone was ringing all day as customers from other shops could not get copies, there were negotiations over the phone to put a few aside, there were the guys that asked if they could buy a couple extra for their brothers who were stuck at work, there were the guys telling our guy on the phone that they and I go way back and that I'd be OK with putting them a copy aside, there were people paying via Visa and PayPal over the phone just to secure a copy, it was like the old days and it infused a lot of energy, some of it chaotic and stressful energy, into the shop. Just like the old days.
IDW has already announced a second printing, due in shops for December 2nd I believe. I'm glad they are getting the second print out before Christmas, it's important to get this book into as many readers' hands as possible and the stir this first printing created will only increase demand for the second print. IDW had even announced that comic shops will receive a one per store "Thank You" edition of the book. Nice.
What's this all mean?
I'm not sure if this is a one-off or if it's a signal of more good stuff to come but I do know that it is a much-needed positive development for the local comic book shop. It was great to see fans genuinely excited about getting a copy. Like I said above there was good energy all around. Our decision to sell to readers one at a time will hopefully pay off as we put orders in for issues 2 through 5 and there will also be a very strong selling graphic novel hitting the stands in about 5 months. TMNT should continue to deliver good things to local comic book shops for at least the next six months. I have a feeling this event will even help the value of the original TMNT #1 comic, not that it needs any help as it is getting impossible to find.