A few years back I started posting about my new warehouse full of comics. I had just bought close to 2,000 long boxes of comics and was giving updates on stuff I was digging out of the collection. I recall the posts garnered some interest, and why not, digging through over 400,000 comics is a day/week/year/decade well spent for most of us reading and writing these posts. For some reason I fell off those posts, got a bit complacent, got a bit lazy, or maybe it was my piling even more clutter and overstock in front of that initial collection to the point where it was too hard to get at. Sloppy and shoddy work practices if you ask me. Fast forward a few years and I find myself having to move out of the warehouse I'm in and into a new one 800 metres down the road. The thing with the new space is that it's about as big as the old one but configured differently, much more office space and about a third less warehouse space. What a perfect time to pare things down, tighten things up, filter things out, trim some fat and line things up for easy access again, like in the old days. I have until October 31st to vacate the current premises and the move is well under way, we got a good head start. I think I'm going to have 500 to 600 long boxes that I don't want to bring across to the new place. I have to line up some public announcement to have people come to the warehouse with trucks and vans: I want loads of 20 to 50 boxes to be leaving at a time, I'll even help load the van. We'll see how that progresses; I'll give you an update next week. Once I'm over into the new place I'd love to get back to sharing my finds from that warehouse pile on a regular basis.
This week's "heading to the icecollectibles eBay auction" pile had a nice juicy copy of Amazing Spider-Man #11 in it. You are looking at one powerful book right here, at least in high grade. Did you know a CGC 9.0 copy of #11 can get you $15,600! A CGC 9.0 copy of #10 can get you about $1,740 while a 9.0 of #12 might get you $2,880. It's all about scarcity of grade. There are only 45 copies of ASM #11 available at CGC 9.0 or better, compare that to the 195 copies available of #10. Here is a situation where the second highest graded copy is the sleeper buy, there are no CGC 9.8s to #11 and there are only 7 CGC 9.6 grades and only 10 CGC 9.4s. When you look at the total graded Universal population of 1,819 copies the 17 at 9.4 or better represent less than 1% of the total copies available. In a situation like this picking up a CGC 9.4 copy might be the bargain. Our copy is a little rougher but hey, check out that gloss.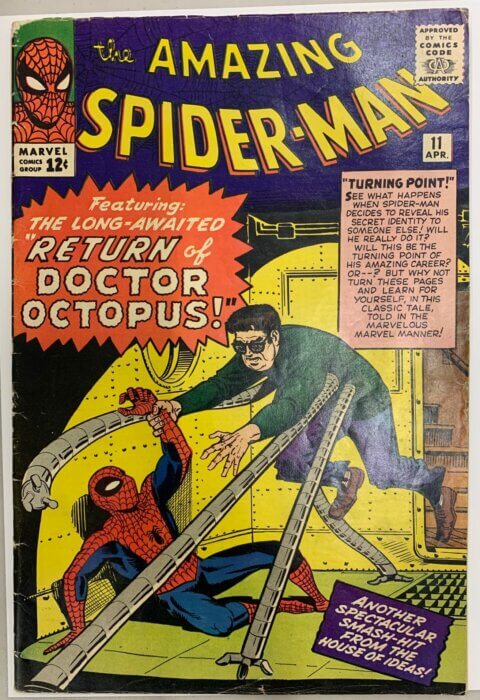 There is something about those sparse Steve Ditko splash pages! I've featured a bunch over the years on these posts, most from his sci fi, fantasy once he did for the Atlas Kirby Monster issues. This splash from ASM #11 brings the same minimalist magic but with the Amazing Spider-Man as the central figure. Boy would I ever love the original art to this splash page!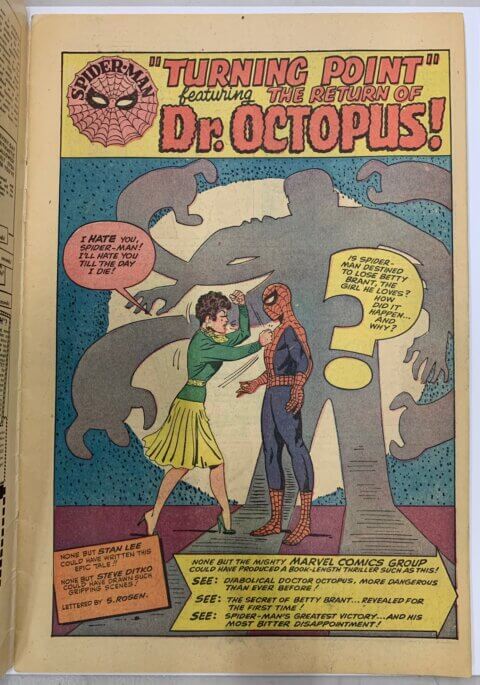 I might as well milk the Amazing Spider-Man #11 for all its got, after all it's not often we get to auction early Spideys raw on our auction. A few thoughts went through my head when I saw this ad, first was Al Bundy and all the comedy gold of him selling shoes to the ladies. The second thought was who the hell would ever sign up to sell shoes on their weekends off of school, what kind of kid are we dealing with here? Marty Scholls?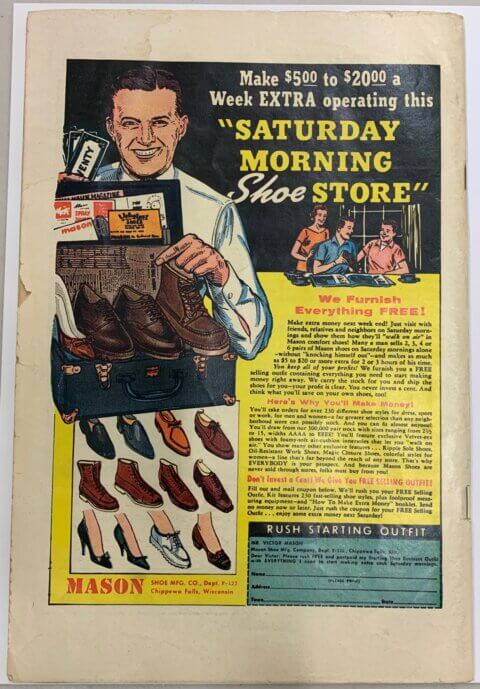 There was a beat-up copy of Dell Comics western Roundup #2; when I saw this I realized how cruel time can be and how meaningless and disposable the past can be. At one time Rex Allen and Johnny Mac Brown were where it was at, today you have to be an octogenarian to know who they are. I'm hoping customers of the Roy Rogers breakfast places and California Angels baseball fans throw in bids for this one.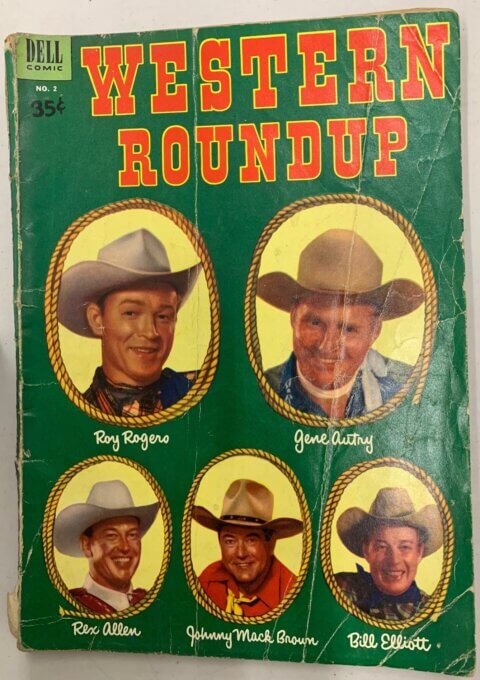 Last night the weekly icecollectibles eBay auction produced some great results. Front and centre was this CGC 6.5 copy of Superman #76, our copy sold for $1725, a strong result and another indication of quality Golden Age being in a healthy spot in the market right now.