John Bell categorizes the Canadian Silver Age as coming to an end in 1988 when the black and white comics market collapsed. I, on the other hand, have long looked at the publication of the first issue of Drawn & Quarterly in 1990 as the dawn of a new age for Canadian comics. For me, the Canadian Silver Age ended the same year.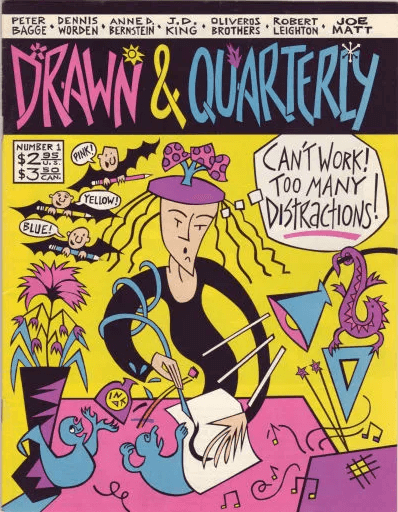 Neither of these definitions are completely tidy, as some companies managed to limp into the next era (such as Vortex and Aircel). Aircel, for example, effectively merged with the Malibu imprint "Eternity" in 1988 and continued on for a few more years with Barry Blair at the helm until he paid off his debts in 1991 and left the company. During this period, Aircel's output became more and more oriented towards erotic-themed adult comics like Leather & Lace and Sapphire. Aircel went defunct in 1994 after Marvel purchased Malibu. As part of this trajectory, Aircel started publishing its comics in the USA and stopped being a "Canadian company." Despite all of this, I still consider the best-known comic from this era of Aircel, The Men in Black by Lowell Cunningham and Sandy Carruthers, to be one of the last true releases from the Canadian Silver Age and also a Canadian comic. Indeed, Carruthers is something of the "elder statesman" of the Atlantic Canadian comic scene, is one of Hal-Con's headliners this year and is someone who I have run into at events for many years (I just saw him at DCAF last month).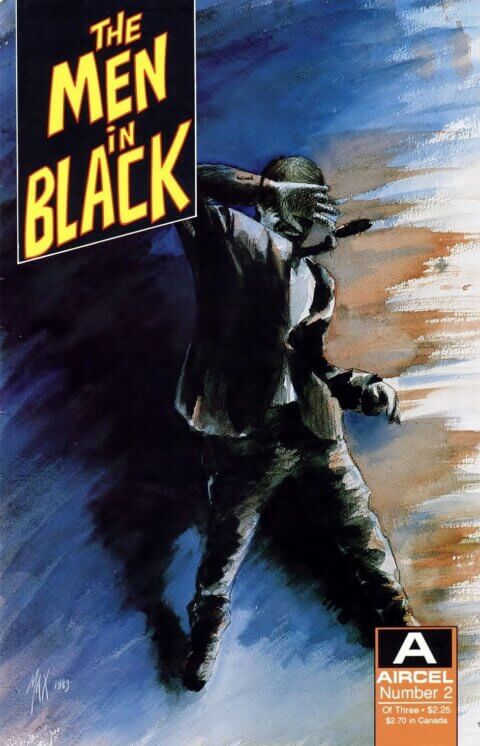 This is merely one example of how Canadian comics soldiered on in the years between the crash and the beginning of Drawn & Quarterly. There were a variety of fresh titles that were released in 1988, 1989 and 1990 that laid the foundation for what was to come, while also serving to act as bookends for the end of the era. I have come to think of these years as a transitional period because of how messy that the Canadian comic scene became after years growth and a semblance of certainty during much of the 1980s.
With all of this in mind, I recently came across a couple of comics from this transitional period that I had on my master list, but hadn't been able to find much information about. Both comics were released in 1989 by a Montreal-based company called Artcore International (also sometimes referred to as Artcore Enterprises). The company released at least three comics starting in 1988. The first of these comics was called Core and was intended to be a showcase for independent comic artists. The series lasted for at least two issues, with Core # 2 debuting in January 1989. A third comic, called Encore also debuted in 1989 and featured a dark fantasy version of The Wizard of Oz by Jean-Pierre Morin. Although a third issue of Core and a second issue of Encore were planned, I have not yet confirmed that they were actually produced.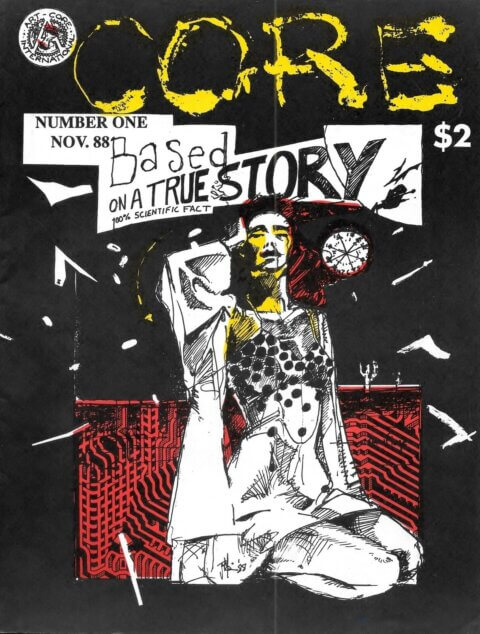 Artcore comics are scarce enough that they do not appear in the Grand Comic Database and rarely appear on online marketplaces like eBay. When I first learned about the company, I was only able to find copies of the comics for sale for a couple hundred dollars each. I have since seen issues 1 and 2 of Core come to market for as low as $10 CAD each, but have yet to see an issue of Encore become available for sale.
I was fortunate to acquire a copy of Encore # 1 as part of a large collection of mostly Copper Age Marvel comics at some point during the pandemic, and picked up a copy of Core # 2 in a dollar bin last month while Tania and I were on the road promoting East Coast Toys and Games. Although I don't have a copy of Core # 1, the material I have on hand is interesting enough that I decided to profile these comics this month.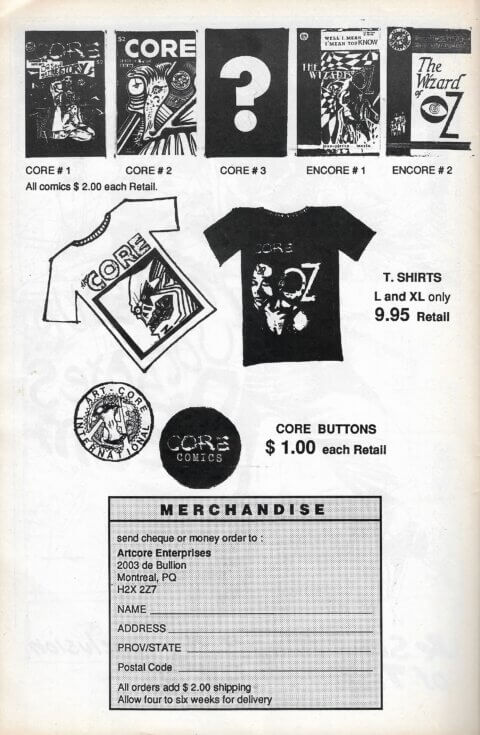 From what I have been able to piece together, Artcore's comics were something of a vehicle for fledgling artist Jean-Pierre Morin, as his art appears in both issues of Core and Encore's twisted world of Oz comic is entirely composed or Morin's work. If Morin's name doesn't seem familiar that's likely because I cannot find any evidence that he continued on in comics after Artcore went out of business. There is a well-known metal sculptor of the same name living in Quebec, but I am unsure that he is the same person who drew these comics more than thirty years ago.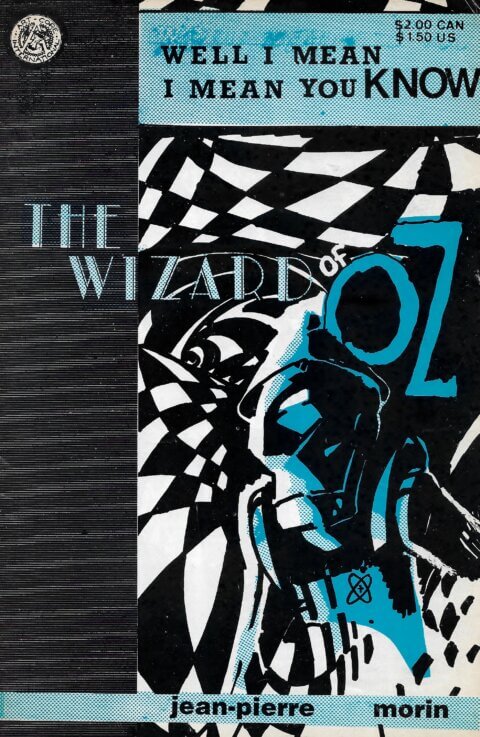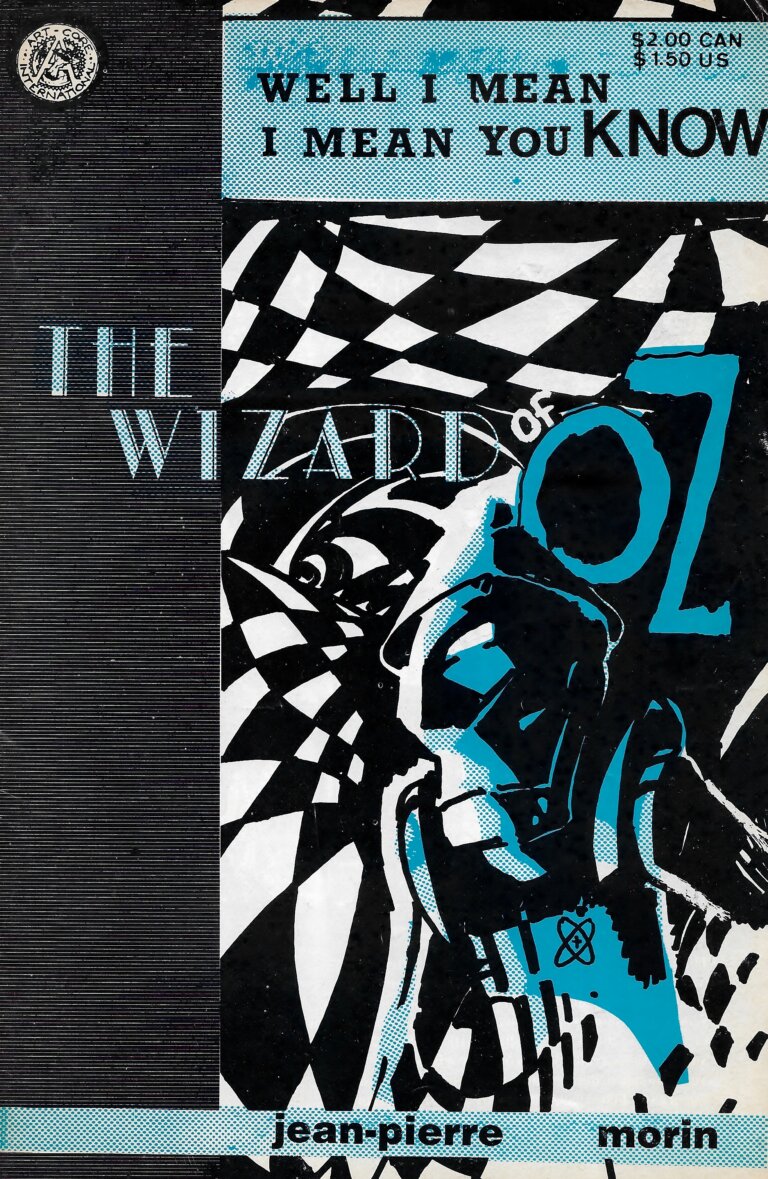 One thing I find interesting about Encore is that it is somewhat ahead of the curve concerning its dark re-imagining of The Wizard of Oz. Of course, Disney's dark fantasy sequel to the 1939 film, Return to Oz, was released in 1985 and may have influenced Morin. That said, in the decades since Artcore published this comic, horror themed Oz merchandise has become more common. Some examples that we either currently or have recently had in our inventory include McFarlane Toys' 2003 "Twisted Land of Oz" toy line, as well as Mezco's Living Dead Dolls "The Lost in Oz" toy line from 2015. Apparently, there is a horror themed Oz movie called Gale: Stay Away from Oz that is scheduled to be released sometime this year.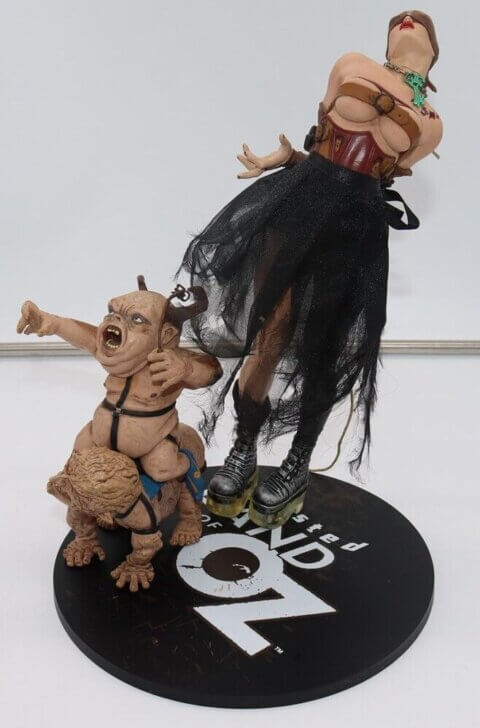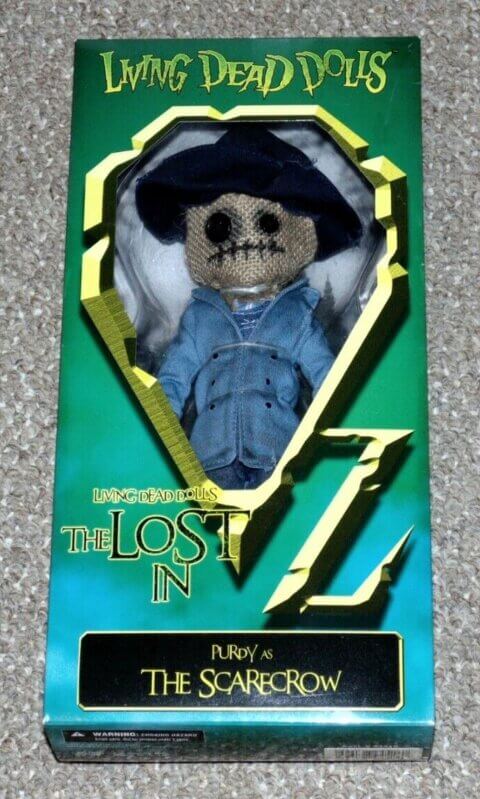 I really like what Morin is trying to accomplish in Encore # 1. He has a decent style, but I feel as though he bit off more than he could chew. The artwork is often crude and feels rushed in the comic, which is something that I have encountered several times when looking at indie works. Despite this, I still like the concept of a dark, adult-themed rendition of Oz even if the artwork is often lacking. Here are a couple of my favourite pages from Encore # 1.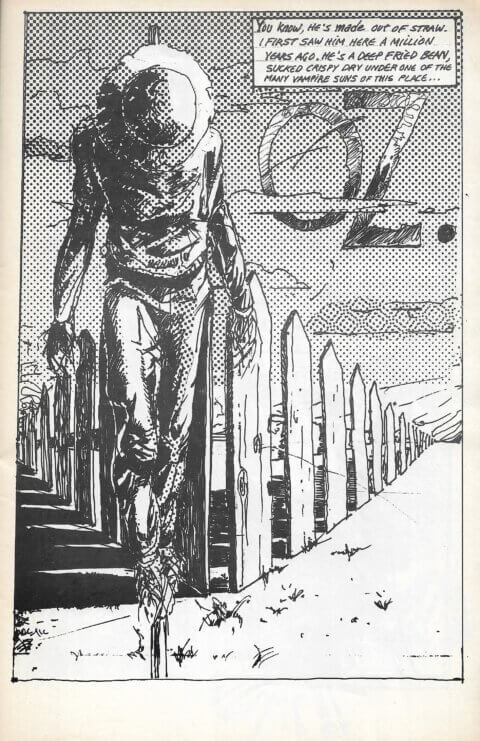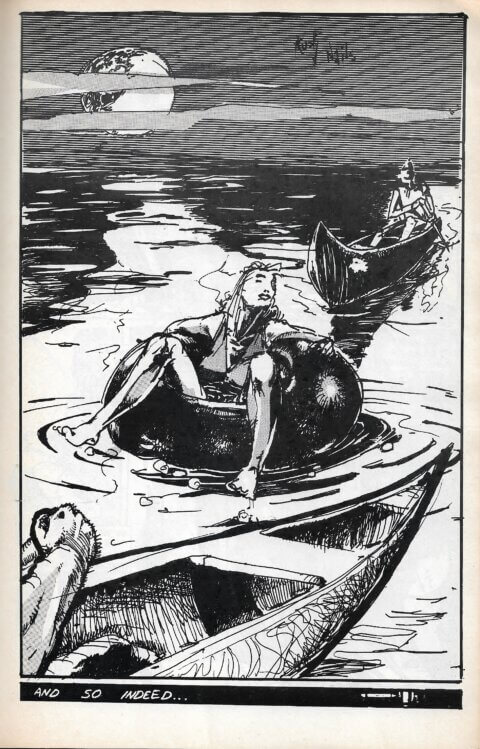 Encore # 1 ends with the story incomplete and readers are promised a follow-up. However, I cannot find any evidence that the comic was ever released. If you have a copy of Encore # 2, please let me know.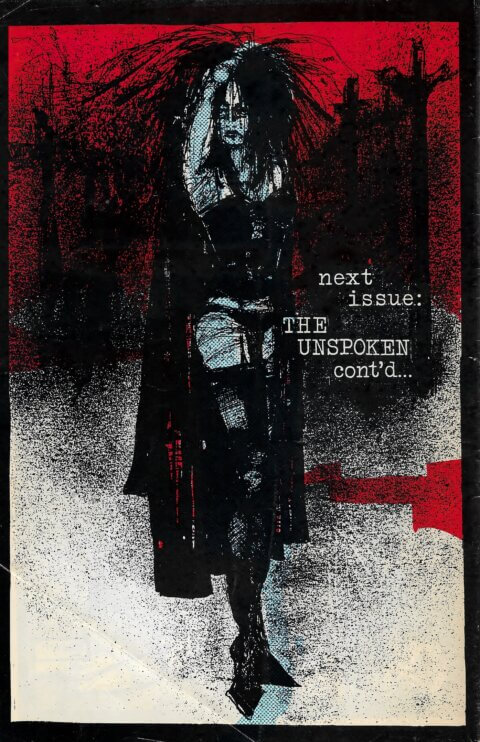 Although Encore # 1 is an interesting piece of ephemera from the late Canadian Silver Age, Core # 2 is a surprisingly significant piece of connective tissue from this transitional period. The comic is like many independent anthologies from the 1980s: a mix of good, bad, and ugly. However, the good outweighs the bad here and a few of the contributors would go on to become big names in the Canadian comic scene. Take a look at this contributors' page. A couple of names should stand out: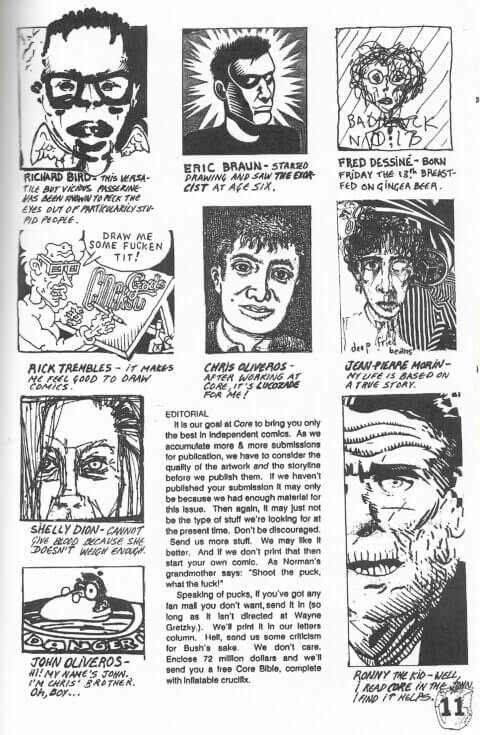 There are quite a few names here that I have never come across before, such as Richard Bird and Shelly Dion (both of whom were on the Artcore staff). There are also a couple of nom de plumes here like Fred Dessiné and Ronny the Kid. Of course, Jean-Pierre Morin is listed here too. Beyond this, there are two well-known names from the Quebec alternative comic scene who contributed to Core # 2.
First is Rick Trembles. Trembles is one of my favourite modern Canadian comic artists and I had the pleasure of chatting with him in the past when I was preparing a column about the pre-Vortex works of Chester Brown. By the time that Core # 2 came out, Trembles was already hitting his stride, having self-published his own zine Spoit, as well as the first issue of his comic Sugar Diet. He also had already finished his original run of "Motion Picture Purgatory" strips for the Montreal Mirror (which ran from 1985-1988) Trembles really came into his own in the 1990s working with Vice and Broken Pencil and expanding his profile. Today he is one of the premier creators of adult oriented alternative comics in Canada. Lambiek has a lengthy overview of Trembles' career that I recommend checking out. Trembles' contributions to Core # 2 are not safe for work, so instead here is a scan of one of his rarely seen Sugar Diet covers.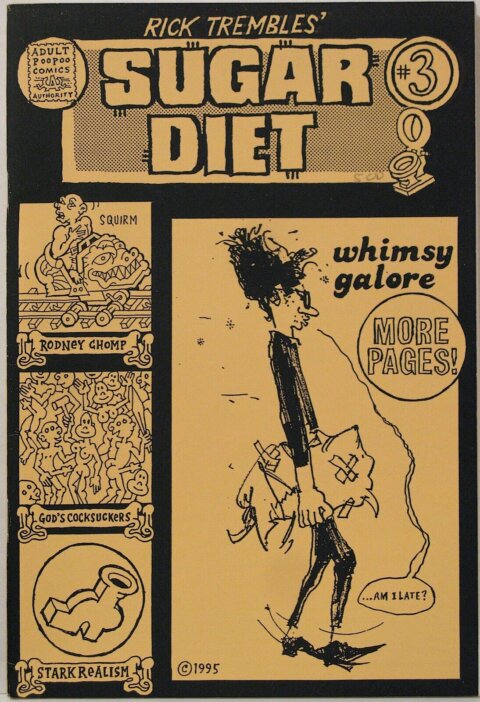 Another name that stands out here is Eric Braün. At the time, Braün was a little-known comic artist. However, today he is a successful multimedia artist who is known for his surrealist style. Like Trembles, he is constantly putting out new material today, albeit not in comic form. In terms of his comic output, Braün is probably best known for his long-running series 106U, which debuted in 1992.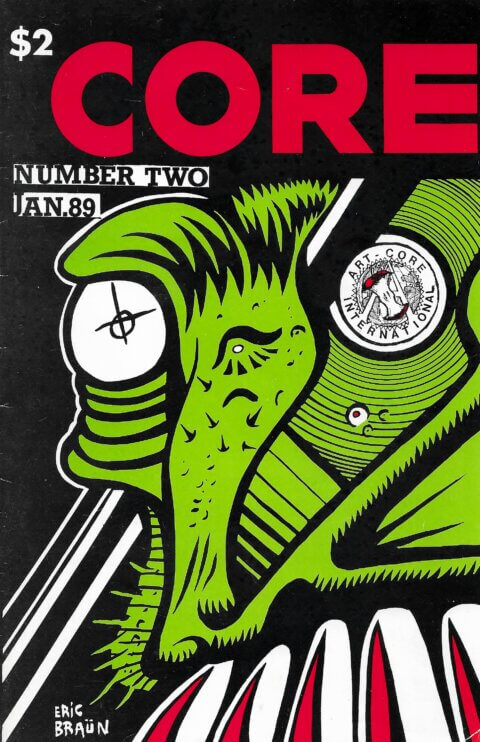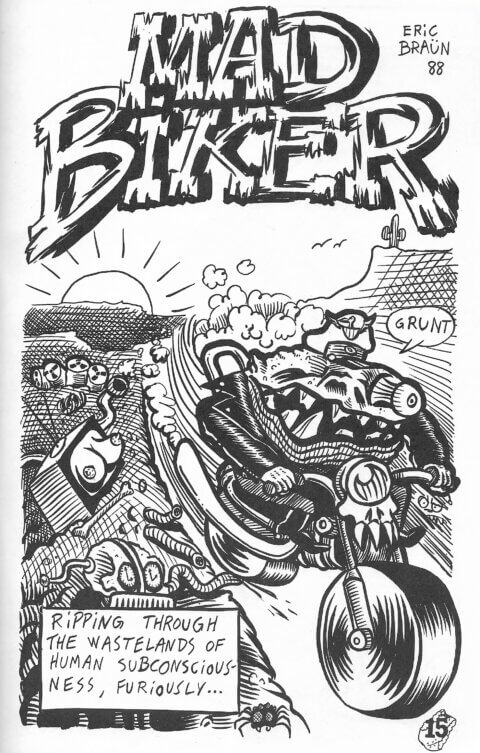 Despite the presence of artwork by Rick Trembles and Eric Braün, the real surprise for me when I first glanced at Core # 2 last month was the presence of artwork by Chris and John Oliveros. The Oliveros brothers are synonymous with the dawn of the Canadian Modern Age, but it is Chris Oliveros who would become a giant of the industry.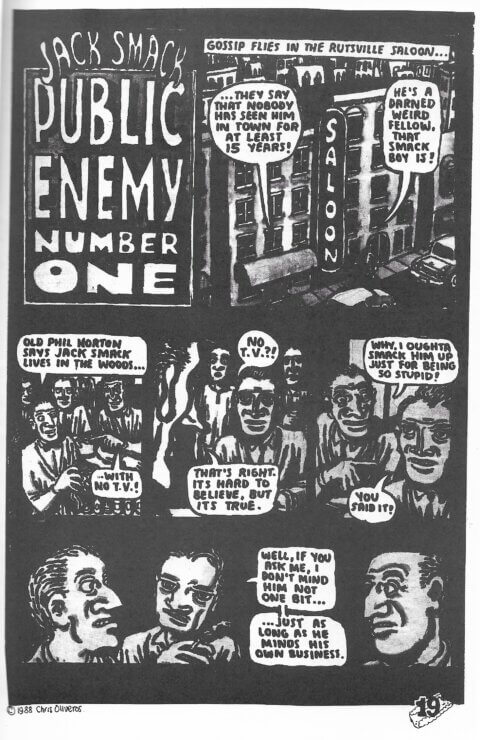 Less than a year after the publication of Core # 2, Chris Oliveros founded Drawn & Quarterly. What started as a magazine showcasing art comics in the vein of Art Spiegelman's Raw quickly became Canada's most prolific comic book and graphic novel publisher. The company would bring creators like Julie Doucet, Joe Matt, Seth, Marc Bell, Adrian Tomine, Daniel Clowes, and many others into the mainstream. Chester Brown would also jump ship from Vortex early on and he, along with Seth and Joe Matt, would become the bad boys of Canadian comics at the time.
Chris Oliveros would stay on as publisher of Drawn & Quarterly for twenty-five years, passing the torch to Peggy Burns in 2015. Today, the company remains one of Canada's premier comic book publishers. As such, the fact that Core # 2 acted as a showcase for the young Oliveros brothers prior to the beginning of Drawn & Quarterly makes it a surprising and unlikely bridge linking the end of the Canadian Silver Age with the beginning of the Canadian Modern Age.
---
This year has been the first since the pandemic began that we have been able to take East Coast Toys and Games on the road consistently. In the past few months, we have travelled to New Brunswick multiple times, while also bringing our wares to numerous events around Nova Scotia. Being able to travel has allowed us to reconnect with quite a few other comic shops that we haven't set foot in in a number of years. One of the things that comic collectors love is going through dollar bins. I had almost forgotten how much I enjoyed finding weird Canadian books (the bread and butter of Forgotten Silver) languishing away in comic shops. Recently, I have scored quite a few Aircel books, as well as some odds and sods from Strawberry Jam. I have also found a couple of stranger titles like the copy of Core # 2 that I profiled this month. Those Canadian Silver Age books are still out there and many continue to be quite affordable. You just have to look.
Thanks to everyone who came to see us at the Nova Scotia Collector Con, Dartmouth Comix Art Festival and/or NBAAC Sussex Flea Market in August. We were on the road for a solid two weeks and had a blast. This month we only have one major event, the first ever Halifax Vintage Paper Show on September 16. If you are in town, stop in and check it out.
We will be slammed in October. We have four major events, including the Wolfville Vintage Market, the Curio Collective Fall Vintage Market, the Halifax Record Fair and, at the end of the month, the biggest event of the year: Hal-Con. With this in mind, I won't be presenting a new column until November. Making a living takes priority and as we like to say on the East Coast, "A man's gotta eat." If you are planning on attending any of these events, don't hesitate to reach out. Otherwise, see you in November.