Chester Brown is one of the modern giants of Canadian comics. He is often cited as one of the major figures who brought autobiographical comics to the forefront of the 1990s comics scene. He first gained critical recognition for his graphic novel Ed the Happy Clown, which was released as a trade paperback in 1989 by Vortex Comics. He later gained mainstream recognition for the release of his ten-issue biographical series Louis Riel, which was released by Drawn & Quarterly from 1999-2003. He has won multiple industry awards, including the Harvey and Ignatz, and was inducted into the Canadian Comic Book Hall of Fame in 2011.
Despite his works often being controversial, Brown has long been one of the critical darlings of Canadian comics and much has been written about him. Indeed, there is an entire chapter about Brown in John Bell's book Invaders from the North. His series Yummy Fur helped to propel Vortex Comics during the mid-1980s as one of the major Canadian comic book publishers of the decade and he played a similar role as an important part of the roster of creators working with Drawn & Quarterly in the early 1990s. Since the end of Louis Riel, Brown has continued to publish the occasional graphic novel, most recently 2016's Mary Wept Over the Feet of Jesus, which adapts biblical stories that Brown believes promoted pro-prostitution sentiments among early Christians.
Since much has been written about Brown, one would think that it would be easy to find information about his pre-Vortex work. Certainly, there is information about his Yummy Fur minis that were reprinted by Vortex in the first few issues of the ongoing series. However, much of the information that is easily sourced online is incomplete. Brown also contributed to other comics during the late 1970s and early 1980s. As such, this month, I will present some skeleton information about Brown's comic contributions prior to publishing the first minis in 1983 and will then present detailed information about the minis themselves.
---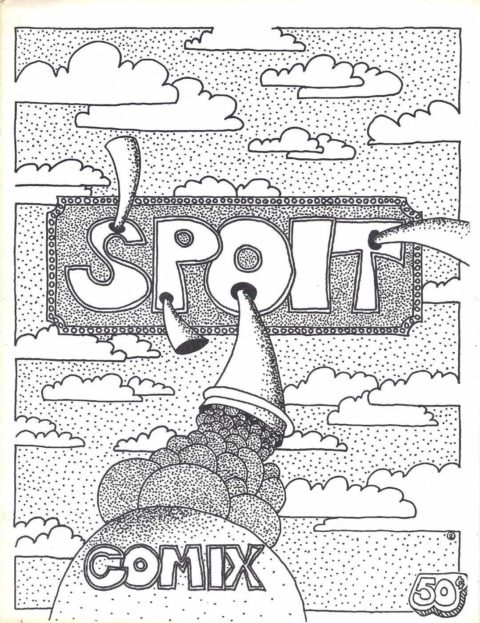 Brown was born in Montreal in 1960. Brown's first contributions to comic books appear around when he finished high school in 1977. At the time a couple of students attending MacDonald-Cartier Memorial High School in Saint-Hubert, Quebec (which was a different school than Brown attended) were in the process of publishing three comics: Spoit Comix, High School Daze # 1 and Underground Daze Comix # 2. All three comics were published by Richard Tremblay and Ron Jamieson, Jr., under the name Yak Milk Studios and are proper underground publications with extremely impressive artwork considering that the Tremblay and Jamieson were teenagers. All three of these comics are incredibly rare today and only had print runs of between 100 and 300 copies each.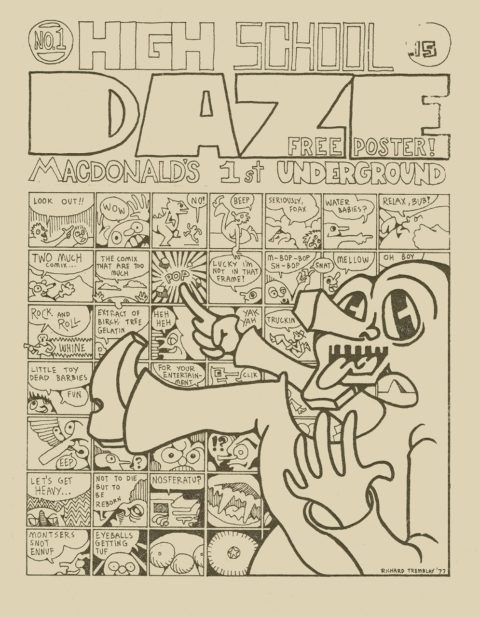 The connection with Chester Brown is that perhaps his first published work ina comic book was a two-page story that appeared in Underground Daze Comix # 2. The story, titled "My Friends or The Big Juicy Tit" was drawn by Chester and written by his brother Gordon. Note that Brown was not involved in the first two comics published by Yak Milk Studios. From what I understand, all of this occurred prior to Brown's first trip to New York in the summer of 1977, where he approached Marvel and DC looking to break into comics. Brown was unable to find work and returned to Quebec, where he enrolled in the art program at Dawson College.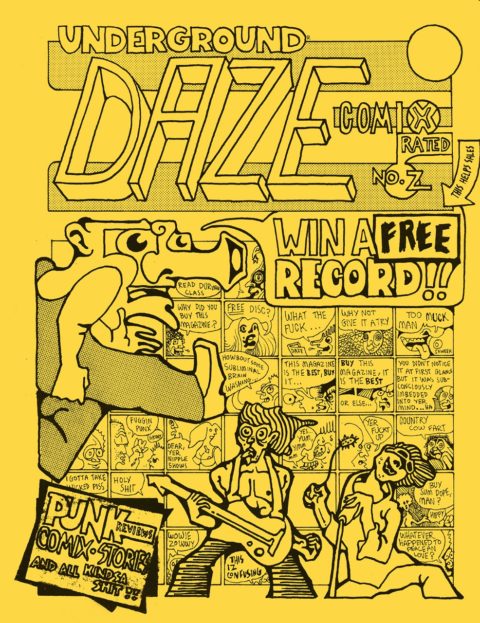 By 1978, Brown became involved in creating content for a fanzine called Weird Tales that was published by Steve Doucet, which Richard Tremblay also contributed to. According to an interview that appeared in issue # 135 of The Comics Journal in 1990, Brown started contributing to Weird Tales during the year that he studied at Dawson College. He also notes that "Rich Tremblay" was quite influential on his work at the time. In reality "Rich Tremblay" is Rick Trembles, the noted modern Underground Comix artist who is arguably best known for his two volumes of Motion Picture Purgatory and his animated short film Goopy Spasms. Rick continues to be very active in the comic scene and recently released a comic called The 7th Voyage of Sin Bog. He also blogs regularly and I recommend checking out his stuff. Readers of Comic Book Daily may also recognize Mr. Trembles as being the son of the great WECA-era comic creator Jack Tremblay, who created Crash Carson for Bell Features' series Wow Comics in the early 1940s. I want to personally thank Rick Trembles for helping me with some of the information presented in this month's column.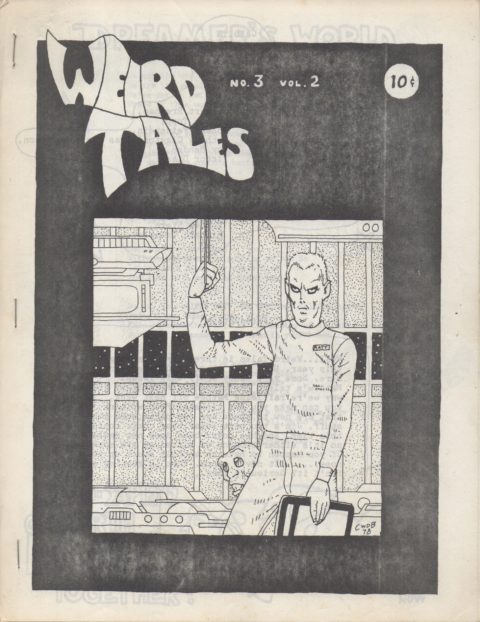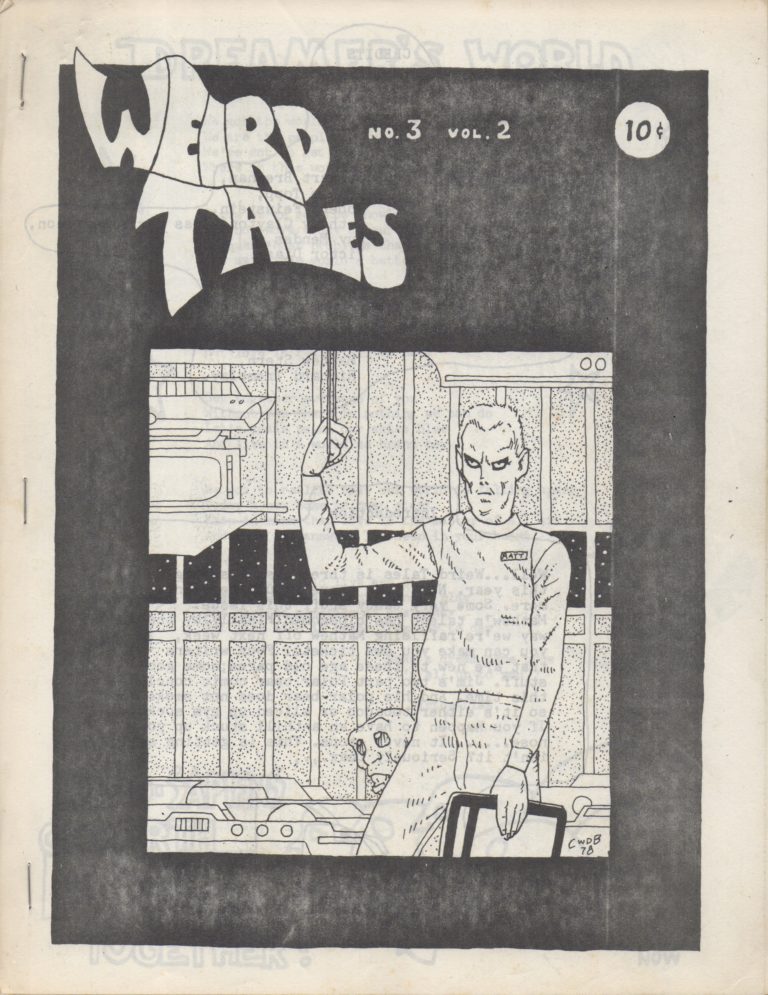 ---
Brown left Dawson College after one year because his program did not offer courses geared towards creating comic books. In 1979, he took a second trip to New York to attempt to gain employment in the comics industry. Again, he was unable to find employment and returned to Canada. This time, he moved to Toronto and started working in a photography lab. Having been influenced by Rick Trembles, he began paying closer attention to the alternative and underground publications that were coming out of the United States at the time and began submitting work to Last Gasp, Fantagraphics and Art Spiegelman's Raw, but was rejected by all three. By 1982, he had planned an anthology with Reg Hartt called Beans and Wieners, but the project never materialized.
1983 saw Brown release the first of eight Yummy Fur mini-comics, published under the name Tortured Canoe. It was here that Brown first introduced readers to his most famous character and storyline from his early career: Ed the Happy Clown. All of the stories in these minis would eventually be reprinted in full comic size by Vortex beginning in 1986, after Seth (who was then doing artwork for Mister X) convinced Vortex owner, Bill Marks, to take a chance on Chester Brown.
Unlike many of the mini-comics that were coming out of Canada during the 1980s, the issues of Yummy Fur are well documented and are essentially presented in their entirety at the Grand Comic Database (GCD). For this reason, I will not go into great detail about the content of the original Yummy Fur minis at this time and instead recommend taking a look at the information available at the GCD. Instead, my goal here is to contribute to the already existing knowledge of these minis by presenting information about their print runs.
In 2017, Dan Bryantowich and I were trying to find more information about the Yummy Fur minis when, serendipitously, Dan encountered a fellow Ottawan, who had spent quite a bit of time cataloguing Chester Brown's work and had a breadth of information about the Yummy Fur mini print runs. It is my intention in presenting this information to add to the collective knowledge of these scarce comics to help collectors identify different printings and to verify how many copies of each issue were released.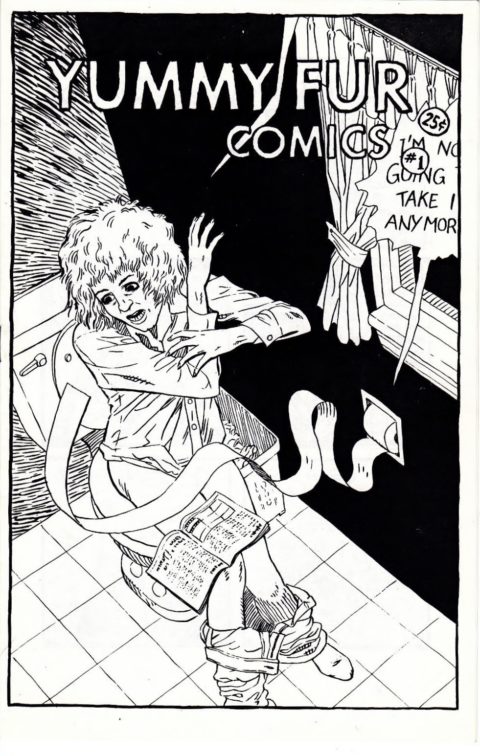 The first issue of Yummy Fur was published in July 1983 and had a print run of 150 copies. A second print of 150 copies was released in September of the same year. A final print run of 300 copies was released in July 1984. As such, 600 copies of the first issue were produced over three printings. First prints will have the price written in pencil on the front cover and a rubber stamp colophon on the back cover. Later prints do not have these handmade flourishes and have a redesigned front cover.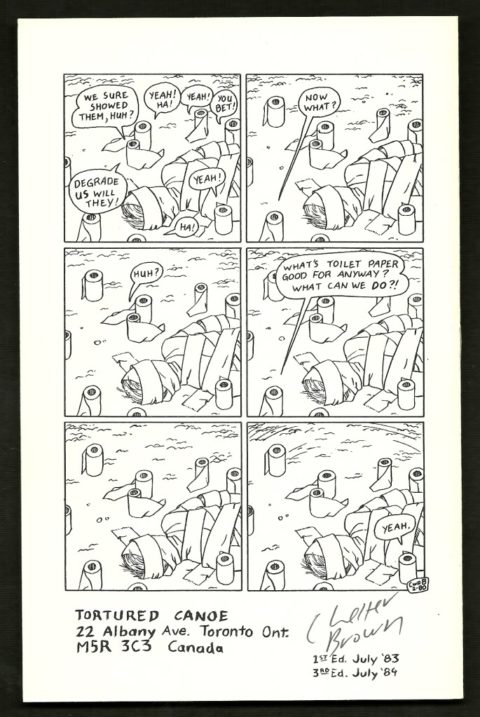 The second issue of Yummy Fur was also released in July 1983. The first printing had a print run of 150 copies. This was followed by a second print of 150 copies in August 1983; a third print of 150 copies in January 1984; and a fourth print of 300 copies in August 1984. This time, 750 copies of the comic were produced over four print runs. This issue is notable (and in my opinion the most desirable) of the Tortured Canoe minis because it features the first appearance of Ed the Happy Clown.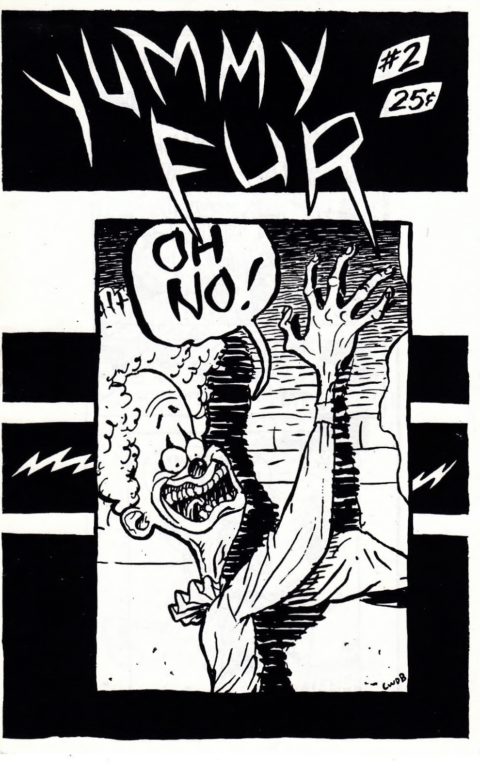 As the first issue of the series, the first printing of Yummy Fur # 2 can be identified by having its cover price handwritten in pencil by Brown. Subsequent printings have a photocopied cover price. However, the third printing includes a rubber stamp colophon on the back cover that is not present on other printings.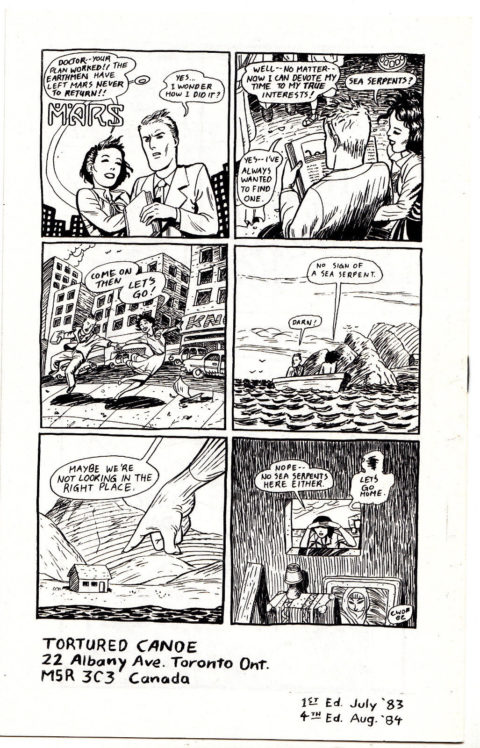 The third issue of Yummy Fur also had four different printings. The series must have been really gaining momentum by this point as both the first and second printings were released in August 1983 (with both printings having runs of 150 copies each). The third printing of 300 copies followed in January 1984 and the fourth printing of an additional 300 copies appeared in August 1984. In total, 900 copies were released over four printings. Like the first two issues, the first print of Yummy Fur # 3 has a handwritten cover price in pencil. The only other major difference between printings is that beginning with the third printing, the cover is slightly redesigned.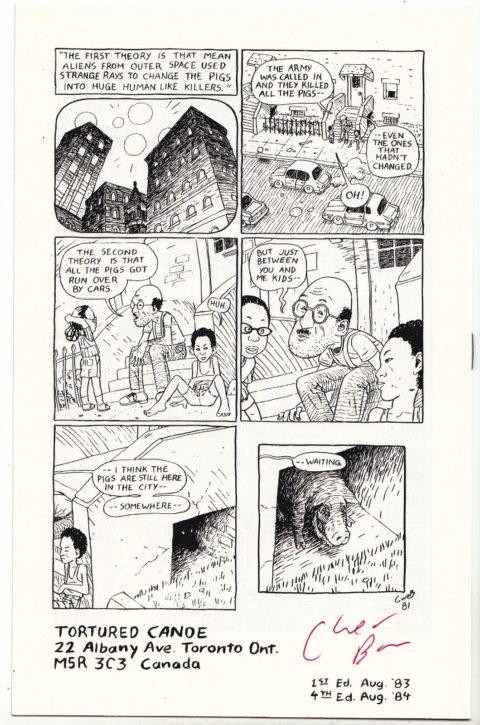 Yummy Fur # 4 is, strangely, the one issue of the series that Dan's contact did not share any print run information for. It is safe to assume that it had at least a second print run (as all of the other issues did). What we do know is that the comic was released in September 1983, with a print run of 250 copies. The issue also expanded to twelve pages (previous issues were eight pages) and the price increased by fifteen cents.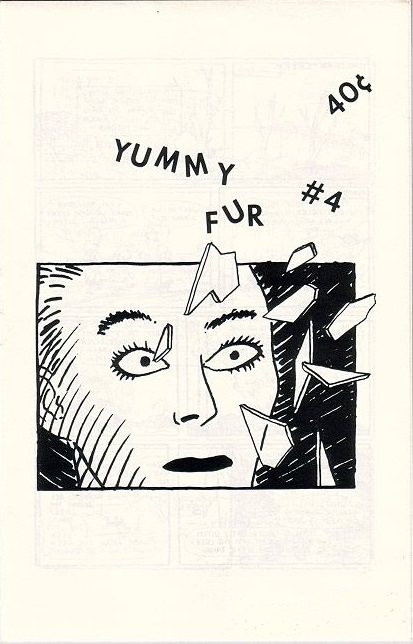 The fifth issue of Yummy Fur had only two printings that we are aware of. The first printing was released in January 1984 and the second printing was released in June of the same year. Both printings had print runs of 300 copies each (for a total of 600 copies). Issue # 5 returned to the eight-page format and reverted to twenty-five cents.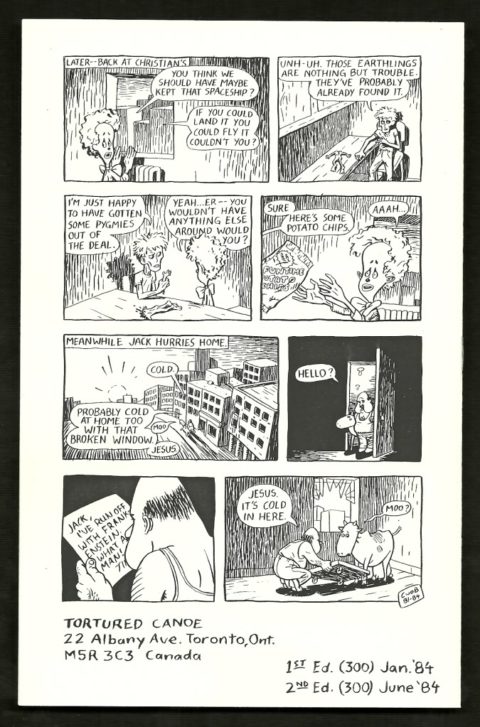 Yummy Fur # 6 also had two known printings. The first appeared in April 1984 and the second appeared in September of the same year. Like issue # 5, both printings had runs of 300 copies each (for a total of 600 copies). This would be the last issue released under the name Tortured Canoe.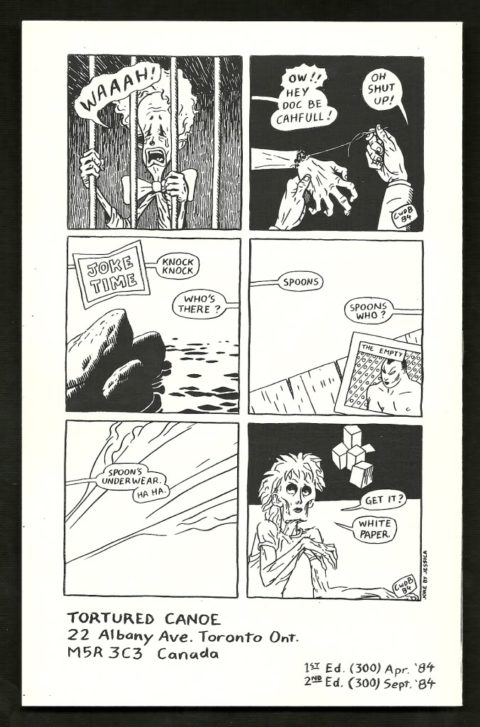 After completing Yummy Fur # 6, Brown did not immediately release a comic featuring new material. Instead, he offered a fifty-two-page mini that reprinted the first six issues of the series in February 1985. The first printing of Yummy Fur # 1-6 had a print run of 500 copies and a second printing with an additional run of 500 copies was released later that year (likely in September). Unlike some of the other Yummy Fur minis, the second printing of # 1-6 featured redesigned inside and rear covers. The first print of this comic featured a two-panel story called "Death of an Ideal" and also included an uncredited author's photo and acknowledgements page. All of this is dropped from the second printing.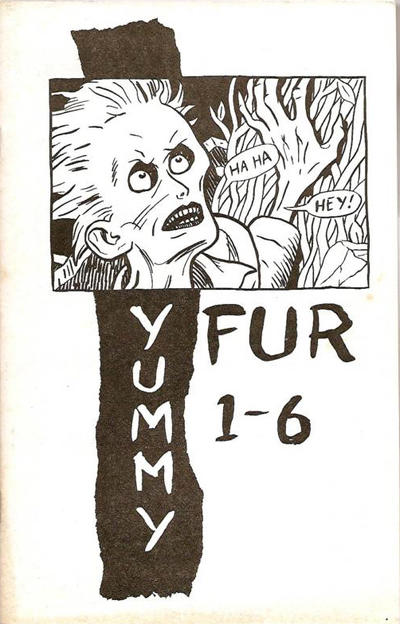 The final issue, Yummy Fur # 7, was released in September 1985, meaning that there was a significant gap between the release of new material. The first printing had a run of 500 copies. A second printing, which may have been released in 1986, was also released with a print run of 500 additional copies. The only significant difference between the two printings is that the second print has the number "2" printed on the bottom right of the back cover.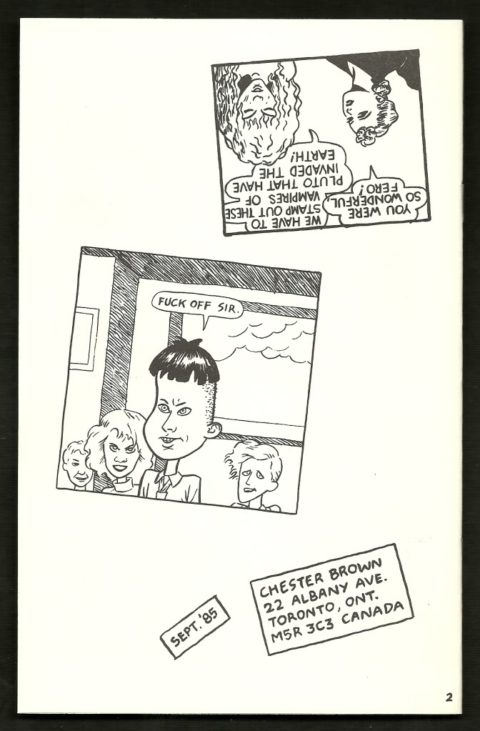 As far as I can tell, the print run information provided to us by Dan's contact is the most detailed available and, thus far, has not been presented anywhere else. That said, we still do not know the print run information for issue # 4 and it is entirely possible that some of the issues had additional printings. Nevertheless, all of these mini-comics are quite scarce today. I do not own any of them personally (despite a couple of missed opportunities) and they do not come up for sale often. Although I have seen issues sell for as low as $25 CAD, expect to pay between $50 to $100 for specimens in nice shape (particularly first printings with provenance, such as Chester Brown's signature).
---
There is one additional comic that Brown contributed to prior to signing with Vortex that should be on the radars of comic collectors; that is, 1984's Kromalaffing. From February 4 to 25 of that year, Michael Merrill curated a gallery show called "ChromaZone/Chromatique Presents Kromalaffing" at Toronto's Grünwald Gallery. The exhibition presented experimental and humorous comic artwork from American, Canadian and European artists. Merrill himself had published his own comic in Canada a few years earlier called Cows Crossing – Men Working with Stephen Ellis.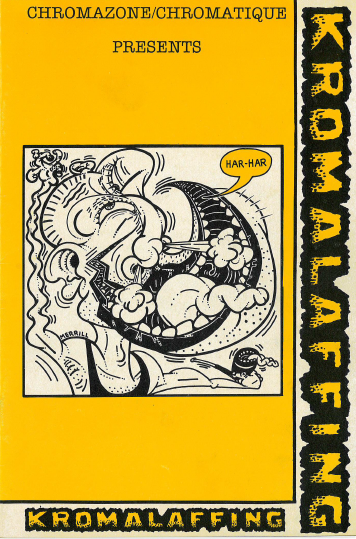 The exhibit featured some well-known American creators, including Harvey Pekar and Art Spiegelman, as well as several up and coming artists who were contributing to Spiegelman's Raw magazine at the time, such as Mark Beyer, Charles Burns, Kaz, Gary Panter and Joost Swarte. This is something of an interesting coincidence considering that Brown had himself been rejected by the publication in the years prior to this exhibition. Additionally, the exhibition included contributions from several Canadian creators who would gain notoriety during this era of the Canadian Silver Age, including David Boswell (of Reid Fleming fame), I, Braineater (aka Jim Cummings) and Peter Dako (who's series Casual Casual was just starting).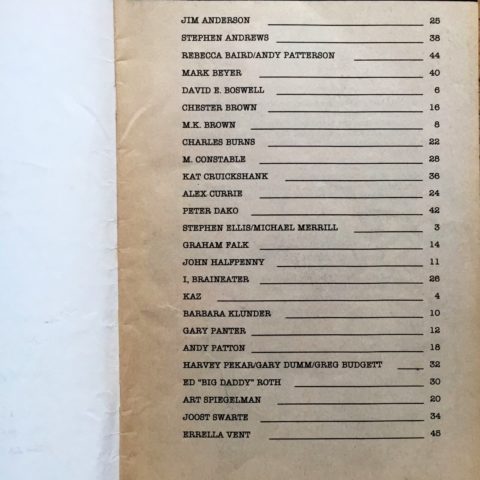 The published Kromalaffing booklet is actually the exhibition's catalogue but, for all intents and purposes, it is a comic book with one or two pages of contributions from all of the creators who were involved in the gallery show. Likewise, Brown's contributions are only two pages. However, his work being showcased as part of Kromalaffing enabled him to gain access to Toronto's avant-garde art scene centred around Queen Street West. This also led to him making connections with other alternative comic creators to the extent that his work began appearing in publications such as the British magazine Escape, the American mini-comic Dada Gumbo, Fantagraphics' Honk! magazine and Dako's Casual Casual. Ultimately, Brown was able to use this exposure and momentum to eventually earn a contract from Bill Marks, but not before being rejected by Vortex initially too.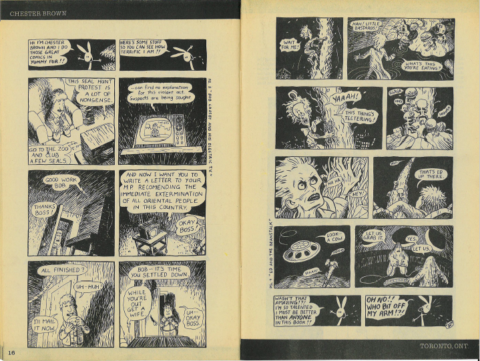 Brown's pre-Vortex work is incredibly difficult to find. Like the Yummy Fur minis, the Kromalaffing catalogue does not come up for sale often. Expect to pay between $50 to $100 CAD for one. Brown's work from Vortex to the present is well-documented, so hopefully, this month's edition of "Forgotten Silver" will help to fill in some holes for Chester Brown enthusiasts and, if nothing else, bring attention to the fact that he was contributing to comics for nearly a decade before his "big break."