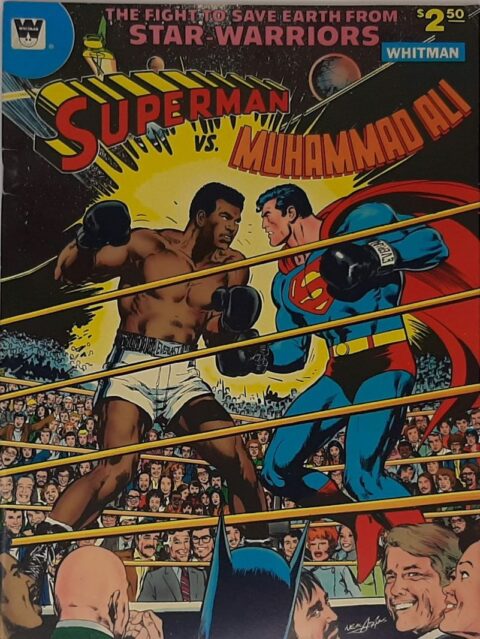 I wanted to do a post on similarities and differences between comic book and sports card collecting but then did an about face when I thought about the rich history of sports in comic books. Sports in comic books has always been a thing, 85 plus years now and I get the sense that it never really worked. What sports comic are you currently on the hunt for?
The closest thing that could count as an in-demand sports comic is the Muhammad Ali Versus Superman Treasury from 1978, and it isn't technically a comic. OK, the Jackie Robinson seems to be on some want lists as well but I don't see any life in those old Baseball themed comics even if L.B Cole did the covers. Wait, I take that back, I could use a Babe Ruth Sports Comics #7 from 1950 with the cover with the great Turk Broda on it, Go Leafs!
Remember Marvel's NFL Superpro #1-12 series from 1991? Try selling those! Though I must admit I can sell a Dark Horse's Godzilla Vs. Charles Barkley from 1993, but not for much.
At first glance, you'd think our sports heroes and our superheroes could have found some synergies but the two genres never successfully mixed for any sustained period. When I was younger I always thought it was because jocks couldn't read and as a comic guy I much preferred my immortals and mutants to someone that might tear an ACL chasing after a bad guy. I think one of the best examples of comics and sports mixing was the Gold Key Harlem Globetrotters comics from 1972 to 1975. And that worked to a degree because of the humour. Taking that a bit farther I think the humility of superheroes is hard to find in sports stars with big egos, there should have been a Bobby Orr comic!
Even when the sport is just over-sized theatre-like Pro Wrestling they still can't mix the two together, The Undertaker comic anyone? As I'm writing this I'm thinking of more to add to my virtual collection of Turk Broda, Harlem Globetrotters, Muhammad Ali and Jackie Robinson, lets add the Spire Christian Tom Landry issue from 1973.
Is there a sports comic Grail? Will comics ever successfully adapt sports? I think it's a tough sell, its been 80 years and we've got very little to show for it.